The friendships and romances of Winter House are as fickle as the weather, so strap yourself in for a wild ride. We go deeper into the lives of our favorite Bravolebrities in this episode as they negotiate the perilous seas of friendship, love, and a little drama. The possibility of a three-way romance hovers in the show's atmosphere, which heightens the interest in upcoming episodes. Winter House Season 3 Episode 2 offers a mix of humor, drama, and developing romances as feelings run hot and connections strengthen, leaving us excitedly anticipating the next installment.  tvacute will go over the highlights and plot points that make Season 3 of Winter House so captivating.
Winter House Season 3 Episode 3 Recap: Exes and Oohs
Winter House Season 3 Episode 2 Recap
As the show progresses, we are engrossed in a plethora of activities and discussions that are all focused on the intricate web of romantic interests. An emotional rollercoaster is created by the fixation with who is infatuated with whom, who has a crush on whom, and who wants to take their relationships further.
As the main character of this episode, Tom Schwartz, enters the Winter House, he muses over his involvement in the #Scandoval controversy. It serves as a reminder that although though the events on reality television took place over a year ago, they frequently feel like the present. We start to perceive the participants in these reality programs as actual people rather than just fictional characters on our screens as their emotional toll on them becomes evident.
Tom and Katie, who should not be mistaken with his ex, go shopping and reveal more about how their relationship is developing. Tom intends to marry Katie, as evidenced by his choices in the "FMK" game, which may have been influenced by earlier events. But a cloud of mistrust lingers as he struggles with the rumors that cast doubt on his abilities.
With his flirtatious encounters and newfound connections, Schwartz's adventure in the Winter House appears to be promising. His roommate Alex warns him about her propensity for nudity, something Schwartz seems unaffected by—especially when it comes to Kristen Doute's pals.
After spending the evening in a bar, the single women discover that the majority of the males are already occupied by someone else. It serves as a reminder that the goal of this show is to bring Bravolebrities together rather than just hooking them up with random people, with the hopes of molding them into the next wave of reality television stars through marriage and partnerships.
We discover that a number of the cast members are single in the midst of the discoveries. Jordan has been single for ten years, Malia for seven months, and Kory is still unsure of his relationship status even though he has a strong friendship with someone in the house. It provides an insight into the intricate intricacies of their relationship.
Back at the Winter House, Kyle starts playing a risky game of slicing watermelons in the kitchen, which makes others worry about his safety. There are concerns regarding Kyle's survival because Amanda isn't there because she's sick with the stomach bug. Her presence might have prevented him from acting so rashly, bringing his wildness score down from an 11 to a more controllable 8.8.
Casey's history as a previous nationally ranked half-pipe skier is further revealed when Kyle, Casey, and Malia go on a skiing excursion the next day. Her charming and humorous demeanor quickly establishes her as a spectator favorite.
Some like skiing, but four people—Brian, Kory, Alex, and Danielle—choose to go on a snow bike adventure, which was probably planned by the production crew. We learn more about Alex's unusual high school experience during this time, which appears to have influenced his never-ending search for acceptance. Danielle's candor makes it clear that Alex needs to curb his need to win over everyone.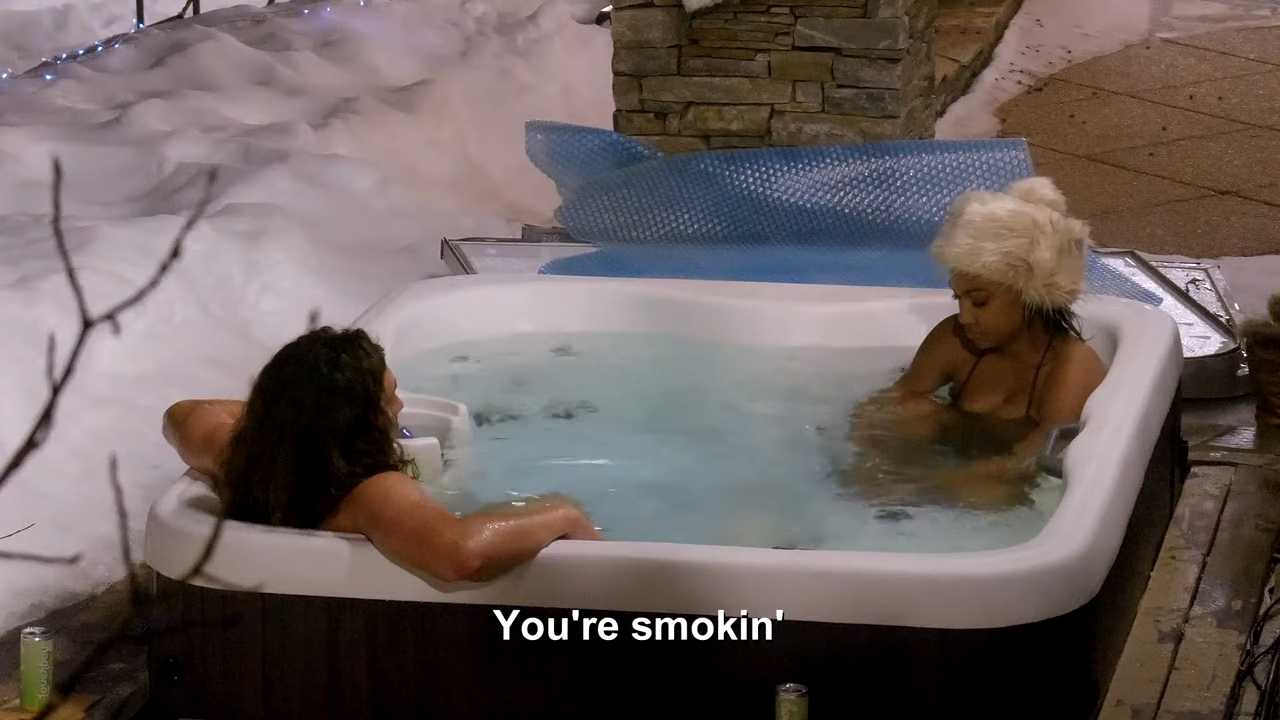 The most memorable romantic moment of the show occurs when Alex and Danielle meet in a hot tub as night falls. This is all the result of Alex's gentle advances. Like his surprise back tattoos, Alex's lack of expertise in the game of courtship comes to light. The evening ends with a passionate kiss despite the unpleasant environment created by awkward pauses and indecision.
After a party with a pirate theme, the group returns to the Winter House and plays a game called "Message in a Bottle," which reveals their romantic interests and preferences. The women gravitate toward Kory, especially Malia, which creates the possibility of romantic relationships. But Jordan's disclosure of her infatuation with Kory heightens the tension in the dynamics as they develop and raises the possibility of love triangles.
 Winter House Season 3 Episode 2: Ending
Winter House Season 3 Episode 2 left us wondering about the developing connections and the drama that may come, even as it keeps us utterly entertained. A startling development at the end of the episode has the potential to change the dynamics of the Winter House. When Tom Schwartz first arrives home alone, he has an unexpected visitor. Tom is joined in bed by Kyle, who had earlier indicated that he was eager to explore his sentiments.
As their passionate kiss illustrates the complexity of human emotions and wants, their private moment develops. Viewers are left wondering about the possible repercussions and how this unexpected development may affect the current relationships within the Winter House.
Fans of reality television will find Winter House Season 3 to be a must-watch series as the love stories, friendships, and drama only get better with the upcoming episodes. In conclusion, Winter House Season 3 Episode 2 transports us to the glamorous lifestyles of our cherished Bravolebrities, where connections become stronger, emotions are high, and shocking revelations keep us enthralled. The Winter House is an intriguing addition to the world of reality television since each episode uncovers more about the complexity of human interactions. Watch out for more thrilling scenes in the upcoming episodes.
 Winter House Season 3 Episode 1 Recap