In the history of television, NCIS has proven to be among the most influential and widely watched series. Due to the show's popularity, several spinoffs have been created. The first episode of the American police procedural tv show NCIS: Hawaii aired on CBS on September 20, 2021. The show centers on a group of Navy CSIs based out of Hawaii. Agent in Charge Jane Tennant, played by Vanessa Lachey. NCIS: Hawai'i's second season on CBS continues to impress viewers and win over new ones. In the forthcoming episode of Season 2 will include some background information regarding Special Agent in Charge Jane Tennant tvacute.com provides all of the information you require. Let's examine the information at hand on the primary character Jane Tennant's background and Who is playing "Young Jane Tennant" on NCIS: Hawaii?
NCIS Hawaii Season 2 Episode 15: Lucy's return to the island on Feb 27
NCIS Hawaii Season 2 Episode 14 [Silent Invasion]
Special Agent in Charge Jane Tennant, along with her unflinching team of specialists, investigates crimes of the highest stakes involving military people and national security. Tennant is as courteous in addition to being hard-charging, and despite working in a male-dominated field, she has succeeded by being both confident and strategic. In addition to that, she is the mother of Alex and Julie Tennant, and she was previously married to Daniel Tennant. She is a single parent who is responsible for parenting her children. Just like any kind parent who values both work and family equally. She can juggle anything with ease. juggling her responsibilities to her family and her country. Jane's past will Reveal in NCIS: Hawai'i Season 2 Episode 18.
Vanessa Lachey revealed to Distractify "[The writers] actually pulled from my real life and growing up without my mother and leaning on my father and my father being in the military. And just how I kind of had to put on my armor at a young age, so to speak, and get myself ready for the world. The actress continued, "It shows what makes me tick and gives the viewers a reason why I might be a little harder on not only myself, but you know, my family, [and] my team," the actress added. "It's peeling back the layers of the onion. They dive into that in [Episode 18]."  She revealed, "I haven't met her yet, I've just seen her tape," she shared. "It's gonna be emotional, but it's also exciting."   In the coming episodes, we will get to know more about his past. This time we take a dive into her childhood as little Jane is about to make her big screen appearance, let's take a look at who is going to play the role.  
Who is playing "Young Jane Tennant" on NCIS: Hawai'i?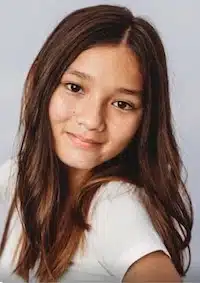 According to the TVline, Ronda Kahana Williams will play the part of Young Jane Tennant in NCIS: Hawaii. To know more about Jane Tennant's past read below.
Jane's father was in the military, thus the family relocated frequently after she was born in Hawaii. We don't know if she is an only child or if her parents are still alive and if she has any siblings at this time. Jane began riding lessons when she was 12 years old, while her father was stationed in Tama Hills, Japan. By the time she was sixteen, Jane had already faced prejudice when she was asked where she was from because of her unique appearance. Not everyone believed her when she said she was from the United States, and Jane subsequently revealed that she had no idea where her mother was from. After that, Jane went to the University of Virginia, where she earned a degree in psychology and international studies. After she finished college, the State Department wasn't the only federal agency interested in hiring her. Jane decided to apply to the CIA, where she met operative Maggie Shaw, who would eventually become not only her supervisor but also her mentor and best friend.