When Calls the Heart Season 9 Episode 9 finished with Nathan and Bill questioning Lucas's involvement in a half-baked scheme, it appeared like Nathan and Bill were going to question Lucas's involvement in a half-baked scheme. Our brave Hope Valley cops know Walden planted the evidence, but it sucks that there was even a sliver of question about how it all went down. Here s' a complete recap of When Calls the Heart Season 9 Episode 9 titled "Recent Memory." 
Lucas (Chris McNally) may have believed Wyman Walden (Wesley Salter) was dead and buried, but he couldn't be more incorrect. An unscrupulous businessman makes an unpleasant appearance in Hope Valley. Walden is still hell-bent on acquiring the saloon, and he isn't going to take no for an answer. Lucas has been coordinating with a Treasury Department person to put up a sting operation to catch Walden.
However, his connection has deteriorated, and Lucas must seek assistance from Bill (Jack Wagner) in order to solve his Walden dilemma. They devise a strategy together. Bill claims to be on Walden's side and offers to use his legal knowledge to defraud Lucas of his assets. But he wants Walden's assurances that he'll get something in return: a chance to be mayor again, as well as Lucas's oil company shares. Walden is initially skeptical, but his greed overcomes him, and he agrees to follow Bill's plan.
Nathan triumphs over Spurlock
Bill's plan to capture Walden is a little intricate as Lee (Kavan Smith) puts it, "it's kind of like a mystery novel." To say the least, it concludes with Walden's arrest outside the Valley Voice office in a dramatic scene. For the payoff, Walden and his henchman Julius Spurlock (Paul Lazenby) arrive. While Nathan (Kevin McGarry) holds Spurlock at gunpoint, Bill snatches Walden. Spurlock, on the other hand, isn't going down without a fight. Nathan shoots a shot at Mountie while he is preoccupied. Nathan pursues Spurlock on horseback as he flees in his automobile. There's a brief chase, but Nathan easily captures Spurlock, displaying some impressive gunslinging skills. Meanwhile, Bill has recovered Walden's allegedly missing gun, which connects him to the Brookfield attempted murder. However, the Walden saga is far from over. He makes a last-ditch effort to blame Lucas, accusing him of being involved in an illicit gambling operation. Lucas claims he's merely been trying to catch Walden, but Nathan discovers some incriminating evidence in his office, and things don't seem good for him. Was that evidence planted by Walden? And how is Lucas going to prove it? Next week, maybe, we'll have some answers.
Mei Sou is back in Chicago.
Nathan's huge Mountie moment partially compensates for the fact that he had to say goodbye to Mei Sou (Amanda Wong) in this episode. While it appeared that her problems with Geoffrey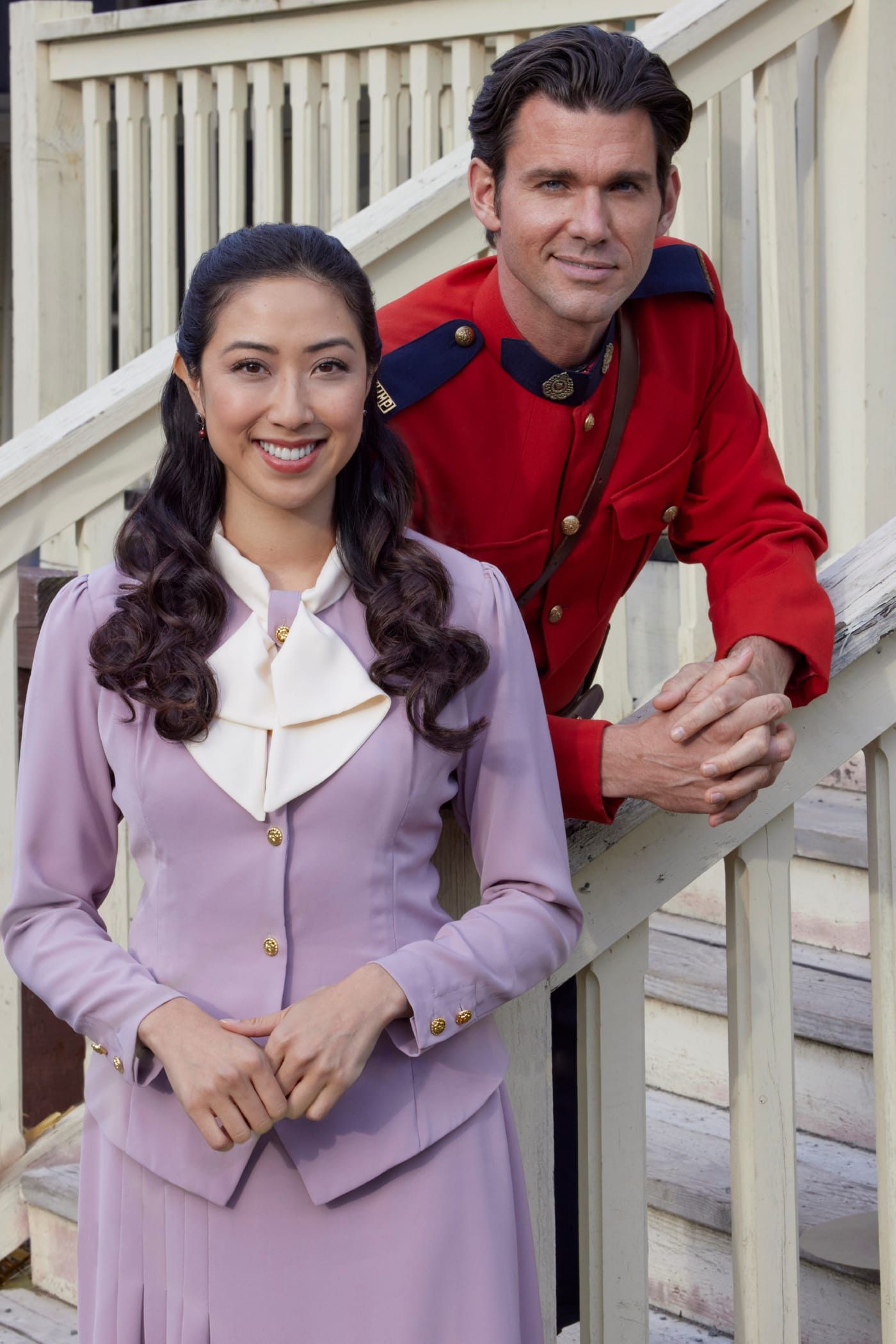 were over, he continues to pursue the false accusations against her. She must return to Chicago to appear in court. She hasn't said when or if she would return to Hope Valley. Nathan kindly offers to accompany her, but she politely declines because he can't leave Allie. Nathan had begun to develop love feelings for Mei, and her abrupt departure has left him bewildered. Faith (Andrea Brooks) lends him a sympathetic ear, admitting that she wasn't ready to marry, even though Carson was.  Since the beginning of the season, there have been clues that Hope Valley's doctor has a thing for the Mountie, and it hasn't gone ignored.
Lucas and Elizabeth have a lovely dinner date.
In this episode of When Calls the Heart, Walden's presence weighs heavily on Lucas, as well as Elizabeth, as he confesses what's going on. However, it has no bearing on his plans to celebrate her birthday. His urge to disappear for a while is actually beneficial, since it permits them to spend a calm evening at home with Little Jack (Hyland Goodrich). It's a chaste sleepover, but it's a romantic one. Lucas spends the night on an uneasy-looking couch and is startled awake when Jack leaps onto his chest.
In the meantime, Joseph (Viv Leacock) learns that Lee co-signed his and Minnie's cafe loan. He copes with the news about as well as one could expect. Lee meant well, but in trying to aid his friend, he went too far. They'll probably work through it, but in the meantime, Lee is reminded of the significance of considering the implications of his choices. Because Minnie and Angela are out of town, it's unclear how she feels about Lee's intervention. Their absence, on the other hand, allows Joseph to spend quality time with Cooper (Elias Leacock), including a heart-to-heart about whether he'll ever return to church. Joseph's faith is strong, but he's dealing with his son's doubts in a loving manner, which is admirable.
Hickam (Ben Rosenbaum) is thinking about resigning as mayor, but Bill persuades him to reconsider. Mr. Gilchrist, an oil firm investor, is planning a trip to Hope Valley, which has Fiona (Kayla Wallace) all worked up. In San Francisco, Fiona dials Mr. Gilchrist's number. He isn't available, but she requests a callback. It is necessary, but not essential. Mr. Gilchrist gives Fiona a call. She inquires as to whether he has any plans to visit here. He responds yes, but she doesn't follow up with any further inquiries. Lee and Rosemary are informed about Gilchrist by Fiona. And Rosemary is behaving strangely in regards to the matter, as they aren't the best at keeping secrets.