The fifth season's buildup eventually comes to a head in the highly anticipated "WHAT WE DO IN THE SHADOWS" season finale. A climactic Grand Guignol moment has been building up in the supernatural comedy series, and fans are now treated to it in the form of two pivotal back-to-back episodes. These episodes deftly explore the core of two intertwined themes that have gripped us all season. The episode features a rollercoaster of emotions and revelations, with a Grand Guignol conclusion, the resolution of Guillermo's concerns and the Guide's solitude, and the unveiling of the mysterious Perdita Morrigan. . (tvacute.com) We have a recap of "What We Do in the Shadows" Season 5 Finale in case you missed the exciting conclusion.
What happened in What We Do in the Shadows Season Finale?
First and foremost, attention is given to Guillermo (Harvey Guillén), who is experiencing a difficult transition into the world of vampirehood. His anxiety that his sire, Nandor (Kayvan Novak), may eventually learn of his betrayal is palpable as he struggles with it. The plot also follows the Guide (Kristen Schaal), a figure who has gradually grown more isolated inside her adopted vampire community. Her job has frequently gone unacknowledged, and her fellow vampires frequently take her for granted. This plot line has been a moving examination of identity and belonging that has touched the audience.
The characters' prized invitations to a weekend at Perdita Morrigan's magnificent house bring the excitement to a crescendo as the episodes progress. The account of the fabled person, referred to as "the grande dame of vampiric high society in the New World," dates all the way back to the Mayflower voyage. The possibility of such a thing creates a sense of excitement and eagerness. The beautiful façade, meanwhile, quickly starts to fall apart, exposing unseen complexity and unexpected turns.
What We Do in the Shadows Season 5 Episode 9 Recap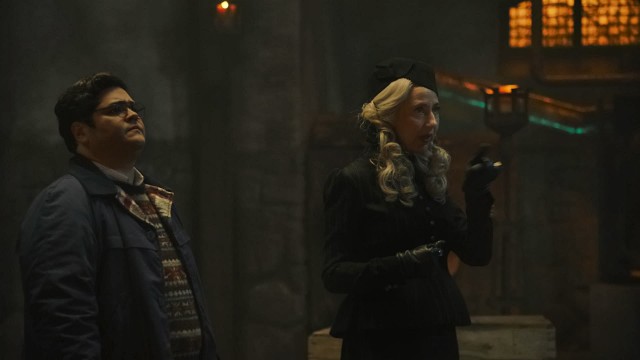 The episode makes it clear that The Guide, an apparently unassuming character introduced earlier in the season, has been directing events covertly. She designs obstacles and snares for the vampires based on each one's unique traits and vulnerabilities.
The existence of a hex that has an impact on Nadja is one of the unexpected facts. Her encounters with Madame de Beauterne, whose picture is shown in the Metropolitan Museum of Art, and the hex appear to be related.
Feelings of Guillermo: Guillermo confronts Nandor about his long-standing feelings of betrayal and mistreatment. He communicates his hurt and irritability at being ignored, which sparks an intense argument between the two protagonists.
The Guide has been painting oil portraits of each vampire, demonstrating her in-depth understanding of their personalities and histories, as revealed in the episode "The Portraits."
Nandor's Self-Centeredness: The episode emphasizes Nandor's selfish actions and his disregard for Guillermo's needs and feelings. The conflict between them is exacerbated by this discovery, which also casts doubt on the future of their union.
Vanessa Bayer's Cameo: Vanessa Bayer makes a cameo as Perdita Morrigan, who appears to be the manor's apparent weekend host. But later it becomes clear that she plays a part in The Guide's deception.
The episode investigates the emotional dynamics of the vampires as a collective. It explores their weaknesses, insecurities, and the effects of their actions on one another, giving their character arcs more complexity.
Each vampire in Morrigan Manor deals with a different problem during their stay. These difficulties are a reflection of their personalities and peculiarities, provoking both humorous and reflective moments.
The experience raises concerns about the group's sense of loyalty and trust. The vampires are forced to confront their unique roles in the problems they encounter as secrets are uncovered and tensions rise.
What We Do in the Shadows Season 5 Episode 10 Recap
A quick summary of the last episode, "A Weekend at Morrigan Manor," which saw the vampires taking on challenges posed by The Guide, precedes this one. The summary emphasizes how Derek's transformation of Guillermo into a vampire caused friction and strife.
Guillermo's Transformation: Guillermo, who has been changed by Derek into a vampire, is the main subject of this episode. His transition into a vampire, however, doesn't proceed exactly as planned. Guillermo struggles to accept his new nature because he is unable to kill a human despite turning into a vampire.
The Feint and Plan: In an effort to convince Guillermo to change his mind, Nandor creates a number of scenarios that put his dedication to being a vampire to the test. Nandor first conjures up a scenario in which Guillermo is completely accepted as a vampire and even goes on a brief murderous rampage using the Djinn. Guillermo is unwilling to kill due to his compassion, suggesting that he might not be suited for a vampire's life.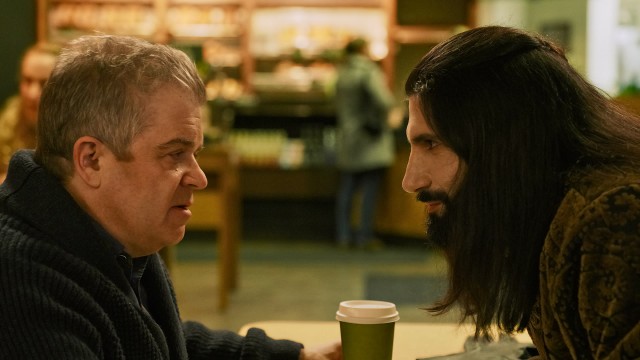 Guillermo's humanity and his bonds with the other vampires come into play as Nandor continues to try to force him into becoming more of a vampire. The bond between Guillermo and Nadja, Colin, and Laszlo is highlighted in the episode, as each of them pays him a farewell visit in a special way. These scenes demonstrate how Guillermo's metamorphosis has altered him, but his ties to his vampire pals have not weakened.
Nandor's Understanding: Nandor understands that Guillermo's dedication to Nandor was what motivated him to become a vampire. This leads to a pivotal scene in which Nandor confronts Guillermo about his genuine motives after having apprehended Derek. Guillermo's inability to hurt Derek demonstrates to Nandor that he has a more human heart than a vampire.
What We Do in the Shadows Season Finale Recap: Ending Explained!
In the end, the episode makes it clear that Guillermo's change into a vampire was just momentary. Nandor kills Derek to reverse the metamorphosis after understanding that Guillermo will be by his side as his familiar. Guillermo is put back into his human state by this choice, which changes the current situation.
The episode concludes with a discussion of the effects of Guillermo's goals and deeds. There is a sense of closure and contemplation as the characters come to terms with the changes and difficulties they have endured, despite the supernatural elements and humorous moments.
Celebrity cameos in this episode, including those from Patton Oswalt and Benedict Wong, add to the humor of the program. Oswalt's persona gives Nandor words of wisdom and pauses for thought.