What is Mireille Enos' Role in Lucky Hank? – Mireille Enos, renowned for her roles as part of assassin conspiracies or fighting zombies, has been cast in AMC's new drama Lucky Hank alongside Bob Odenkirk from Better Call Saul. This marks Odenkirk's return to AMC, where he previously worked on Breaking Bad and its spinoff Better Call Saul, where he played the lead role.
On March 19th, AMC is set to debut Lucky Hank on television. In this show, an English teacher finds himself in trouble after telling a student they won't become the next Geoffrey Chaucer. Mireille Enos will star as Bob Odenkirk's character's wife and principal at their school.
Also Read: Where is [Bob Odenkirk] Lucky Hank Filmed?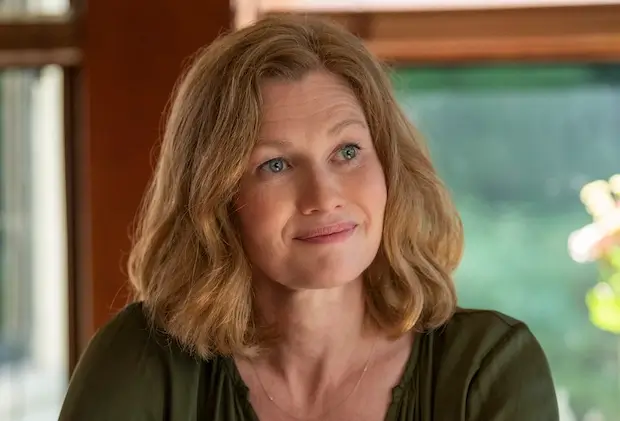 Who Is Mireille Enos? What is Her Role in Lucky Hank?
Mireille Enos is an American actress best known for her television, film, and theatre roles. Born September 22, 1975, in Kansas City, Missouri, USA, Enos achieved fame for her lead role as Sarah Linden on the crime drama television series "The Killing," which ran from 2011-2014. Additionally, she's appeared on other popular shows like "Big Love," "The Catch," and "Good Omens." In addition to television work, Enos has also acted in films such as "World War Z" and "If I Stay". Her versatility has earned her nominations for various awards throughout the years.
Mireille Enos began her acting career by performing in various productions of the Utah Shakespeare Festival. Later, she pursued formal training in acting at Brigham Young University, graduating with a Bachelor of Fine Arts degree.
Enos made her television debut in 2005, appearing in an episode of the crime drama "Law & Order: Criminal Intent." Subsequently, she received minor roles in other series before landing her breakthrough role as Sarah Linden on "The Killing." For this role, Enos received critical acclaim and earned herself a nomination for Primetime Emmy Award for Outstanding Lead Actress in a Drama Series.
Enos has also been featured on television and in several films such as "Gangster Squad," "If I Stay," and "The Captive." She recently returned to the stage for performances of "Who's Afraid of Virginia Woolf?" and "You Can't Take It with You."
Enos has been married to actor Alan Ruck since 2008, and the couple has two children together. She is renowned for her philanthropic work, supporting causes such as Malala Fund and United Nations Foundation's Girl Up campaign.
Mireille Enos will portray Lily Devereaux, a high school principal facing a crisis after her husband's controversial actions in AMC's Lucky Hank. In an interview with TheWrap, Enos shared her thoughts on Lily and expressed her desire to tell a relatable and human story with elements of humor and hope.
Enos spoke about her quest for a role that would suit her perfectly and how she found Lucky Hank in her inbox. As a former cast member of AMC's show "The Killing," Enos had an affinity for one of its writers – Aaron Zelman. Upon reading the script, Enos was instantly taken by it and agreed to play without hesitation.
Must Read: Is Hank Devereaux Based on a Real Professor? Is Railton a Real College?