The narrative of 'You,' which can be seen on Netflix, centers on Joe Goldberg (Penn Badgley), a serial murderer whose unhealthy fixation with females drives him to commit multiple murders. Joe believes that he is a nice person, despite the fact that he has committed terrible deeds. In the show's sequences, we learn that Joe had a difficult upbringing and that his tumultuous relationship with his mom may be a contributing factor to his dogged pursuit of romantic happiness and subsequent disillusionment when it fails to materialize. Since Joe is getting a new beginning in the next fourth season, you might be curious about what transpired to his mom in the meanwhile. This is what you need to be aware of. In any case,  tvacute.com find out a lot about Joe's difficult connection with his mother during his formative years. Let's discuss this with YOU.
What Happened to Joe's Mother Sandy?
Joe's mom Sandy (Magda Apanowicz) , was uncaring throughout the first two seasons, causing tension at home by cheating on his father and neglecting him. Things escalated to the point where Joe shot his father and found himself in an orphanage, where he was subjected to even more brutality. The second season of You on Netflix delves deeper into Joe Goldberg's background and the events that led to him becoming a serial killer and female stalker.  It turns out that Joe's mother, Sandy, had been dealing with an unhappy marriage that also made Joe's life difficult. This revelation comes about halfway through the season. Joe's mother, on the other hand, has a complicated dynamic with her son. It's unclear if she's also abusing drugs, but she seems to alternate between abandoning her kid for anonymous sexual encounters and lavishing him with praise and love. She also tries to shield him from her violent husband. To appease Joe, she says she'll leave him and his father and they'll be a couple again, but then she appears with someone else. But just as Joe can't break the loop of killing, she couldn't break the cycle of dating the wrong men.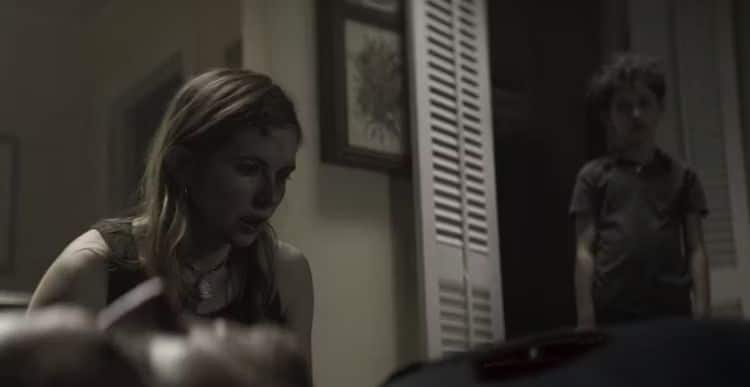 Sandy's boyfriend, who may also have been Joe's father, had reason to assume that she was having extramarital encounters. Joe would be questioned by him about it, and when he steadfastly refused to reveal any of his mother's secrets, the man would direct his rage toward Joe and physically assault him as a means of venting his frustration. She gave him the assurance that they would escape together and that it would just be the two of them. Sandy made the decision to remain since she did not want to leave Joe by himself. This was due to the fact that Joe had insisted that they take her new boyfriend with them when they left. Her boyfriend continued to mistreat her, and one night, things got so bad that Joe was forced to kill his stepfather in order to save his mother.  In Season 2, Episode 9, it was revealed that in an attempt to protect his mother from her abusive husband, young Joe uses the pistol she keeps in the house to shoot and murder him. His mother quickly reassured him, telling him he was only doing what he had to do in order to safeguard his mother. She was horrified by the fact that her kid had killed someone, but she tried to explain it away. This is something that Joe can't seem to get out of his head, and he uses it to explain his acts again and time again. Mom claims she can't take care of him anymore and gives him up to Irving Group Home for Boys soon after. Sandy had guaranteed that the current circumstances would only be transitory.
Joe was institutionalized for many years and subjected to abuse by the older boys who worked there. After learning that his favorite teacher was also in an unhealthy relationship, he felt utterly helpless and despairing. Eventually, he grew impatient waiting for his mom to come and pick him up and set off to find her on his own. The shocking truth, revealed in Season 3, is that Sandy did not perish or spend time in prison as a result of the crime. In the course of Joe's research into his mental evaluation files from many years ago, he learned that Sandy was still alive. Infiltrating the boss's office one day, he discovered a file containing his mother's most recent address. Joe arrived at Sandy's house, overjoyed that he would soon see her again, but he discovered an unpleasant surprise. It was discovered that her mom had, in fact, made a complete about-face in her life.  Since having Jacob, she had moved into a house. Joe observed his mother's increased concern and focus in comparison to her previous interactions with him. The fact that Sandy seems taken aback upon seeing Joe provides further evidence that she intended to maintain her separation from him. . Joe is concerned that his mother's affection for him has diminished because he was responsible for the death of her ex-husband. On the other hand, she admits that although she loves him, she is ready for a new beginning. She claims she left Joe for his own protection, and she believes she has a better beginning, but she can't bring Joe into it. The two of them get into the car and drive off, leaving Joe to care for himself while she continues what appears to be a wonderful life with Jacob.
Must Read: How Did Love Quinn (Victoria Pedretti) Die in the "You"?