It's likely that even if you read Justin Fenton's book, We Own This City: A True Story of Crime, Cops, and Corruption, you still watched the HBO adaptation to see how David Simon and George Pelecanos, the series' writers, understood the story. The 'We Own This City' finale, titled 'Part Six,' wraps up the saga of the GTTF, with some members of the elite plainclothes team facing harsh prison sentences for their crimes. Meanwhile, the BPD is facing significant consequences as a result of the consent decree's signing and the conviction of its officers.
Finally, Simon and Pelecanos have produced a balanced and entertaining assessment of modern police. They also highlighted how, in the aftermath of Freddie Gray's death at the hands of cops, the Baltimore police department's internal corruption ruined lives and put an already troubled city in even worse shape. We've got you covered if you want to catch up on the episode's events and conclusion! Here's everything you need to know about 'We Own This City' episode 6's conclusion! WARNING: SPOILERS AHEAD!
 We Own This City Episode 6 Recap
The sixth and final episode of 'We Own This City,' begins with FBI Agent Erika Jensen and John Sieracki questioning Jenkins (Jon Bernthal) about his involvement in the Gun Trace Task Force's corruption. Wayne Jenkins, on the other hand, is convinced that he is not a corrupt cop and that he has committed no wrongdoings. Jenkins, on the other hand, is reminded by Jensen that collaborating with the FBI and supplying critical information to the police could result in a shorter sentence. Jenkins' coworkers have spoken out against him, and multiple witness testimony show that as a cop, Jenkins was involved in corrupt and unlawful activities.
The scene where Jenkins lets an arrestee make a phone call, and the guy says a gun was planted on him, and Jenkins gets incredulous that his squad does things by the book – almost entirely word for word from body cam footage of real incident #WeOwnThisCity pic.twitter.com/xO2p4iRjPp

— Justin Fenton (@justin_fenton) May 31, 2022
Wayne Jenkins, on the other hand, continues to deny responsibility for the wrongdoings. Later, Erika Jensen who investigated the GTTF and Sieracki discuss the Umar Burley case with Detective Sean Suiter. Suiter is expected to testify in court and confirm who put the gun on Burley, according to the couple. Suiter, on the other hand, is worried about losing because he realizes he can't hide his knowledge of plainclothes cops collecting money from residents. Meanwhile, the FBI continues to receive critical information from Momodu "G Money" Gondo, Jemell Rayam, and Maurice Ward. They disclose Jenkins' ties to Donald Stepp, a cop who assisted him in the sale of seized drugs.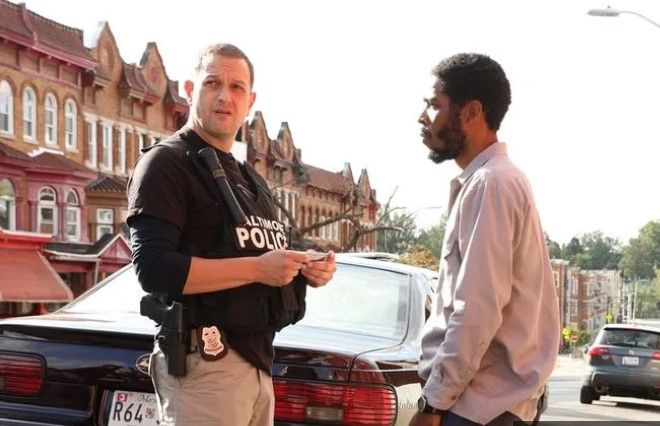 Concerns have been raised at BPD about the department's ability to comply with the consent decree due to a significant lack of money. The Mayor flatly refuses Commissioner Kevin Davis' request for increased budgeting. As a result, he must reduce the salary of his officers to cover the cost of the reforms. Stepp is arrested, and Keith Gladstone is being investigated by the FBI in connection with the Demetric Simon case. In a cruel twist of fate that happened in the last minutes of the finale, Wayne Jenkins was able to use Suiter's death to say that the husband and father had planted drugs on a suspect. Jenkins' activities are revealed incriminating details by both Stepp and Gladstone. In a cruel twist of fate that happened in the last minutes of the finale, Jenkins was able to use Suiter's death to say that the husband and father had planted drugs on a suspect. When DOJ attorney Nicole Steele attempted to construct a consent order for the Baltimore Police Department, she discovered that even if the city cared to pay for body cameras, they would do little to nothing to halt the baked-in violence and corruption. Nicole Steele (Wunmi Mosaku) resigns from the Department of Justice because of the department's failure to combat corruption and crime in the city. While the GTTF cops prepare for their punishment, Sean Suiter dies a day before his grand jury testimony. In Monday's heartbreaking series conclusion, in which homicide Detective Sean Suiter may have committed suicide. Despite the fact that the coroner's office labeled it a homicide, an independent inquiry determined that the investigator staged his self-inflicted death to safeguard his legacy and ensure his family's financial well-being.
What Sentences Did the GTTF Officers Receive in the Finale of We Own This City?
As the program progresses, the cracks in the BPD's system and approach to crime suppression become more apparent. As a result, it is critical that the Gun Trace Task Force officers reserve punitive sentences that will serve as a beacon of hope for the city's better and more constitutional police. Jenkins eventually pleads guilty to some of the accusations leveled against him, but maintains his denial that he planted the narcotics on Umar Burley. Jenkins, on the other hand, admits to filing a fraudulent report in the case. Jenkins accepts his fate and apologizes for his misdeeds. Due to his lack of cooperation with the investigation, he was sentenced to 25 years in prison. Meanwhile, Gondo and Rayam are sentenced to ten and twelve years in prison, respectively. Ward and Hendrix entered guilty pleas in court and agreed to help the police with their investigation. As a result, the cops are sentenced to seven years in prison.
In addition, Thomas Allers (Bobby J. Brown) refuses to comply with the federal investigation, resulting in a 15-year sentence. Daniel Hersl (Josh Charles ) and Marcus Taylor (Robert Harley) have refused to enter a not guilty plea and will be tried in federal court. They are found guilty and sentenced to 18 years in jail. Commissioner Davis folds the plainclothes unit when the officers' sentences are handed down, and he is fired as a result. Several high-ranking police, including the mayor, will be charged with corruption in the coming months. The plainclothes unit is reinstated by the new commissioner, Darryl DeSousa. DeSousa, on the other hand, is forced to resign after being convicted of federal tax evasion just four months into his term. Cathrine Pugh, the mayor, has also been charged with tax evasion and fraud, which carries a three-year prison sentence. These occurrences reflect the city's shambolic law and order situation.
Finally, the episode revisits Jenkins' drug and gun tracking mission from the first episode. Jenkins pockets a bundle of cash during their search at a residence. Shots of Jenkins in prison are paired with these scenes. Jenkins thinks on his conduct as a cop as he adjusts to life in prison. Jenkins addresses a gathering of officers in a flashback, including some officers with whom he would work as part of the GTTF. Jenkins' statement is greeted with loud applause from the cops, indicating that they have bought into his philosophy. The episode finishes with an image of Jenkins in prison, leaving viewers to consider the GTTF corruption scandal's long-term impact on Baltimore.