Musical biopics seem to be all the new rage, so it's only natural that groundbreaking rock band The Sex Pistols would have their moment in the spotlight. FX's latest project Pistol is a six-episode miniseries based on Steve Jones' 2016 memoir Lonely Boy: Tales From a Sex Pistol, which chronicles some of the band's most iconic incidents. Craig Pearce,  developed the limited series, which is directed by Academy Award-winner Danny Boyle. The pairing of these two personalities will undoubtedly produce a visually arresting intensity that is ideal for the Sex Pistols' chaotic, revolutionary image. Here's a basic rundown of when the series will be available to stream so you can stay up to date on everything Pistol.
Pistol Season 1 Recap: What Happened to the Sex Pistols? Why Did They Break Up?
When will Pistol be released?
The film Pistol will be released on May 31st, 2022. The series' six episodes will all be released on the same day. Fans in the United States may watch via Hulu via FX, while those in the United Kingdom, Ireland, Canada, Australia, New Zealand, and Singapore can watch via Disney Plus via Star.
What will the Time for PISTOL to  Stream on Hulu
Pistol will be available for streaming at 12 a.m. ET on Tuesday, May 31, or, if you're lucky, at 9 p.m. ET the night before.
FX on Hulu' Pistol: What is About?
The official synopsis is as follows:
"Pistol is a six-episode limited series about a rock and roll revolution. The furious, raging storm at the center of this revolution are the Sex Pistols — and at the center of this series is Sex Pistols' founding member and guitarist, Steve Jones. Jones' hilarious, emotional and at times heart-breaking journey guides us through a kaleidoscopic telling of three of the most epic, chaotic, and mucus-spattered years in the history of music. Based on Jones' memoir Lonely Boy: Tales from a Sex Pistol, this is the story of a band of spotty, noisy, working-class kids with 'no future, who shook the boring, corrupt Establishment to its core, threatened to bring down the government and changed music and culture forever."
PISTOL Season 1 Cast
The six-episode miniseries stars Toby Wallace as Steve Jones, Anson Boon as Johnny Rotten, Christian Lees as Glen Matlock, Louis Partridge as Sid Vicious, and Jacob Slater as Paul Cook, with the band members. Other including cast Emma Appleton as Nancy Spungen Sid Vicious' infamous girlfriend, Thomas Brodie-Sangster as Malcolm McLaren,
Maisie Williams as Pamela Rooke AKA Jordan Mooney and Sydney Chandler as Chrissie Hynde Steve Jones' on and off love interest.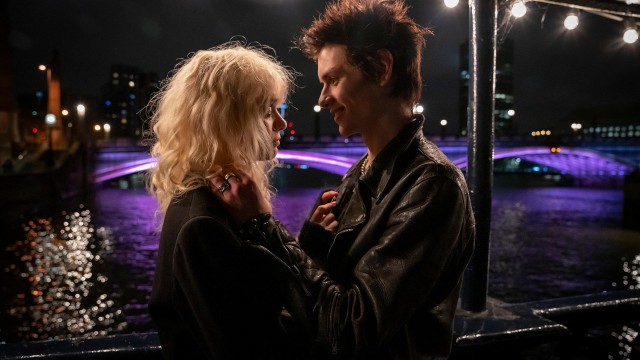 Alexander Arnold as Jamie Reid, Dylan Llewellyn as Wally Nightingale, Talulah Riley as Vivienne Westwood, Beth Dillon as Siouxsie Sioux, Iris Law as Soo Catwoman, Zachary Goldman as Billy Idol, Kai Alexander as Richard Branson, Ben Sardeson as Bertie 'Berlin' Bromley, Trevor Ford as Barnsley Publican, Ethan Steed as Supporting Artist, Kieran Roberts as Extra, Bill Odams the Boil King as Rocker, David Green as Extra, Martin Coates as Bartender,
FX on Hulu' Pistol Season 1 Episode Guide
FX ordered six episodes of the Craig Pearce-created series in January 2021, with Danny Boyle directing all six episodes.
Pistol Episode 1
Track 1: The Cloak of Invisibility: Desperate to escape the bleak future that society has decreed for him, Steve Jones convinces Malcolm McLaren to manage his band, The Swankers; but Steve discovers that his Cloak of Invisibility cannot shield him from the audience's gaze.
Pistol Episode 2
Track 2: Rotten: As Steve grasps his final chance and attempts to learn guitar in five days, a fury named Johnny Rotten arrives on the scene and the Sex Pistols are born.
Pistol Episode 3
Track 3: Bodies: As Steve and Chrissie Hynde begin to make more than just music, the Pistols begin to wreak anarchy in the U.K. and Johnny Rotten takes deeper inspiration from a grieving young woman.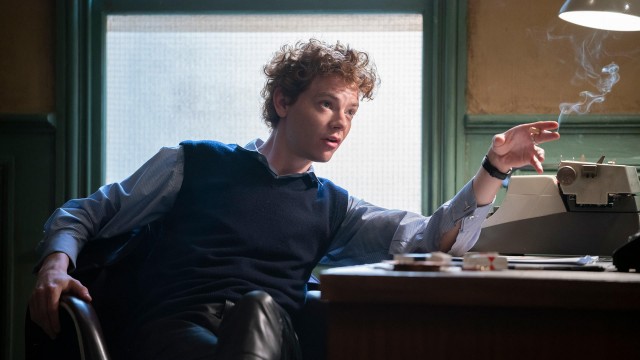 Pistol Episode 4
Track 4: Pretty Vaaaycunt: The idyllic moment where success is not yet fame, is soon obliterated when the band shock the nation out of its tea-time torpor. The resulting media frenzy causes egos to explode. Steve is emotionally blackmailed by Malcom into replacing bassist Glen Matlock with glorious looking, but musically inept, Sid Vicious.
Pistol Episode 5
Track 5: Nancy & Sid: As Nancy and Sid's love ignites, Sid becomes increasingly lost to heroin and violence; a plan is hatched to get rid of Nancy, but on a riverboat stunt during the Queen's Jubilee to promote "God Save the Queen," chaos takes hold.
Pistol Episode 6:
Track 6: Who Killed Bambi?
Malcolm tries to ruin the Pistols by touring in the South, where they're reviled; Sid becomes lead singer; Steve desperately tries to hold the band together, but Nancy is found murdered in a New York City hotel room, and Sid is the main suspect.
FX on Hulu's Pistol Season 1 Trailer
A legal struggle over music rights
 Sex Pistols frontman John Lydon blasted the series in 2021, when it was still in development, calling it "the most disrespectful stuff I've ever had to endure." Soon after, Lydon filed a lawsuit against former bandmates Steve Jones, Paul Cook, Glen Matlock, and Sid Vicious' estate, claiming that the Sex Pistols' music was being utilized in the series without his permission.  On August 23, 2021, it was disclosed that Lydon had lost the legal case and that the music from the Sex Pistols may be utilised in the series.