The third episode of This Is Us Season 6 opens with a flashback scene of grownup Jack Damon and Lucy visiting their future home. They're barbecuing in the backyard with a Big Green Egg smoker. Then Jack confesses that the odor reminds him of his very earliest memory, which is a horrific one. He remembers Toby and Kate urging him not to approach too close, as well as himself, crying. Meanwhile, Lucy informs Jack that he is not required to continue using the Green Egg. Then she drops the most important piece of information about Kate and Toby's impending breakup.
In this case, Randall and Beth
Randall is very excited when he takes Déjà out for a driving lesson. Things start out sweet, with father and daughter joking around. Then the car system tells them about a text message from Malik (Asante Blackk) about her visit. Randall finds out that she told a lie about where she was last week. In the movie, the city councilman and Beth (Susan Kelechi Watson) have a lot of fun arguing over which one of them should keep their cool. So Randall goes for a run, and Beth tries to calm her daughter down. It turns out that Deja is in love with Malik, just like Beth and Randall were when they were young, but Beth doesn't believe it. So they just have to be realistic and change their plans.
When Beth tells Deja that she wants to get birth control, she makes it clear that she wants to take her. In the meantime, Randall has a heart-to-heart with his daughter. Randall tells Deja that she won't be seeing Malik in Boston any time soon. So Deja is not going to be happy about this at all.
Kevin
For the kids, Kevin shows up at Madison's house over and over again. This is how Kevin's story starts. At one point, he asks Madison if co-parenting will ever be easier. Later, he tells Kate that he misses the twins' milestones because he was at work. Kevin goes to the bar with his The Manny co-stars that night, even though he is sad. A text message from Madison shows one of the twins taking their first steps. He jumps out of the bar and runs over to Madison's, where he meets Madison's friends. The twins are asleep when he comes. Kevin yells at Madison for their arrangement, which is making him miss important things. Madison tells him that he also misses the messy parts. They agree that things aren't ideal for anyone, but no one comes up with a way to make things better.
When Toby comes back to Kate's house, he tries to make Kevin feel better about not having the life he wanted. Kevin doesn't have Toby and Madison and the twins at the dinner table. He says that based on his own experience, kids would rather have parents who were happy but not together than parents who were happy but not together. This is what Toby does next: He compares families to shapes, which is very interesting, but neither Kevin nor himself think he makes any sense at all! People talk about things that make Kevin laugh, but when he gets to bed, his mood changes again. He then calls a different friend, Cassidy, and they talk for a while. He doesn't hide the fact that he called her to tell her not to call his co-star for a booty call. It looks like Cassidy doesn't want to do the job.
In this case, Toby
Toby's story also starts with a kind of "montage" of how hard it is to have to work outside of town. He gives Jack a football and Kate a purse and a gift card to get her hair done while he looks after the kids. In his defense, he says he knows what he is doing. Kate doesn't believe him. However, he did give up Jack's nap in order to play more with him. Jack, on the other hand, is awake too late and cranky. Instead of going to Kate's music recital, Toby decides to stay behind and take care of Jack. They had a fight about his mistake.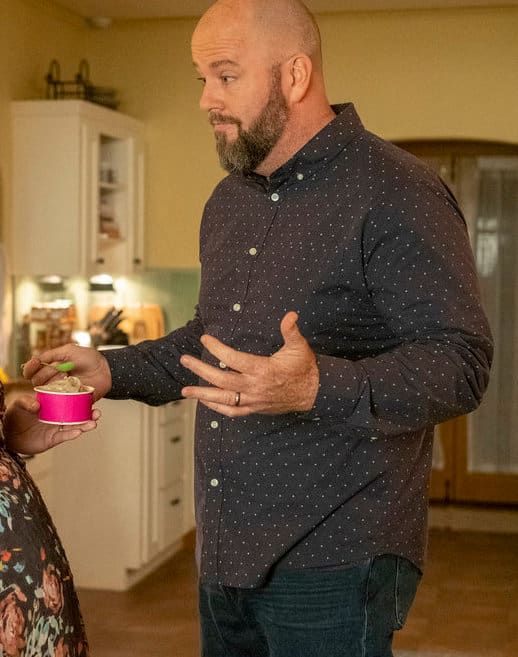 The next day after the recital, Phillip, Kate's boss or coworker, hears her vent about her fight with Toby. His wife and he have been having small fights for a long time. As long as they're still talking about the little fight, everything is fine. When they stop talking about it, things can get bad! However, it seems that the main point of his story is that small fights turn into big problems. Foreshadowing, a lot? Later, Kate and Toby talk about how difficult their situation is, but like Kevin and Madison, they don't come up with a solution. For some reason, they let the conversation die down. Soon, Toby tells Kate that he wants to buy a fancy smoker so they can have cookouts with their family when he's home.
Jack takes Kate, Kevin, and Randall on a movie adventure in the past.
This is the beginning of Jack's story about fatherhood. He is sad about not getting to see his kids very often because of work. The next weekend, he will take the kids to their first movie theatre. To make up for it, he is going to take them.
However, things go awry that day. In the concession line, Kate asks Jack if he can live at work for the rest of his life. This makes Jack feel bad. As soon as Kevin slips out of the movie theatre into the mall, Jack falls asleep. When Jack wakes up, he rushes everyone out to look for him so that they can help him. In this case, Kevin is already in a mall office, with Rebecca, by then. To get free samples, he went to the food court. He got lost and couldn't find his way back. He was found crying in front of a store, and someone called the police. Rebecca got a call from the mall because she had written their phone number inside Kevin's shoe. This is a great move for a mom!
Over the weekend, Rebecca (Mandy Moore) wants her husband to spend time with the Big Three, so she tells him that. Jack takes the kids to their first movie theatre inside the new mall. It doesn't help Jack when Kate asks her father if he's "going to live at work forever."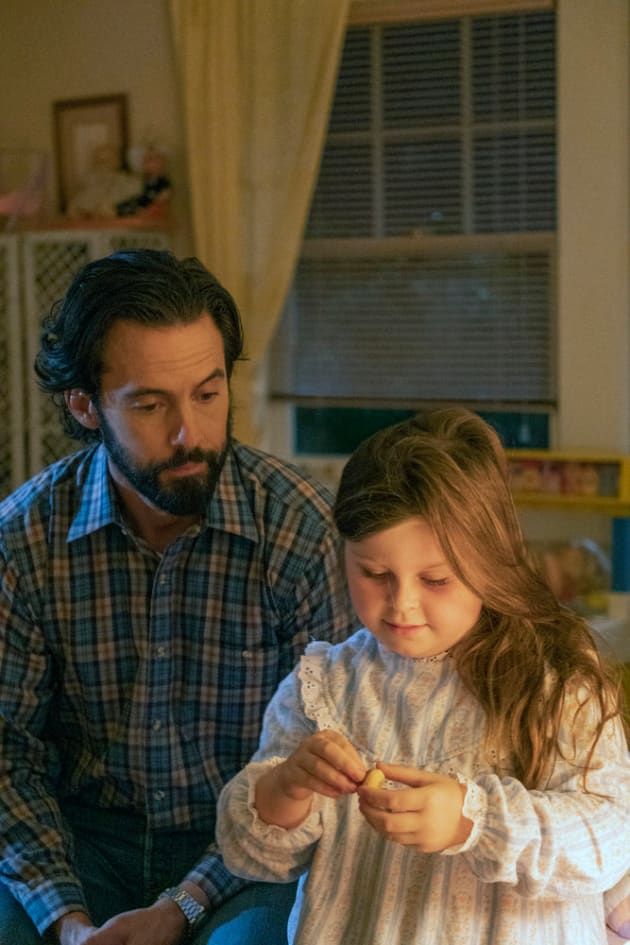 As Jack goes to sleep, Kevin sneaks off. The good news is that Rebecca, who wrote their phone number inside of Kevin's shoes, finds Kevin. Even so, Jack is filled with guilt. It might have hurt Kevin. He says the kids are old enough to make their own memories now.
Rebecca, on the other hand, tells Jack that he still has time to change the day, and she's right. Jack gets the idea to set up a home movie theatre, and the whole family has fun.
When Jack puts the kids to bed, Rebecca informs him that the kids will remember the Sundays they spent with him earlier that day, not the events at the movie theatre. It's late, the phone rings, and    He found out that his mother, Marilyn (Laura Niemi), had died.