Season 4 of The Marvelous Mrs. Maisel was one of Amazon Prime's February releases, returning with Midge and the gang in the 1960s after an extended absence due to Covid. Season 4 of The Marvelous Mrs. Maisel picks up with Midge in New York, trying to rebuild her career after leaving a seedy strip joint. Season 5 of The Marvelous Mrs. Maisel has been revealed as the series' final season.  Episode 5, 6 aired on March 4th, in which a lot happened. Midge (Rachel Brosnahan) is invited to Shy Baldwin's wedding and meets him for the first time since he left her and Susie (Alex Borstein) on the tarmac in episode 5 of the fourth season of 'The Marvelous Mrs. Maisel.' Susie is having trouble hiring a secretary, so she arranges for Sophie to appear on a prominent talk show. Sophie informed Midge in episode 6 of 'The Marvelous Mrs. Maisel' that L Roy Dunham of the New York Daily News had written a story about her, criticizing her and her work. Meanwhile, Rose meets the matchmaking mafia, and Joel (Michael Zegen) receives unwelcome news.    here is the recap of two episodes. let's start it.
Episode 5 of The Marvelous Mrs. Maisel, titled "How to Chew Quietly and Influence People," begins with Susie attempting to hire a secretary for herself. She leaves her office/home after interviewing and rejecting a large number of prospects. In the evening, she returns to discover a young African American woman seated there. She's there to work as a secretary. Susie was supposed to meet her in the afternoon, but she completely forgot about it. Susie hires the girl because she is resilient and has a peaceful energy. Joel persuades Mei to meet his parents, but she becomes ill on the way to the Maisel home. This episode leads you to believe it's simply her anxieties, but in episode 6, it's discovered she's pregnant. This changes the dynamic of the relationship completely. Joel and Mei's feelings for one other were growing stronger. This puts them both on notice. Their choices will now determine the course of their relationship.
Midge and Susie go to Shy's wedding with Monica and learn that Shy's entire staff has been replaced, including Reggie. Midge is bribed by his talent managers, who believe that money will keep her quiet. Midge, ever the idealist, refuses, much to the chagrin of her own boss. At Mr. Melamid's horse ranch, Rose meets up with the wealthy and affluent Mr. Melamid and takes the job of finding acceptable marriages for his two daughters. Meanwhile, Susie secures Sophie a berth at the Gordon Ford Show.
She has a mic and she's not afraid to use it. 🎙 Watch two new episodes of #MrsMaisel now on @PrimeVideo. pic.twitter.com/TEkvhdIzjm

— The Marvelous Mrs. Maisel (@MaiselTV) March 4, 2022
'The Marvelous Mrs. Maisel' Season 4 Episode 6 Recap
'Maisel vs. Lennon: The Cut Contest,' the sixth episode, Lenny Bruce wakes up, in Miriam's residence. He's confused, and Miriam soon catches up with him and explains to him what's going on. She discovered him strolling about inebriated the night before and invited him to crash at her place. Nothing transpired between them, but Lenny, who is now in a bad situation, advises Miriam not to get involved again. He's annoyed that he's been placed into such a foreign environment, and it's clearly disturbed him. He even mentions having a daughter. they've never discussed it. Lenny eventually hails a cab and returns home. Meanwhile, Susie's business is taking off, and Sophie has sent her a variety of baskets as a token of her gratitude for rekindling her profession. Susie eventually delegated to Dinah, who immediately located Joel and obtained his phone number. She tries to get Alfie to take a job, which she manages to do. Joel decides to give him a chance, with the possibility of a monthly series of performances.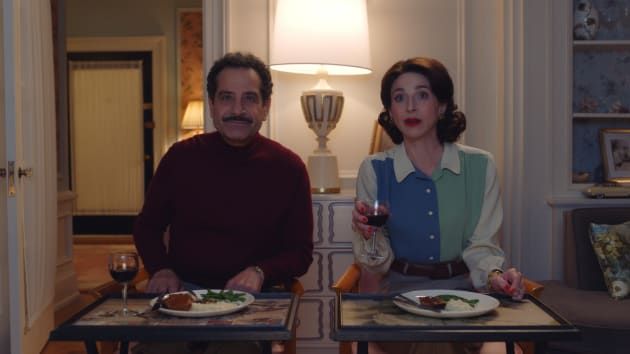 Sophie is doing great and is presenting on-air as she desires. Abe and Rose are smitten with her. Sophie is to blame for ruining her job, but her parents dismiss her fears. Meanwhile, Miriam's refrigerator breaks down, and Zelda is irritated that she wasn't informed about it the night before. In the living room, however, there is a quarrel between Abe and Rose over who should have the space to work. Of course, the latter is now acting as a matchmaker, so she is officially employed. Susie's office becomes a flurry of gifts, all of which are from Sophie. Susie, on the other hand, has had enough and calls her butler, who has returned, and instructs him to take them back. It doesn't help that Dinah's kids are also causing havoc in the office. It's definitely getting hot in here. Miriam calls Moishe at the same moment and asks him to postpone her last payment. This isn't going to work out this time, but it doesn't stop her from hanging up.
However, things at the club take a turn for the worst, putting Miriam back on the streets. The reality is, the talent backstage is ecstatic about the shift in clientele, and women tip more generously, assisting the staff. Not only that, but drink sales have also increased. The misogyny may be smelled from distance, but the numbers speak for themselves. Susie sees an opportunity and believes that since she's the one who changed things, Miriam should get a cut of the bar tab. The owner agrees to think about it and contact you. Susie advises her not to read the article since Roy Dunham has written about Miriam yet again, despite the fact that the show was actually rather good.
Miriam, on the other hand, refuses to give up and marches over to the newspaper, prepared to face Dunham. But it turns out he's a woman hiding under a man's guise. Miriam, she believes, is a wealth of information. As Miriam tries to play the feminist card, Dunham counters by stating that being a woman in journalism is difficult and that writing about Miriam and all of her faults and struggles as a comedy is helping her advance in her own career. Miriam is mute for a long time before walking away. When Miriam returns home, Sophie is waiting for her in her living room, amusing the staff. She requires her assistance in appointing Susie as her manager. This explains why she won't let her alone with the gifts. Miriam, on the other hand, is enraged and resentful of Sophie. Sophie, on the other hand, is well aware that she is in debt as a result of her hiring of a private investigator, and she invites her to appear on her show. As a result, Miriam would be able to earn a good living. She'll also prevent Dunham from writing articles on her. All of this, of course, would allow bridges to be repaired and Sophie to resume her role as Susie's client. To be honest, it's a fairly fantastic bargain, and Miriam is seriously considering it.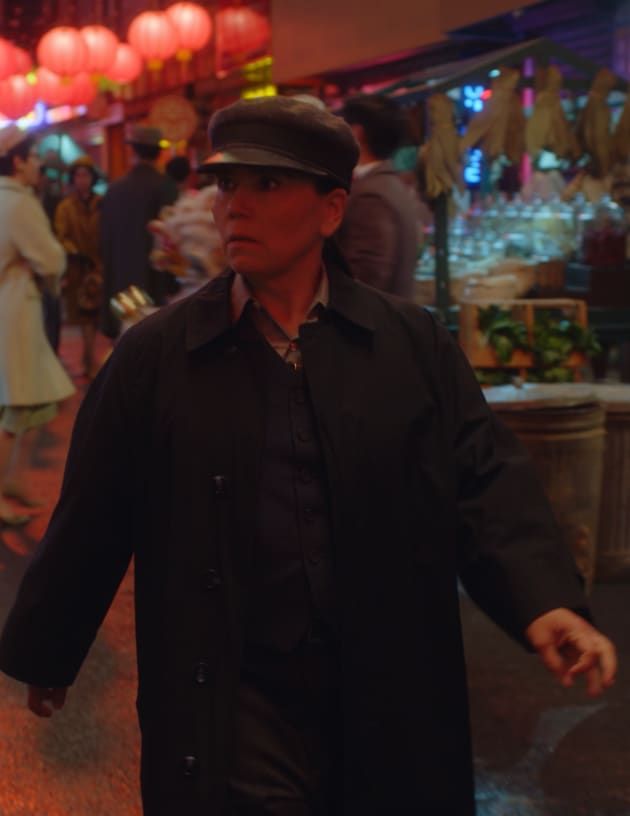 Meanwhile, Mei arrives at the club and informs Joel that she is expecting a child. Joel offers to assist her and to be there for her. He also promises her that she will become a doctor, despite the fact that a no-show Alfie at the club is causing her problems right now. Susie catches up with him, but he's spinning out, unsure if he'll be able to complete the job. Susie agrees to rebook him, giving him another 24 hours to organize his affairs and improve his act.  Miriam is invited to her Small Business Women's Society, where she discovers the truth about the basket bearing the word stop engraved on it. These women want her to quit arranging matches, claiming that they've already carved out a lucrative portion of the pie for themselves and that there isn't enough to go around. They even use Miriam's strip club appearance as a form of blackmail to force her to stop. We eventually witness a little more stand-up when Miriam speaks up and performs her act, before Sophie steps in and decides to riff, infringing on her set. Things quickly deteriorate. When Sophie brings up the Shy Baldwin gig and Miriam discusses her drug addiction, their jokes go pretty vicious. Thankfully, they're stopped before things get out of hand, but this is going to be a major headache in the future.