The Handmaid's Tale's fifth season has been devoted to two competing mums, Serena and June. These two rivals ultimately crossed paths in "No Man's Land," and both surprised everyone. June chose to spare her enemy so that a newborn may live with its mother after Serena made the decision to preserve her life. These two women are fighting in "Motherland" to either keep their babies (in Serena's case) or be reunited with them (in June's case). In yet another fantastic episode, episode eight, motherhood and the motherland are themes that are explored. For a detailed explanation of everything that happened in The Handmaid's Tale Season 5, Episode 8 Recap continue reading at tvacute.com.
The Handmaid's Tale Season 5 Episode 9 [Allegiance] Will Hannah be saved in the end?
The Handmaid's Tale Season 5 Episode 8 Recap "Motherland"
Since the last episode, it seems like some time has elapsed. Serena (Yvonne Strahovski) has since moved into an immigration detention facility in Toronto and is no longer with Noah. Additionally, it appears that she frequently calls June (Elisabeth Moss), pleading for assistance. While protesters are marching through Toronto's streets demanding change, Serena keeps calling June's family from the immigration detention facility. The influx of Gilead refugees entering Canada has grown to irritate Canadians, who want them to leave.  June and Luke (O-T Fagbenle) think about emigrating from Canada to somewhere kinder, like Alaska, Hawaii, or Europe. June quickly rejects the notion, pointing out that it would distance them from Hannah.  Commander Lawrence has a strategy in place to take advantage of the current political environment and is fully aware of this simmering tension.
In relation to finding new homes for former Handmaids, Commander Lawrence (Bradley Whitford) finally tells Gilead's other officials about his "New Bethlehem" plan. He wants the lovely coastal village to welcome back migrants, granting them amnesty and a space to reconnect with long-lost relatives and friends. He refers to it as a "modernized, strategically liberalized island." Some of the Commanders are dubious, but Lawrence persuades them that it's a wise political move for Gilead with the assistance of Nick (Max Minghella). In an effort to encourage others to follow, Lawrence wants June to be the first refugee to board.
When we return to Canada, Serena has descended to a new low. She is expressing breast milk in a corner of the communal area of the detention facility while wearing a jumpsuit that is prison-yellow. her infant son Noah is now in the care of the psychotic Wheeler family. Alanis frequently visits the prison where she breastfeeds to pick up the milk bottles for Noah. Serena makes an attempt to take responsibility for her actions, but Alanis simply uses this as an opportunity to call her crazy. Alanis mentions that Noah is crying excessively, and she tells the mother that using the cry-it-out technique on a one-month-old is insane. Serena is upset, but while she is in prison, she has little control over these results.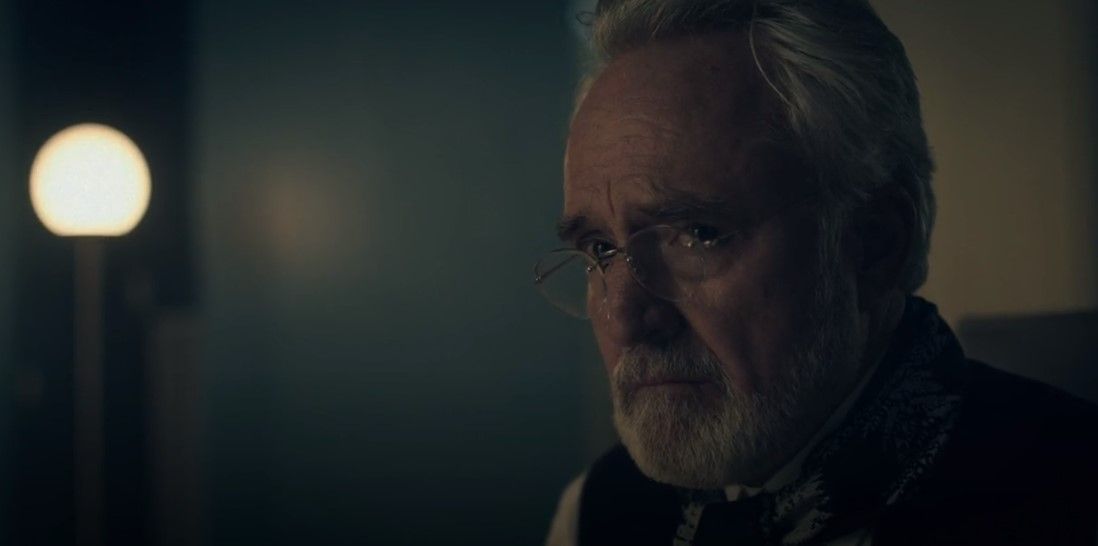 When Lawrence brings his New Bethlehem tour to Toronto, he tries to persuade June to go back to a more forgiving area of Gilead where there are "no Handmaids or hangings." He guarantees her family's safety while they are on the island and, more crucially, gives them the chance to see Hannah again. He says June can at least keep the tween safe by being nearer to her even though he can't stop the tween from becoming a child bride. Although Luke doesn't trust Lawrence and doesn't believe moving his family to Gilead is a wise idea, June is naturally enticed by the offer. Lawrence also pays Serena a visit. Instead of presenting her with the same wonderful New Bethlehem deal, he arranges for her to go back to the Wheelers' house. She would get to stay with Noah and assist in his care, but in doing so, she would essentially take on the role of the Handmaid for the pair. She declines the proposal.
Agent Tuello (Sam Jaeger) shows in to try to persuade June to stay in Canada while June is pondering accepting Lawrence's invitation. He says the United States is planning on "something significant," possibly a military strike against Gilead, but he won't reveal the operation's top-secret specifics. She seeks Rita's opinion out in frustration over his evasiveness and the fact that he still doesn't know where Hannah's wife prep school is. The former Martha claims that while she wouldn't want to go back to Gilead, she would go to any lengths to be with her child.
Serena receives a visit in June to clear up some issues. Serena begs June for assistance, but she firmly reminds her that they are not friends and that, despite whatever "connection" Serena might have thought had developed between them, she hasn't yet forgiven her for the suffering she put her through. But June does give her some wise counsel, advising her to essentially act the part while planning retaliation, just like she did when she was a Handmaid. She persuades Serena to go back to the Wheelers because she thinks that is the only way she can assist Noah.
June follows her own advice and contacts Lawrence right away before he departs from Toronto. If the Commander can prevent Hannah (Jordana Blake) from being married off, she is ready to go back to Gilead. But he denies being able to accomplish that and even suggests that her ultimate "planned marriage" may not be all that horrible. When June snaps, Lawrence is forced to accept that his well-intentioned intentions to save humanity failed and turned "septic." He admits that he wishes he could go back and begs June to work with him to improve Gilead, beginning with the alterations to New Bethlehem.
June is working in the garden later that evening. We are reminded of the time she reassured Hannah by telling her that no matter how far apart they are from one another, they will always "share the same moon" as she longingly gazes up at the night sky. Luke interrupts her and delivers a package to her that is unidentified. A disc with footage of Hannah at her school is included in the enigmatic package. June's intense remorse at leaving her behind comes to the surface when she sees her kidnapped daughter, which solidifies her desire to return to Gilead and save her. After a difficult argument, Luke concedes that Nichole must go but still refuses to move her there.
With Nick, whom he also has a proposal for, Lawrence is touring New Bethlehem while they are back in Gilead. Nick, in his opinion, would be the ideal Commander to reside in the new outpost. He then makes a creepy attempt to persuade him to accept the proposal by telling him that he will be living there with Nichole, June, his new wife Rose, and their unborn child. Lawrence is hopeful that June intends to come back with her entire family. Luke and Moira (Samira Wiley), who are in Toronto, watch the brief video of Hannah that June received. He pledges to delve deeply into the prospective intel since he is committed to keeping June in Canada and supporting the Americans. Serena has followed June's counsel, as we discover when we catch up with her. She arrives at the Wheelers' with her hat in hand and is ready to apologise and promise to obey their rules. She is compelled by Mrs. Wheeler to acknowledge that she is unfit to be a mother. Serena nods in agreement with the evaluation while maintaining a strained smile and her fists clutched tightly behind her back. Her obedient behaviour is rewarded when she is permitted to console Noah, who is sobbing upstairs.
The Handmaid's Tale Season 5 Episode 8 Ending
As the episode comes to a close, June is becoming impatient. It has been a week since she gave Tuello the DVD, and they still don't seem to have found Hannah's school. She decides to go for a walk to get some apples for Nichole because she is agitated and restless. She receives a call from Tuello when she is out purchasing the veggies. "Hannah was located. We've got a plan "He speaks confidently from a room full of people wearing suits and military uniforms who appear important.  June joyfully informs Luke and Moira of the good news, letting them know that the U.S. is preparing a raid and that Hannah will be saved and brought back to them as a result. The action then shifts to Hannah, who is on the campus of her school, as they celebrate with hugs, jumping, laughter, and tears. She is gardening, planting something in the ground while gazing up. The screen goes black, the credits start to roll.