In the Good Doctor Season 5 Finale, Asher reconnected with his parents after his father was diagnosed with terminal lung cancer, and Morgan seriously explored an attending post in New York, which (could) mark the end of her romance with Park. Glassman (Richard Schiff) and Jordan (Bria Henderson) planned a surprise wedding for the pair at the hospital. Finally! Shaun and Lea married in a rooftop ceremony after so many ups and downs. Things were going swimmingly, but a Good Doctor conclusion wouldn't be complete without a terrible catastrophe which almost ensures a cliffhanger. Dr. Lim and Nurse Dalisay Villanueva were involved in the cliffhanger. Let's read how it all turn. Who Dies in The Good Doctor Season 5 Finale?
A Surprises Wedding For Shea
Lea starts the finale episode by making pancakes for Shaun and eating them in bed. They want to have sex but finish eating first. Shaun realizes they are better at pretending to get married than at getting married. She informs him she doesn't want any more dress fittings and is only interested in getting married. He goes to his computer and informs her that there is room in the courthouse tomorrow. Shaun returns Morgan and Park's gift because they are not having a public wedding. Lea is the one who opens all of the gifts. Lim refuses to return Lea's blender. Jordan begs Lea to accept her gift. It's a framed photograph. Lea is disappointed that not having a wedding, but she claims that she does not require one. Shaun speaks with Glassman, who claims that people aren't always sure what they want.
When Shaun and Lea exit the elevator, everyone surprises them with a traditional wedding.
The #Shea moment we've all been waiting for on #TheGoodDoctor 👰‍♀️💙🤵‍♂️ pic.twitter.com/77WGE1bZAs

— The Good Doctor (@GoodDoctorABC) May 17, 2022
Shaun receives a ring from Glassman's great grandfather. Shaun inquires as to whether Glassman's father was a good father. Glassman will only remark that his father gave it his all. The wedding is a joyous event. Shaun receives a toast from Glassman.
This was everything 💙 #TheGoodDoctor @Richard_Schiff pic.twitter.com/btlJ5jNvmB

— The Good Doctor (@GoodDoctorABC) May 17, 2022
Morgan and Park are at a Crossroads
they are so goals 😂❤ #TheGoodDoctor #parnick pic.twitter.com/A3U2XNpcn6

— Best of parnick (@bestofparnick) May 10, 2022
Morgan (Fiona Gubelmann) and Park (Will Yun Lee) are at a crossroads when Morgan considers taking an internal medicine job at a different hospital, which will put some distance between them and their already strained relationship. The two have only recently moved in together, but it appears that paradise is in for a lot of complicated trouble.
Asher Reconnected with his Parents
Asher (Noah Galvin) reconciled with his parents only to hear that his father was dying of lung cancer. They've come because they believe Asher will perform a miracle for them. Shaun claims that they must act quickly. There isn't any more time. When Asher refuses to perform the Jewish prayer for healing because he does not believe in God, the mood is disrupted. Asher is adamant that they will find a way to save him. Jordan tells Asher that he's being a jerk and that his father has come to make up with him before he passes away.
Devoting a day to joy ❤️ #TheGoodDoctor @Noahegalvin pic.twitter.com/FEXihwhbl5

— The Good Doctor (@GoodDoctorABC) May 17, 2022
Asher's father chose to die at home in peace rather than agree to a dangerous surgery that would merely prolong his life but not cure his cancer. In the chapel, Asher is with his mother. They have a disagreement regarding his father. She believes that refusing to perform this procedure for his father constitutes aided suicide. the two were able to reconnect before saying their final goodbyes. Although it may be the final time Asher sees his father alive, the two exchange "I love yous," and the prodigal son will know that his father accepted him on some level before his death.
What Happened To Dalisay Villanueva And Lim The Good Doctor Season 5 Finale?
Dalisay Villanueva (Elfina Luk) has been living with Lim (Christina Chang) since he refused her resignation and gave her a place to stay to get away from her domestic abuser, as fans will recall. Villanueva was trying to get back on her feet and leave Lim's apartment, but her boss made it plain that she was welcome to stay, despite the fact that getting over her abuser wouldn't be easy. They were all set to stay together, and St. Bonaventure doctors planning a wedding for Shaun and Lea on the hospital's roof. ER, when Lim walked down into the break room in search of additional glasses as everyone else partied two floors above .with no one else around, music blasting, and only a few minutes left in the episode and it turns out that she slid into something that turned out to be a puddle of Villanueva's blood. Villanueva had to try to alert her companion that someone else was present by applying pressure to her wounds and calling for a cart, telling the nurse not to talk.
Is Lim dead in The Good Doctor Season 5 Finale? Ending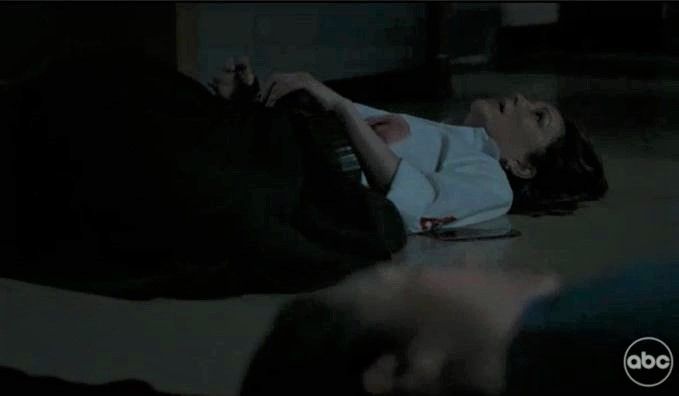 And that someone was Villanueva's abusive ex-boyfriend Owen, who emerged from the shadows, grabbed Lim, and stabbed her in the abdomen twice before fleeing! Villanueva and Lim were both viciously stabbed and bleeding on the floor of an otherwise empty room in the Season 5 finale, with the people who could save them partying obliviously above, with music drowning out any screams for aid. At least Lim was still alive, and Villanueva was still breathing when the camera last focused on her face. It's bad news for both the women and their new roommates if aid isn't found immediately. we don't want to see Lim die since she is such a significant and important character, and Villanueva deserves a break after fleeing domestic violence. Fans of The Good Doctor will have to wait with bated breath to learn what happens to Lim and Dalisay, but fans can rest confident that answers will be forthcoming after the show was renewed for Season 6 early this year.