Welcome from the luxurious realm of "The Gilded Age." We return to the complexities of high society, intrigue, and the constant quest for influence and power in 1883 New York in Season 2, Episode 1. With a fascinating premiere that poses issues, introduces fresh characters, and suggests possible shocking turns, The Gilded Age has returned. Now, let's discuss the main points of this episode as tvacute goes over the exciting turns, investigates the conclusions, and wonders where Tom Raikes is.
The Gilded Age Season 2 Episode 2: Peggy's Return
The Gilded Age Season 2 Episode 1 Recap
The opening scene of the episode serves as a reminder of the large cast and complex interpersonal dynamics of the show. Characters like Christine Baranski's Agnes van Rhijn and Cynthia Nixon's Ada Brook, who have been leading their typical high-society lifestyles, are reintroduced to the audience. Louisa Jacobson plays Marian Brook, who lives a secret existence that is revealed exclusively on Thursdays. Carrie Coon portrays Bertha Russell, who is attempting to become more socially successful by getting a box at the esteemed Academy of Music. Meanwhile, her husband George Russell  (Morgan Spector)  is preoccupied with labor union matters.
In this episode, Peggy Scott's family should receive extra consideration. Her kid, who was thought to be dead, turns out to be alive and living with an adoptive family, as we learn. Tension arises in the family as a result of this secret being revealed, especially between Peggy  (Denée Benton) and her parents, Arthur and Dorothy. The idea of a Broadway star-studded musical episode heightens fans' curiosity as they consider the show's unrealized potential.
The scene is set for Easter Sunday as we move into Season 2 when colorful caps and somber clothing create dramatic contrasts. The start of the season is made all the more tragic by the death of Peggy's 3-year-old son from scarlet fever. It also gives two gifted Tony winners, Audra McDonald, and Denée Benton, an opportunity to perform emotionally charged roles.
In the meantime, Bertha Russell  (Carrie Coon)  encountered Mrs. Astor, a prominent member of New York's upper society, as a result of her attempts to obtain a box at the Academy of Music. Bertha's ascent up the social ranks is evident, and she is obviously prepared to go to considerable measures in order to maintain her position in the higher classes of society.
Dashiell Montgomery, Marian's new love interest, appears, but not everyone is happy about this turn of events. Numerous new characters are introduced in this episode, which deepens the already intricate ensemble of the program. Robert Sean Leonard, who plays the new minister, brings new life to the show and makes viewers wonder what part he will play in the drama that develops.
Agnes's son Oscar experiences hardship when he gets attacked at a pub after making eye contact with a man. Another level of complexity is added by his wish to wed Gladys (Taissa Farmiga), the daughter of Bertha and George, taking into account both Oscar's personal preferences and the social mores of the time. The show also discusses topics such as marital equality, which serves to remind us of the Gilded Age's historical background.
The episode comes to a head at Bertha's "dinner of opera enthusiasts," where she tries to dazzle everyone with her connections and opera expertise, especially Mrs. Astor. The occasion is made more glamorous and exciting by the appearance of well-known singer Christina Nilsson. The tensions, goals, and intrigues that will surface during the season are set up in this episode.
The Gilded Age Season 2 Premiere: Ending Explained!
Season 2, Episode 1's conclusion leaves us with a number of fascinating revelations. The secrets that have haunted Peggy's family's past and their grief over her son's passing have caused strain in the dynamics of her family. Peggy's wish to work as a secretary at Agnes and Ada's home again points to a dramatic change in her character's development that will probably result in more turmoil in the upcoming episodes.
The foundation for a power battle between Bertha and Mrs. Astor was laid by her tenacious attempts to obtain a box at the Academy of Music and her plans to create a network of like-minded people. There is rivalry and suspense as the program comes to a close.
Despite his own love interests and personal challenges, Oscar makes a proposal to Gladys that suggests the depths of their relationship. A major issue revolves around Oscar's desire to uphold the family name and legacy while juggling his own needs and individuality.
The Gilded Age Season 2: Where Is Tom Raikes?
Marian Brook and Tom Raikes' friendship was one of the main features in Season 1 that drew in viewers. Season 2's opening episode quickly tackles Tom Raikes's disappearance, as he was a prominent figure in the show. Fans are intrigued about his future in the show after learning that he is getting married to a different character.
Julian Fellowes, the creator of the series, makes a suggestion that one should never rule out the possibility of a character returning in an ongoing drama. Even if Tom Raikes seems to be off the market, there's always a chance he might come back at some point, which creates suspense and surprises.
Tom Raikes's absence also makes room for the arrival of other characters, including Dashiell Montgomery, who suggests himself to Marian  (Louisa Jacobson)  even though he is a distant relative. With this developing relationship, the show takes on a new aspect that leaves viewers wondering where Marian's love life will go.
In conclusion, "The Gilded Age"Season 2, Episode 1 offers a multitude of complex plots, character relationships, and conflicts. A season full of drama, mystery, and surprising turns was set in motion by Tom Raikes's absence and the arrival of new people. The web of relationships and the quest for influence and power as we delve deeper into the affluent Gilded Age promise to keep viewers interested and anxious to see what comes next in this gripping historical drama.
The Gilded Age Season 2: Marian Brook's Secret Life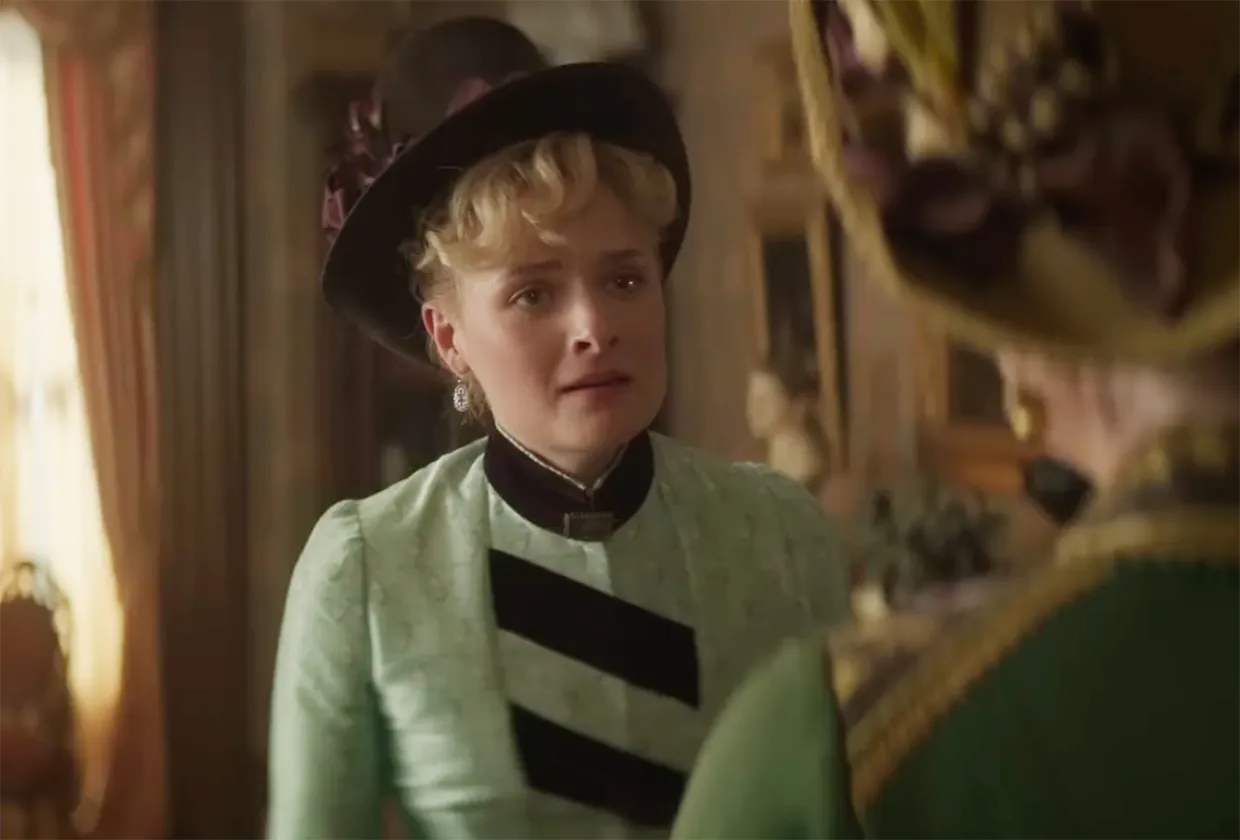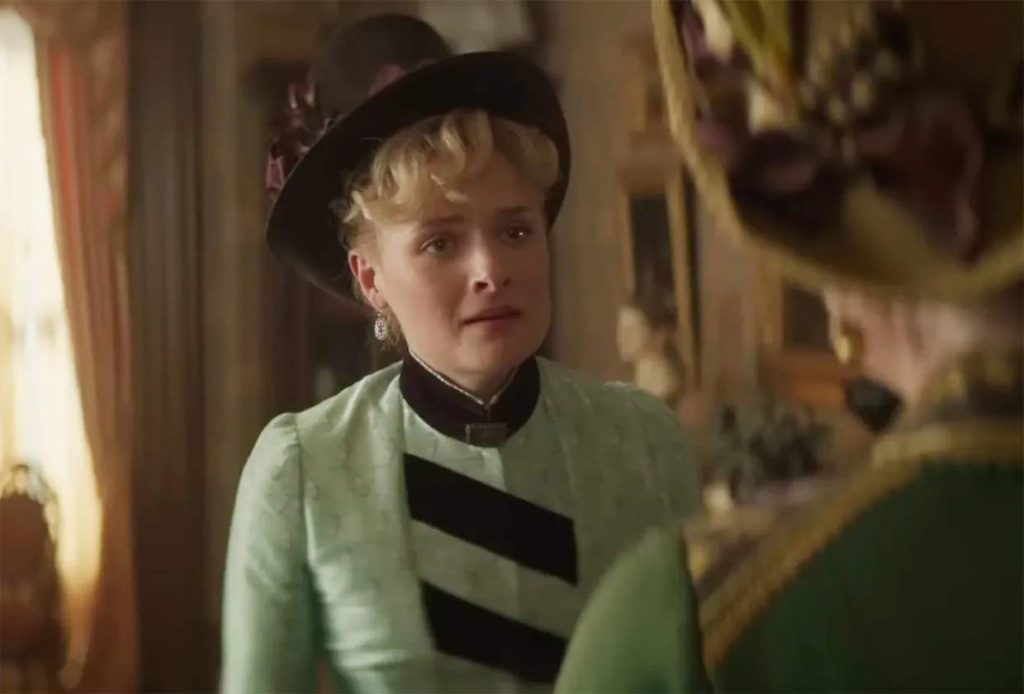 In "The Gilded Age" Season 2, Episode 1, Marian Brook's secret life plays a crucial role in the character's growth. This episode exposes Marian's double life, which she conceals from her relatives—particularly her aunt Agnes van Rhijn. Marian's covert life makes sense as follows:
The main focus of Marian's covert existence is her Thursday-related activities. Despite pretending to be a well-mannered and submissive niece, she harbors a secret desire and aspiration. Marian disappears into a whole other world every Thursday, leaving the walls of high society behind.
There are two ways in which Marian's hidden life is revealed. She appears to be a teacher at St. Mary's, a girls' school, on the one hand. She is able to meaningfully contribute to society and exhibit her uniqueness through her work. She displays her artistic side while instructing watercolor classes. She doesn't reveal her career to her family, though, especially not to her traditional and strict aunt Agnes.
In defiance of the expectations of her social class, Marian chose to become a teacher at St. Mary's. During the Gilded Age, women in high society had limited roles in social gatherings and marriages and were expected to adhere to strict norms. Marian breaks with these expectations and moves toward self-actualization and independence by choosing to become a teacher.
Her emotional life is the other aspect of Marian's hidden life. The episode makes reference to Dashiell Montgomery, a potential love interest, but it's obvious that Marian isn't ready to tell her family—especially Agnes—about her romantic involvement. She keeps her romantic relationships a secret because she knows Agnes might try to control her or disapprove of them.
Marian's decision to keep her secret life hidden speaks to her desire for autonomy and individuality. She wants to carve out her own path, away from the expectations and restrictions imposed by her family and high society. This internal conflict adds depth to her character and sets the stage for future conflicts and revelations in the series.
"The Gilded Age" Season 2, Episode 1 transports us back to the opulent New York of 1883, where riches and position are the highest accolades. The season opener introduces a large cast of characters, complex plots, and surprising turns that set the setting for another gripping voyage into high society. It is with great enthusiasm that we wish some characters farewell and welcome new ones as we look forward to what this Gilded Age has in store. Tom Raikes's absence raises questions about possible surprises, while Marian's growing romance with Dashiell Montgomery adds another romantic element. "The Gilded Age" is sure to keep us engrossed for the duration of the season with its power battles, secrets, and quest for social prestige.
Which Song Plays in The Gilded Age Season 2 Episode 1 "You Don't Even Like Opera"?