Television shows possess a distinct ability to captivate viewers through appealing narratives, captivating characters, and dramatic arcs. "The Buccaneers," which is currently available for streaming on Apple TV+, is one such show that has been gaining popularity. Adapted from Edith Wharton's unfinished novel of the same name, released after her death in 1938, Katherine Jakeways' The Buccaneers is an anticipated British period drama television series.  tvacute will explore the thrilling world of "The Buccaneers" Season 1 in this post, with an emphasis on Episodes 1 through 3. With romance, drama, and unexpected proposals, this show is sure to leave fans on the edge of their seats.
The Buccaneers Soundtrack: Which songs play in The Buccaneers Premiere Episodes?
The Buccaneers Season 1 Episode 1 Recap
In the opening part titled "American Poison" of "The Buccaneers," we are taken to a world where love is abundant. Conchita Closson (Alisha Boe) is getting married soon, and her bridesmaids are going to England with her to attend the Debutante ball in the hopes of meeting their future husbands. The brilliant Kristine Froseth plays the role of Nan St. George (Kristine Froseth), who is the main focus of this episode. Amidst the mayhem, we see Lord Richard Marable (Josh Dylan) arrive, Conchita's predicament on her wedding day, and a touching exchange between Nan and Guy Thwarte (Matthew Broome). Jinny makes a startling admission at the close of the show, setting the framework for the drama that will play out.
The Buccaneers Season 1 Episode 2 Recap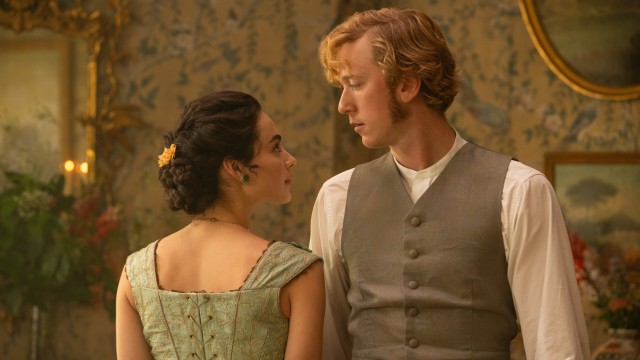 Four weeks after Nan leaves London, "The Buccaneers" returns for its second episode titled "Women or Wives". After delivering birth, Conchita is going through a difficult time, so enthusiasm surrounds Nan's return. In this episode, Nan struggles with an unexpected proposal as Conchita attempts to reignite her marriage. Drama is increased by Lizzy's dealings with Lord Seadown and Jinny's love endeavors. After a scandalous encounter with Lizzy Elmsworth (Aubri Ibrag), Lord Seadown makes a startling surprise to Jinny St. George (Imogen Waterhouse) as the episode comes to a close.
The Buccaneers Episode 3 Recap
In "The Buccaneers" episode three titled "The Perfect Duchess", Nan's engagement takes center stage as the story goes further into the lives of the individuals. We watch Nan struggling with her emotions as she adjusts to her unexpected engagement to the Duke of Tintagel. She starts to have concerns and misgivings about the whirling relationship.
Conchita encourages Nan to take a chance on love and embrace the danger in a supportive manner. A large portion of this episode takes place against the backdrop of the Duchess's Private Ball. The ball serves as a hub for the individuals' life, revealing their deepest feelings and secrets to the public.
Interestingly, Jinny and Lord Seadown surprise everyone by announcing their impending marriage at the castle. Everyone in attendance is taken aback by this revelation, and doubts are raised on the sincerity of their happiness.
An intriguing development occurs in Nan's connection with Theo (Guy Remmers), the Duke of Tintagel. Theo's mother approaches her and asks how she feels about her son and what part she will play in his life. Although it's unclear if Nan really loves Theo, it's clear that she holds a special place in his heart. He seems to have a special place in his heart for her based on the way he talks about her.
Guy Thwarte, who has a close relationship with Theo, is introduced in this episode at a crucial point. Guy's presence causes questions as Nan and Theo enjoy a funny moment riding horses on the beach. The fact that Guy is Theo's oldest friend becomes known to us, further complicating the dynamic between them.
As Nan struggles with her uncertainties about the upcoming marriage, Jinny becomes a comfort. Nan's internal conflict worsens when it becomes clear that she doesn't know who her mother is. Some comfort comes from Jinny's confirmation that this is a common uncertainty.
But lies and secrets hang over the characters. The truth regarding her mother's identity is brought up in a covert chat between Guy and Nan. Guy cautions Nan about the possible repercussions of telling this fact, emphasizing the possibility that Theo would be made fun of. At the Private Ball, Conchita and Lord Richard's disagreements reach a breaking point. There is tension in the air at the occasion as Conchita storms off after their confrontation.
The Buccaneers Episode 3 Recap: Ending Explained!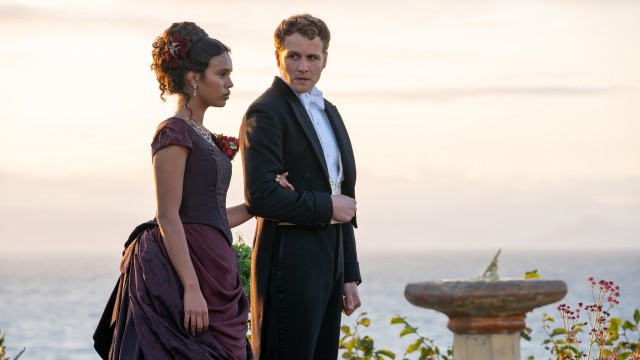 As the Private Ball progresses, presenting a range of emotions and conflicts, the episode hits a turning point. In an unexpected change of events, Lord Richard decides to pursue Conchita. He tells her that she doesn't have to apologize and suggests that she go back to New York as a solution. Conchita finds this proposition exciting, seeing it as a chance to reignite their relationship that began in New York.
Guy meets Nan, who is distressed and unsure of herself, and the two become confidants. She thinks of going back to New York to tell her mother that she is not going to be able to marry Theo. Guy moves forward at this point and offers to keep her identity a secret. Thanking him for his encouragement, Nan makes the decision to talk to Theo and finally consents to marry him.
With a cliffhanger and a sense of suspense, the episode leaves viewers wanting to find out more about Nan's decision's repercussions and how the characters' relationships are developing. It establishes the scene for the upcoming episodes, which seem to be captivating and intensely emotional.
In summary, the third episode of "The Buccaneers" Season 1 is an emotional rollercoaster that revolves around intricate relationships, secrets, and proposals. The viewer is left excitedly anticipating the next chapter to watch how the characters' stories develop as they negotiate the difficulties of love, identity, and society expectations.
Is [Apple TV] The Buccaneers based on the Unfinished Novel?