Netflix's comedy-drama series is based on the memoir Survival of the Thickest by its creators Michelle Buteau (Michelle Buteau) and Danielle Sanchez Witzel. The comedy was created by Sanchez, and stars Michelle Buteau as Mavis Beaumont, a plus-size African-American lady who has recently recovered from a separation. She is trying to start over, but she keeps running across roadblocks.  (tvacute.com) Here is all you need to know about the conclusion of Survival of the Thickest 1.
What happened in Survival of the Thickest Season 1?
"Survival of the Thickest" is a series that follows Mavis Beaumont, a stylist in her late 30s, as she navigates life after a messy breakup. Mavis had been in a long-term relationship with Jacque, a photographer, and they seemed to have a promising future together. However, everything changed when Mavis walked in on Jacque cheating on her with a model.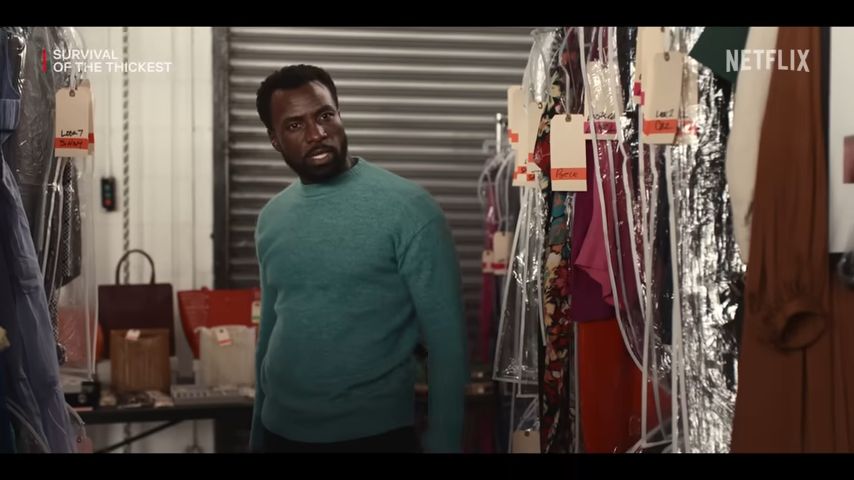 Feeling insulted and humiliated, Mavis immediately decided to leave their apartment. Her best friend, Khalil (Tone Bell), supported her through this difficult time and helped her regain her confidence. Mavis went from living in a luxurious apartment to a cramped space in Brooklyn, but she refused to give up easily.
In Brooklyn, Mavis encounters an old acquaintance who had a crush on her. Although she barely remembers their interactions from the previous night, Mavis realizes it was a mistake. Meanwhile, Mavis is late for a meeting with Sydney (Sarah Cooper ), the editor of Esquire magazine. Struggling to find motivation, she receives encouragement from Khalil to pursue her dream of becoming a lead stylist. Mavis musters the strength to go to the Esquire office, where Sydney is impressed by her portfolio. However, Sydney expects Mavis to work with Jacque, which Mavis disagrees with since she wants to establish her own path without relying on him.
Mavis starts frequenting a drag club and forms friendships with the drag queens, especially Peppermint. Through Peppermint, Mavis gets the opportunity to style Natasha Karina (Garcelle Beauvais), a 90s supermodel who is insecure about her relevance in the industry and uncomfortable with her body size. Mavis aims to empower thick women and rejects the idea of a corset for Natasha. Despite Natasha's initial doubts, Mavis is hired for the job. With limited time, Mavis gathers various options and manages to find a dress that fits Natasha perfectly.
Unexpectedly, the event turns out to be a funeral, which initially embarrasses Mavis as she agreed to style Natasha for it. However, Natasha wants to dress elegantly to bid farewell to her ex-husband. Mavis hesitates about Natasha's choice to wear a glittery dress to a funeral but realizes it symbolizes Natasha's way of saying goodbye. The dress boosts Natasha's confidence, and she decides to make the most of the opportunity to shine, even in an unconventional setting.
Peppermint (Peppermint ) live-streams the event, and Natasha's entrance, dropping a strap-on into her ex-husband's casket, becomes an internet sensation. Mavis is also mentioned in the video, gaining over three thousand new online followers. Despite the improvement in her life, Mavis still finds herself thinking about Jacque (Taylor Selé) and the life they once had together.
Survival of the Thickest Episode 8 Recap: Ending Explained!
In the final episode of "Survival of the Thickest," Mavis makes crucial choices affecting her personal life and potential romantic interests. Mavis's mother counsels her to settle down following an anxiety attack and suggests Jacque, her ex-boyfriend, as a possibility. Unexpectedly, Mavis accepts Jacque's proposal for a second opportunity. Mavis, a charming stranger she met at a drag club, now understands she still has feelings for Luca (Marouane Zotti). Despite their separation, a relationship had developed between Mavis and Luca.
When Luca calls Mavis, she confesses her love for him and claims that no one else can truly understand her. Mavis demonstrates an understanding that Luca needs time to comprehend everything. Later, Mavis sends Luca a surprise visit by arriving at his home with the plane ticket he had mailed her. They declare their love for one another, and Mavis and Luca's union brings the narrative to a happy conclusion.
Additionally, Mavis and Natasha make amends in the climactic episode, and Natasha acknowledges how much she missed their friendship. Natasha's return to Mavis' life has made her thrilled. Khalil and India's finale, however, is not as happy. Khalil develops a bond with India's son, but their relationship is strained by the ex-husband of India (Anissa Felix). Due to the ex-husband's concerns, India decides not to invite Khalil to her son's birthday celebration, leaving Khalil feeling humiliated and unsure about their future. The occurrence raises the possibility of Khalil and India splitting apart.
There is potential for a second season even if the series concludes with Mavis and Luca's relationship in a positive place. The upcoming season might focus on Mavis's pregnancy and the difficulties of motherhood. It might also include updates on Khalil and India's lives.