Season 4 of Stranger Things begins with a bang (opens in a new tab). Dr. Brenner, the ruthless lab master who raised Eleven with an emotionless backhand, methodically instructs a new test subject on how to use his abilities. Brenner has softened — he's joking while the patient performs tests, and the two seem to get along swimmingly. Then something breaks into the lab, and everyone outside is killed by an unknown force. Brenner survives an initial attack, travels down a corridor, and finds Eleven standing at the end, her eyes bloodied. What exactly has she done? let's find out in Stranger Things Season 4 Episode 1 Recap. 
Martin Brenner enjoys starting his day with a steaming cup of coffee and completing a crossword puzzle in under a minute in 1979. He goes to the office and tells Ten, a young boy with whom he works, that if he puts his mind to it, he can find anyone. Dr Brenner requests that he find Dr. Ellis. Ten, on the other hand, is scared when he sees Dr. Ellis with a child named Six, who is now both dead. Then, from outside, Brenner hears shouts and moans. The door is suddenly thrown off its hinges, knocking the good doctor over. Ten is dead when he wakes up. Countless dead bodies are lying over the floor as he walks the halls. There's blood and glass all over the place. When he walks into a room with a subject, someone who must be Eleven turns around. Her eyes are covered in blood smears. "What have you done?" Brenner then inquires. Doc, I'm guessing you taught her exactly what you did.
Let's fast forward to the spring of 1986, and we're wondering if the kids are okay. The Stranger Things universe has undergone some adjustments. Will (Noah Schnapp) and El (Millie Brown) are in Lenora Hills, California. El is building a cute Hopper diorama, complete with a wonderful mustache, while Will has grown taller and longer but still looks to be wearing the same size clothes. Joyce (Winona Ryder) has a vexing job cold-calling consumers to sell encyclopedia sets from her home. Mike (Fynn Wolfhard) is preparing to spend his spring vacation with El. Lucas (Caleb McLaughlin) is on the basketball team with the aspirations of becoming famous, whereas Dustin (Gaten Matarazzo) has the same long-distance lover who changes his Spanish grade.
Then there's Max (Sadie Sinclair), who no longer appears to be dating Lucas. She is in pain because her stepbrother, Billy, died, causing a gap in her family. Max has moved into a new home, and her mother is working two jobs. She decides to keep her dreams hidden from her guidance counsellor. She is afflicted with post-traumatic stress disorder. Max's grades fall as a result of her head being buried in a pair of headphones. The Hellfire Club is a collection of freaks and geeks who play a punkier version of D&D. Lucas's sister, Erica (Priah Ferguson), fills in for him when he is unable to participate in the year's final campaign due to his participation in the championship game.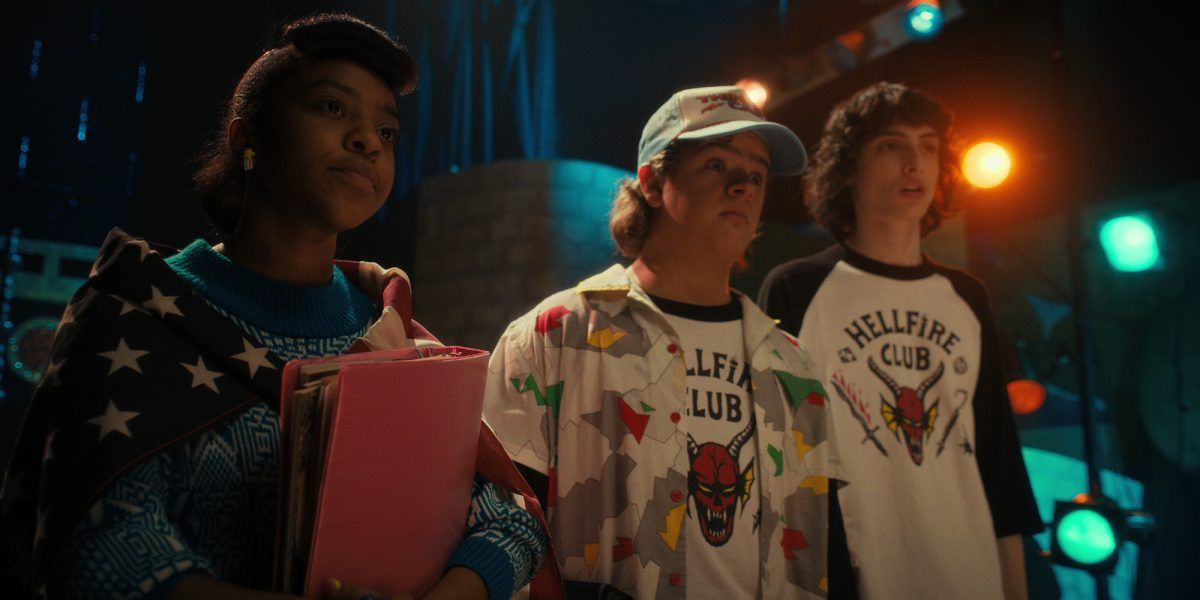 Nancy (Natalie Dyer) and Jonathan (Charlie Heaton), the older ones, are travelling considerable distances. While working on the school paper, she is wearing her Emerson college blouse. He's studying a trade and hoping to be accepted sooner rather than later. Working at Family Video, Steve (Joe Keery) and Robin (Maya Hawk) are still pals and share their girl woes.
Stranger Things Season 4 Episode 1 Introduced Two New Characters
There are two new characters who are important. Chrissy (Grace Van Dien,) for example, is experiencing auditory and visual hallucinations, such as hearing her abusive mother scold her and seeing spiders escape from a grandfather clock in a tree. To soothe her worries, she wants to get some marijuana from Eddie (Joseph Quinn) of the Hellfire Club. However, we will return to them later. El is being terrorised by her new classmates in the meantime. They tease her for paying homage to Hopper. They toss her around and shatter the tableau she created. When she bursts into tears, she tries to fight back with her abilities, but nothing happens. She is helpless, but why is that? Lucas wins the game on a buzzer-beater later in the episode, but Mike and Dustin miss it to spend the night with the Hellfire club members. It appears that the band is disbanding. The most shocking revelation is that Joyce, a Russian doll, was sent. Murray tells her to bust it open, but he suspects it's rigged with a bomb from the communist thugs on the other side of the Pacific. Joyce pulls out a note with cutout letters when she does. "Hop is alive!" it proclaims. He appears to be out of date, so please make." Is Hopper still alive, or is this a cruel joke? It reads more like a ransom note than anything else, to be honest.
Stranger Things Season 4 Episode 1 Recap! Explained
It's time to take turns bloody and horrible let's take a step back. Eddie takes Chrissy to his trailer park home to get something stronger than weed. While he goes to get the Special K, she wanders off. She starts to see strange things. She is now stuck in a house with two floors. A woman who is sewing is yelling at her. Last but not least, her father's nose, mouth, and eyes are all sewn and glued shut, and he is screaming for help. Then, a dark, scary figure that looks like a Demidog corners her and tells her it's time to end her pain. When Eddie comes out of the bathroom, he sees Chrissy standing in the middle of the room with her eyes moving back and forth and her pretty little head rolling.
Eddie is trying very hard to wake her up as she has a seizure. The last thing he needs is for a teenager to get sick in his warehouse where he keeps drugs. In Chrissy's dream, the bad thing grabs her head with its claw and starts to lift her off the ground. Funny thing is, Eddie, notices that the girl starts to float while he is shaking her. Has the world of the wrong way up met the world of the right way up without crossing over? He is scared, and as the beautiful, sweet cheerleader is thrown up against the ceiling, he feels even worse. Chrissy's four limbs are broken and turned in different painful ways as Eddie looks up. I think Chrissy likes Jim Carrey because her jaw is separate and rests in a way that makes me think she is a big fan of his. And finally, both of her eyes roll into the back of her head.