Fans have been impressed by how deeply each of the new episodes of Season 6 of Rick and Morty have explored the characters, but the most recent episode of the show has joined the family for a brand-new adventure! The main promise made before to the fourth episode of Rick and Morty's new season was that Rick would inject the Smith Family with a substance that would cause their bodies to move at night while they were asleep. The opens with a T. S. Eliot poem about waking up from a nightmare. As the episode begins, the poetry makes sense. Rick (Justin Roiland) has a contraption that lets people train themselves to do things while sleeping, and the family wants to utilize it. They've learned nothing from Rick's warnings concerning the Meseeks box and other devices. www.tvacute.com provides a comprehensive recap on this page.
[Juricksic Mort] Rick and Morty Season 6 Episode 6: Release Date| Promo | A new alien invasion using ships
Rick and Morty Season 6 Episode 5 Preview
Rick and Morty Season 6 Episode 5 [Recap] Jerry'll have sex with his mother.
Rick and Morty Season 6 Episode 4 Recap
"Night Family" opens with Beth (Sarah Chalke) going downstairs to sleep and finding Rick doing sit-ups. These sit-ups are disturbing. Rick's eyelids and jaw droop like a zombie. He ignores her question and leaves the room. Rick describes his weird behavior at breakfast as "my night person" and shows Beth a device he picked up in space that lets him set things for while he sleeps. Rick has been using a Somnambulator to acquire washboard abs, hence the sit-ups. Everybody wants in. Rick cautions them the technology is too advanced, but gives in. Each family member programs their intended Somnambulator goals. Morty wants washboard abs like Rick's, Summer wants to learn Spanish, Beth wants to learn the trumpet, and Jerry uses his night person as a pen friend.
After a few days, it is discovered that Summer has picked up Spanish, Beth has mastered the trumpet, and Rick and Morty have given themselves abs. To commemorate their improved fitness, the two of them have launched a podcast. Jerry has been sending letters to the version of himself he sees at night so that he can read them during the day. When they notice the Night Family engaged in activity, they all immediately begin their own tasks.  Jerry interrupts Rick and Morty's podcasting to tell them about Night. Jerry tells the day family to rinse their dishes before leaving them for the night family to clean.    The next morning, he wakes up and finds all the crockery destroyed. Rick resists. On a distant planet, a huge creature makes indestructible dishes. Rick is stubborn, but this time feels very different. Rick is straining his typical hardheadedness to save a few seconds of dish rinsing.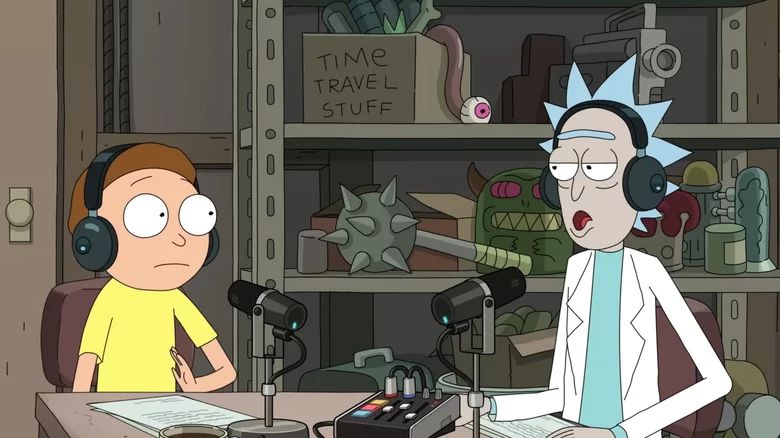 Rick disputes Jerry's claim that Night Summer has asked the day family to assist with cleaning the dishes because the Night Family's job is to complete the tasks that have been allocated to them. However, it is discovered the following day that the Night Family smashed every plate.  The following day, Night Summer exposes that she is in command when the rest of the Night Family straps Rick down, wakes him up and orders him to wash the dishes. Here, the Night Family restrains Rick and forces him to eat dirty dishes. Night Summer then confesses that she has been waiting to take over the daytime in Summer's head all along. But addressing Summer during the day doesn't accomplish much; in fact, the Night Family has removed all of their possessions and technology from the home.Summer is wearing a sleep deprivation suit that night as Rick devises a scheme for her to infiltrate the night family. She needs to stay up all night to carry out her plan because the apartment is cheaply furnished. Summer enters the house at night and observes the family tampering with Rick's equipment in the garage. She tries to destroy the device that they are constructing in order to increase the night family machine's range.
It is discovered that Night Summer had fooled the others and is now awake during the day when Rick lets off his guard. She commandeers Rick's low-tech devices, which he had built to protect them using the little remaining technology, and uses them to launch tranquilizer darts at the hostage-taking family. After the commercial break, it becomes clear that Night Summer had seized control for a number of days and abducted the entire family that was photographed. Jerry is still attempting to speak with Night Jerry in the meantime.
Soon after, Night Jerry awakens the day family and offers to aid; but, when they attempt to flee, Rick's spacecraft is set to explode. They start to drive away to get out of the night family machine's reach before they fall asleep and become subject to it once more, but Morty is hit by a tranquilizer dart and falls asleep in the middle of it all. While Night Summer pursues them, Rick is quickly knocked unconscious by Night Morty and changes into Night Rick as well. Morty is awakened by Jerry's bite, but Beth quickly falls asleep as well.
The Smith Family reunites awake in their car after continuing the pursuit. It swiftly turns into a mix of each of them falling asleep and waking up quickly. A neighboring tranq dart continues to poke Summer, sending them careening into a ditch where the family scuffles and alternates between day and night versions. Even if Night Jerry and Night Summer agree to a truce when Night Jerry tries to break up their argument, all Rick needs to do is wash his dishes. Naturally, he declines, and as the family departs into the dusk, he too turns into a Night Person. While still in their trance, the Night Family is seen having a variety of experiences as the credits roll. However, after the credits, the Night Family struggles to manage all of the typical family responsibilities and falls bankrupt while failing to pay their debts. Here, Night Rick decides to shoot the night person machine, waking everyone up from their coma. only to be horrified that the Choco Taco is no longer available.