The mystery surrounding Patrick "Paddy" Moriarty is important to the strange disappearance that has kept the small Northern Territory settlement of Larrimah in a state of constant suspense. That sad night of December 16, 2017, when Paddy and his devoted dog Kellie disappeared without a trace, was five years ago today. The nation has been gripped by this terrifying tragedy, and the unanswered concerns about his fate are still reverberating through Larrimah's hallways.
Who is Patrick "Paddy" Moriarty?
Beyond being a resident of this isolated town in the Northern Territory, Patrick Moriarty was a character deeply ingrained in the community of Larrimah. At the age of eighteen, Paddy left his birthplace of Ireland to make his way in Australia's vast and unforgiving landscapes. After years of laboring on isolated stations as a ringer, grader driver, and station hand, his path brought him to Larrimah, where he made his home. Paddy was well-known in the small, tightly-knit group of roughly twelve individuals because of his lively personality and strong sense of community.
Paddy's presence was distinguished beyond his routine by a long-standing conflict with his closest neighbors. The conflicts that arose between Paddy and the people who lived across the street from him formed a central theme in the story, forming the outline of the mystery that surfaced that foreboding evening.
 What happened to Irishman Patrick "Paddy" Moriarty?
For Paddy Moriarty, the evening of December 16, 2017, proceeded as any other. He rode his quad bike home after saying goodbye to his loyal dog, Kellie, and leaving the Larrimah Hotel, where they were regulars. That evening, Paddy's routine took a frightening turn when he vanished into the night, leaving a partially eaten piece of barbecued chicken in the microwave.
Coroner Greg Cavanagh's following coroner's inquest uncovered a history of conflict between Paddy and his neighbors. The inquest exposed persistent feuds and claims of property damage, casting a dark shadow on the relationships in this close-knit community.
Cavanagh's research suggests that Paddy and Kellie most likely died that same evening. According to the evidence, Paddy had gone through his customary ritual before going outside with Kellie, which included leaving his half-eaten chicken in the microwave, setting his hat in its usual location, and placing his wallet on the table. As the inquest went on, the mystery grew more complex as recordings from covert police monitoring revealed a chilling tale of a guy admitting to Paddy's brutal demise.
 Is Patrick "Paddy" Moriarty from Larrimah Dead or Alive?
There is no doubt in the coronial inquest's determination that Patrick "Paddy" Moriarty is no longer alive. Based on the evidence that was produced and the unsettling recordings that were obtained by the secret police monitoring, Coroner Cavanagh declared that Paddy and his close friend had died that tragic night.
The mystery surrounding the case is increased by the absence of a conclusive cause of death. The inquest indicated that his ongoing conflict with his neighbors was most likely the cause of his death, although the specifics are still unknown. This is a singular and puzzling case, made more difficult for the investigators by the lack of a corpse.
Who killed Irishman Patrick "Paddy" Moriarty?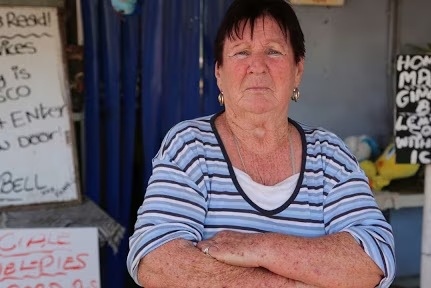 The subject of who killed Patrick "Paddy" Moriarty still has no clear explanation. The inquest brought to light Paddy's turbulent relationship with his closest neighbors, especially with Owen Laurie, her gardener, and Fran Hodgetts. Disturbing admissions were aired during the hearings from secret police recordings, one of which had a person claiming responsibility for the horrific act.
Fran Hodgetts's live-in gardener, Owen Laurie, came under examination at the inquest. The tapes, which purportedly showed Laurie confessing to the crime, sparked unsettling suspicions about what had transpired before Paddy died. Laurie, however, steadfastly denied any involvement and opted not to speak, claiming the right to avoid being implicated in his own crimes.
During the inquest, Fran Hodgetts, the operator of the tea establishment and a key player in Paddy's dispute, was also accused. There were rumors that she had paid a large amount to have Paddy removed. The matter remains unsettled since Laurie and Hodgetts have not been charged, despite the disturbing nature of the evidence that has been provided. The case was sent to the Director of Public Prosecutions due to its complexity, indicating the possibility of additional inquiries and judicial measures.
Where is Teahouse Owner, Fran Hodgetts Now?