Travel through time with four teenage "paper girls" from the 1980s on Amazon Prime Video. While delivering papers, they run into time jumpers and are taken to the future, where they meet their grown-up selves. The popular comics were the inspiration for the eight-part series. The first season of Paper Girls has come to an end. This is not yet the end. We know that Brian K. Vaughan and Cliff Chiang's comic book keeps going, so we hope to see more. We don't know what will happen to the show yet, and this last episode leaves us with a lot of questions. Is Paper girls take a position against Old Watch in episode 8 "It B Over."Read the recap below.  Amazon Prime Video is where you can watch Paper Girls.
Paper Girls Season 1 Recap: What happened to Paper Girls?
Paper Girls Season 1 Episode 8 Recap
At the start of episode 8, Juniper (Celeste Arias) is trying to find help. Camryn Jones, the younger version of Tiff, shows up to tell her that they are ready to go. Juniper is still trying to get in touch with her contact when Tiff tells her that in 1988, two other STF Underground members stole her other radio. . To get in touch with them in 1988 and request assistance, they can utilize the radio close to the fold. Mac (Sofia Rosinsky) believes that if they can alter the outcome, KJ (Fara Strazza) won't receive the awful perm and Erin (Riley Lai Nelet) won't have to die. Juniper keeps saying the coordinates "4.1.6.6," and eventually they hear Mac tell them over the radio that they are coming to get the stuff back. Everything has already taken place, it seems.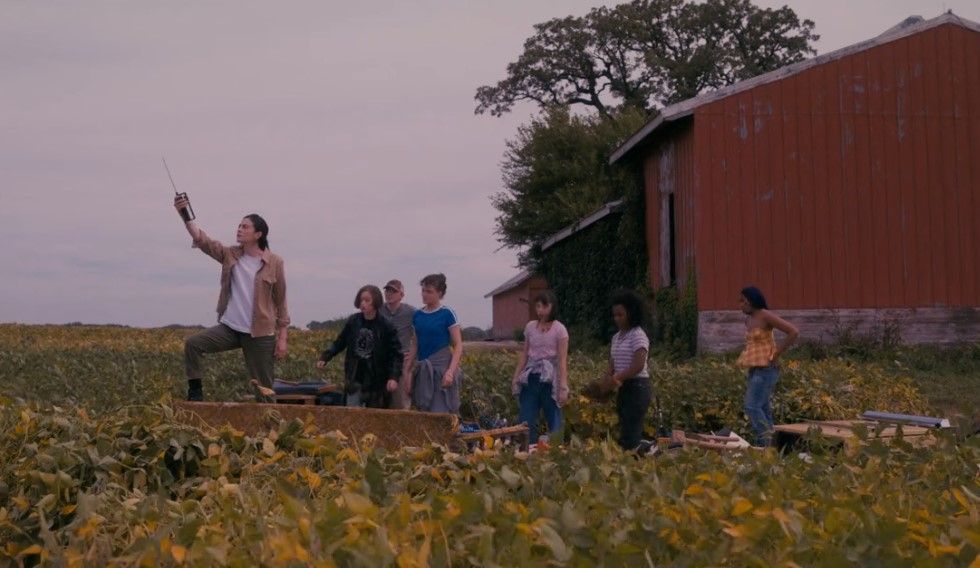 Older Tiff, played by Sekai Abeni, realizes that this is some kind of time paradox, and Larry, played by Nate Corddry, is freaking out. Erin tries to get the guys to stop whatever mission they're on to try to change things, and she keeps saying, "You're going to die." This reminds Mac that she's going to die, so she runs away. KJ wants everyone to give her a minute, but they can't. They are nearly covered by the Old Watch. When KJ discovers Mac in the barn, he doesn't appear to be in a hurry to go. KJ receives a handshake from Mac who then thanks her for her support. KJ is startled by this, and Mac is also irritated. She runs into the house and finds the scary Old Watch lady there (Adina Porter). He has to take care of his meemaw, among other things. Erin tells him that they need him and that he won't have anything to take care of if he doesn't help. Do whatever he needs to do now to keep everyone safe.
Back inside the home, KJ has gone in search of Mac to offer her another apology. She is currently trapped inside with the terrifying Old Watch lady. According to Mac, the woman wants to return them to their own time and erase all unwanted memories. Mac gives KJ the date they left freely, while KJ refuses. She's tired and probably wants her mind wiped so she doesn't have to worry about her death. Someone wants to meet them before she gets home. Mac doesn't mind going back and forgetting everything, but KJ wants them to send her to the future so they can find a cure for her cancer there. Erin and Tiff spot a flying dinosaur. they try to catch it. So it appears like the fold is pushing from everywhere. Back inside, a mixed tape analogy teaches us why we shouldn't change the time. We're not chronologists. and then they break Dylan's mixed tape. In the finale episode, Juniper is taken by the Cathedral, Mac agrees to do whatever they want as long as they scrub her memory. She doesn't want to remember.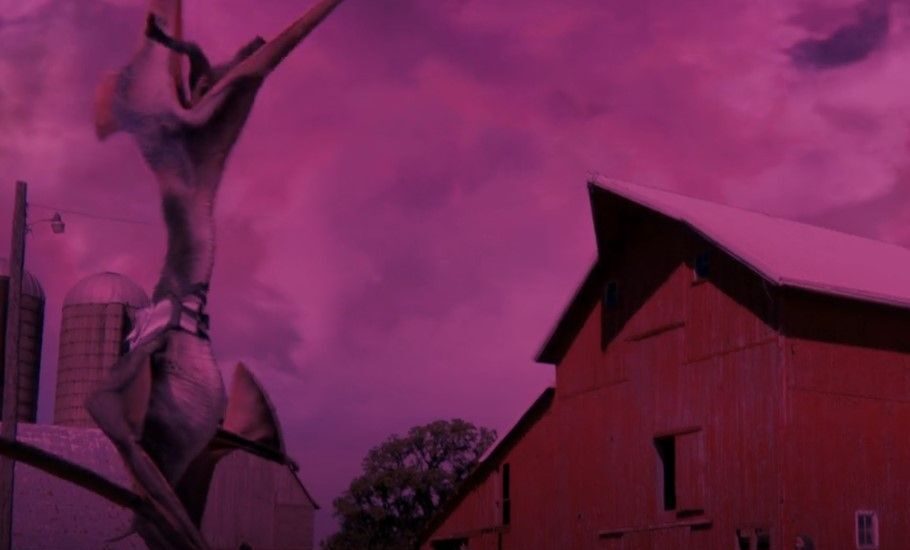 Younger Tiff and Erin are being driven away by older Tiff. She won't forget. Tiff can't leave. She writes in older Tiff's book that they created time travel. Even if she forgets, this will safeguard her future. Younger Tiff and Erin flee as older Tiff's mind is cleansed. It's the mystery man's pet dinosaur. KJ and Mac wonder how the STF Underground's time-traveling hasn't influenced the temporal mix-up. KJ says removing their choice is wrong. Mac doesn't want to do it, but they have no choice. Larry threatens to shoot the dinosaur if the girls aren't released. Mac, KJ, Tiff, and Erin hide as Larry draws the Old Watch's attention. The mystery man tells him he doesn't know what's happening and not to join the strange teenagers. When Larry won't stop, the dinosaur eats him. Bad Larry. First, it fell apart, and now it's dino food.
At this point, the girls run into the house and down into the basement. Mac tells Erin and Tiff the truth about her future self having cancer. They feel sad for her. Prioress decides to use the dino pet to get them out while she tries to come up with a plan. Mac wants to go out by herself because she already knows she is going to die. Mac wants to go alone because she's dying. Since they're two, KJ won't let her travel alone. Tiff says they've only survived because they've stuck together. Mac apologizes for everything she's ever said, and KJ invites them to her Bat Mitzvah afterward.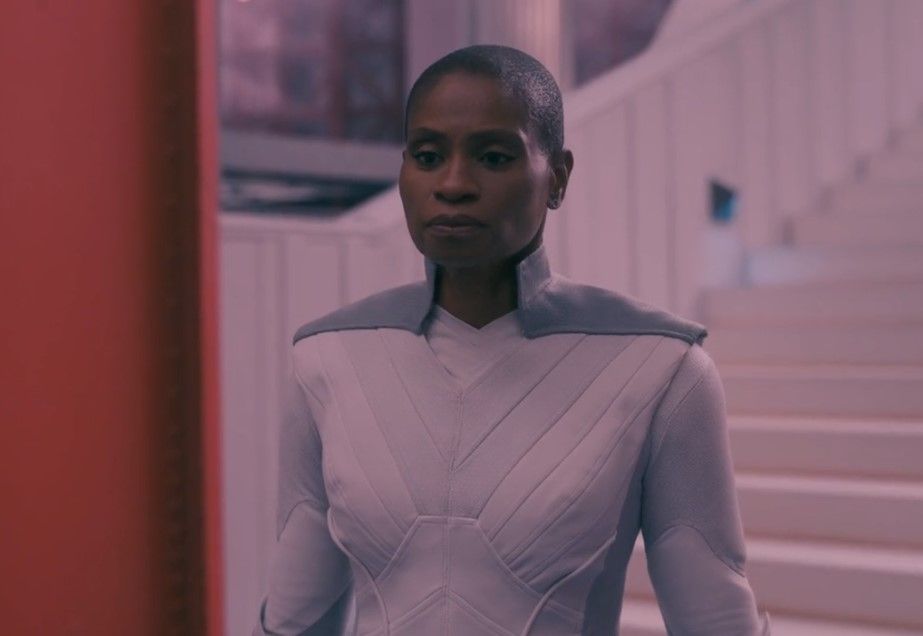 Before being taken up to the cathedral, they make their stand outside. The females wonder what would happen when their thoughts are wiped. Are they friends? Who knows? What happened? A lot depends on whether or not they believe what the Old Watch says. Then Prioress arrives to collect Tiff. the girls won't let Tiff go alone. Prioress takes all the girls instead of just Tiff.  She describes how she joined the Old Watch and how they were convicted for STF Underground's actions.
Prioress explains that Joan Braunstein's squad transformed the war. This is a group that Tiff would join in the future. Prioress only tells them so they may save Mac. Is this true Prioress save Mac? Or another plan? She takes them to a portion of the church where they can make folds and launch spaceships. Prioress asks the girls to report to the future. KJ apologizes for killing her brother as they barely escape. Prioress fires for them and takes a shot. Erin heals her gunshot with the same bugs. Mac and KJ are the only ones to board the ship, leaving Erin and Tiff behind.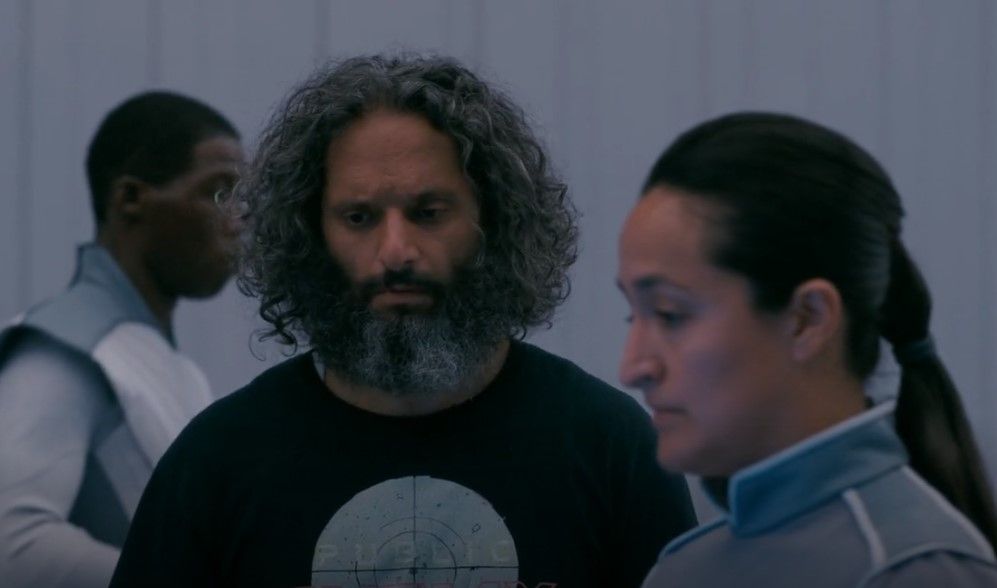 At the end of the finale, Prioress takes Erin and Tiff aboard another ship before Grand Father Russ, the mysterious man can stop them. She is shot and appears to pass away after transporting the paper girls aboard a spaceship. The paper girls attempt to run away from Russ, but they become dispersed. Although Mac and KJ's location isn't made clear, it appears that Erin and Tiffany have traveled in time to the past – on Larry's farm.