Outlander Season 7 Episode 5 highlights Bree's work ethic, Ian's unexpected reunion, Caitríona Balfe's Claire's medical responsibilities, Jamie's efforts to defend the fort, and strange occurrences on the MacKenzies' property. The episode features a variety of narratives, some of which might have used more development, but it also includes touching moments, tense situations, and intriguing riddles.  (tvacute.com) We have a recap of Outlander season 7 Episode 5 in case you missed the exciting conclusion.
Outlander Season 7 Episode 6 Promo
Outlander Season 7 Episode 5 Recap
Jem getting in trouble for cursing in Gaelic is SO Fraser-MacKenzie. #Outlander pic.twitter.com/EBRrCSjXgh

— Outlander (@Outlander_STARZ) July 15, 2023
In the episode of Outlander titled "Singapore," Brianna (Sophie Skelton) is time-traveling 200 years into the future and is terribly missing her parents, Claire and Jamie. When Brianna finds her kids, Jem and Mandy, playing at Lallybroch's cemetery, it causes her worry about her parents' passing. With Roger (Richard Rankin) at her side, she reads a letter from June 18, 1777, in an effort to find comfort. The Frasers' temporary residence is described in the letter as Fort Ticonderoga.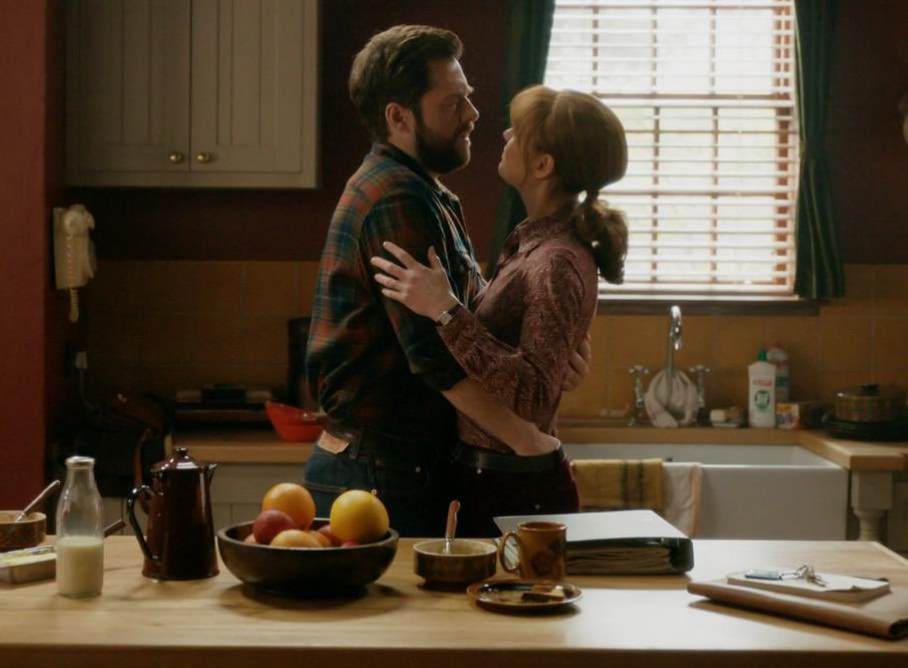 Meanwhile, Rob Cameron, a coworker, hazes Brianna on her first day of work, ruining her first impression of the company. He imprisons her in a tunnel near Loch Errochty, but Brianna confronts him later and warns him and his friends of the repercussions if they do it again. Later, she takes her father to the family cemetery to give him an update on their life now.
William Ransom (Charles Vandervaart) and the Hunters get into danger while traveling in the 1700s. They accept a stranger's offer to dinner but are shocked to find a dead rat in the stew the host's wife had prepared. That evening, the duo makes known their nefarious plans and assaults the passengers. In self-defense, William uses a fireplace poker to impale the man, then he subdues the wife. Even if he acted in self-defense, William finds it upsetting to kill someone. Rachel tells him that she does not think less of him when he confides in her. The following morning, William gives the couple his remaining funds while keeping the rosary.
In the 18th-century plot, Jamie alerts Fort Ticonderoga's superiors to the possibility of a British invasion from a neighboring hill. His superiors admonish him and instruct him to remain at the fort despite the fact that he uses a cannon to demonstrate his point. In addition to asking Claire for guidance on his deceased daughter and possible reproductive problems, Ian is given the task of delivering a letter to the Mohawk chief.
After telling him that he probably won't run into any issues, Claire subsequently learns that Ian's ex-partner has a child with her current partner. When Ian runs into Emily at the Mohawk camp, he notices that her son looks a lot like him. His son is given the name "Ian James."
Oh! Hello there young, adorable child who was just named Ian James by Young Ian.👀 #Singapore #Outlander pic.twitter.com/pO1A5tcV2u

— Elizabeth Smith (@Dumspirospero67) July 15, 2023
The new doctor, Denzell, supports Claire's strategy when she disagrees with a snarky "surgeon" over a medical procedure when she is now in Fort Ticonderoga. Upon his return, Ian strikes up a conversation with Rachel and offers her his "protection." Jamie supervises the evacuation of Claire, Denzell, Rachel, and the patients as the fort is attacked and an emergency evacuation is called. Mr. Woodcock, who is still recuperating from surgery, is unable to join them. He is given laudanum by Claire, who also bids him leave while feeling sorrowful.
This episode highlights Brianna's yearning for her parents, William's chance meeting, and the continuous difficulties Claire and Jamie experience while stationed at Fort Ticonderoga. It emphasizes the relationships that the characters develop despite adversity and their individual hardships.