Outlander Season 6 premiered on Starz on March 6, 2022. Season 6 had eight episodes and was based on Diana Gabaldon's sixth book in the Outlander series, "A Breath of Snow and Ashes." This season had a lot of action, and it also served as a prelude to the events of Season 7. The American Revolutionary War, mostly! So, let's take a look at what transpired in the Season 6 of Outlander.
In this season, Tom Christie, together with his son Allan and daughter Malva, relocates to the Ridge. Tom quickly begins construction on a church and invites Roger to conduct services. Malva is enthralled by Claire and becomes her apprentice.   Jaime begins and ends their work as an Indian Agent for the Crown. Before resigning, Jaime is able to secure weapons for Chief Bird and the Cherokees.  Marsali gives birth to a dwarf, Henri, and Fergus is upset. Jaime saves Fergus from suicide. Jaime is warned about the Trail of Tears by Brianna. When Ian runs into Kaheroton, he is reminded of his Mohawk past. After Young Ian leaves the Mohawks, Kaheroton marries Emily.
Outlander Season 7 Episode 1 Recap: "A Life Well Lost"
Outlander Season 7 Episode 1 Release Date & How to Stream It
Brianna is expecting a child, and Roger is preparing to be ordained as a minister. Jaime attends a meeting of the Sons of Liberty. Malva is performing a love spell with the fingers of a dead sin-eater. she dated Obadiah Henderson and Young Ian. In New Berne, Fergus opens a printing shop! Dysentery and polluted water kill a family. Claire and Tom become ill with an unknown ailment.  Malva is expecting a child and says Jaime cheated on her when Claire was ill. Claire finds Malva's throat slashed in Jaime's yard! The baby is lost after Claire performs an emergency C-section on Malva. Malva and the baby died! Lizzie is pregnant and doesn't know who the father is! She marries Josiah and Keziah! Outlander season 6 episode 7 ended with Richard Brown arriving to apprehend Claire for the murder of Malva! Here is everything you need to know about the ending of Outlander season 6  Finale Recap. SPOILERS AHEAD.
Episode 8 picks up precisely where the previous episode left off, with Richard Browns' Committee of Safety encircling the mansion. Jamie and Claire are on their own, as many occupants of the Ridge have fled for safety or are missing. After an argument, Claire shoots a man who tries to grab her in the dark. Jamie and Claire must rely on one another for strategy and weapon supply. The siege on the Ridge will go all night. Brown's men have told everyone in the surrounding districts that Claire is a murdering witch, that Jamie is the father of Malva's child, and that he may have even had a hand in her killing. Hiram Crombie and the other fishermen arrive not to defend Jamie and Claire, but rather to persuade them to stop resisting the arrest.
Jamie shouts for her, believing she has been injured, and the men seize him and take him into the house to arrest her. Claire brandishes her rifle and threatens them. Outside, Jamie is attacked, but he fights back. Claire arrives to help him and shoots warning rounds to disperse the crowd. They then go inside and erect a makeshift barricade of furniture. Brown and his men fire at the house, demolishing it totally. Brown, Jamie believes, isn't coming to apprehend Claire, but to kill them all. Brown had been convinced that Marsalis is the one who murdered his brother. Richard enters the home, bearing the white flag of peace, to meet with Jamie. He swears not to harm Claire and merely takes her to Salisbury, where she will be given a fair trial.
Jamie is adamant about not handing over his wife to him. Brianna advises that they tell their son about her time travel and the fact that they are aware of events that have yet to occur. Roger urges her against it. Richard and his men, Jamie believes, will set fire to the home and burn them alive as soon as it becomes dark. He swears to Claire that he will never abandon her. Mrs. Bug's warning to Arch and Ronnie is all he has. Claire and Jamie consume some food to prepare for what is about to happen. Claire recalls eating in the diner with her kid in the past. She was a cheeseburger, fries, and coke kind of girl. She worries about where Ian is, but Jamie is confident that help is on the way. He tells her about what happened while he was in France. A fortune teller took his hand in his and spat on his palm. She referred to him as a cat and claimed to have seen the number nine, as well as death, written on his hand. Claire is comforted by the fact that he believes he has nine lives. He wakes her up in the middle of the night because he hears the Fishers approaching. Hiram is in charge of the group as he arrives to negotiate and prevent further carnage.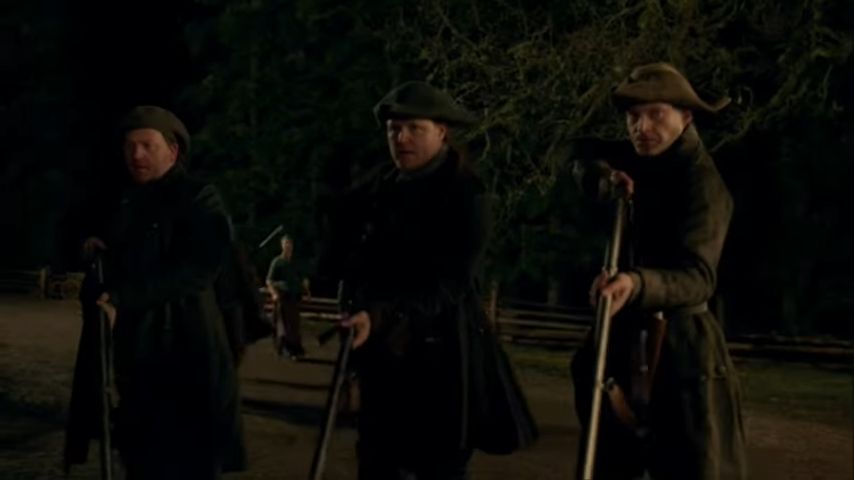 Jamie and Claire appear in front of the throng, pleading with them to return to their senses. The mob, on the other hand, is enraged and demands that his wife Claire pay for her misdeeds. Jamie is concerned that if he passes Claire over to Richard, who blames her for his brother's death, she will perish. So Hiram offers that they both go to the trial in Salisbury to ensure that nothing bad happens to her. Lizzie appears with a contingent of armed men to protect them. Jamie, on the other hand, would rather surrender than risk additional slaughter. Tom then appears, having decided to accompany them on their journey to ensure that nothing bad happens to them. He advises that they leave early in the morning so that they can sleep in their own bed for the night.
Claire says that she is afraid while lying in their bed, so Jamie kisses her and rubs her face to soothe her fears. They board the waggon for Salisbury in the morning. They come to a halt, and Richard informs them that the sheriff in Salisbury resigned a week ago, and that there is no court. As a result of increasing political tensions in the colonies. As a result, they must travel to Wilmington.  Ian returns from his hunting expedition to discover Lizzie sobbing about Claire and Jamie being kidnapped by the mafia. As Richard and his soldiers walk through the villages, they begin spreading rumors and hatred about her, forcing her to respond. The locals began throwing pebbles at her and Jamie. Angry peasants toss bricks and stones at one rest area, saying Claire is a witch. Brown is obliged to intervene in order to keep the mob at bay. Claire is hurt when she collides with a villager who tries to jump inside the waggon. It quickly escalates, and Tom fires at them to bring them to a halt.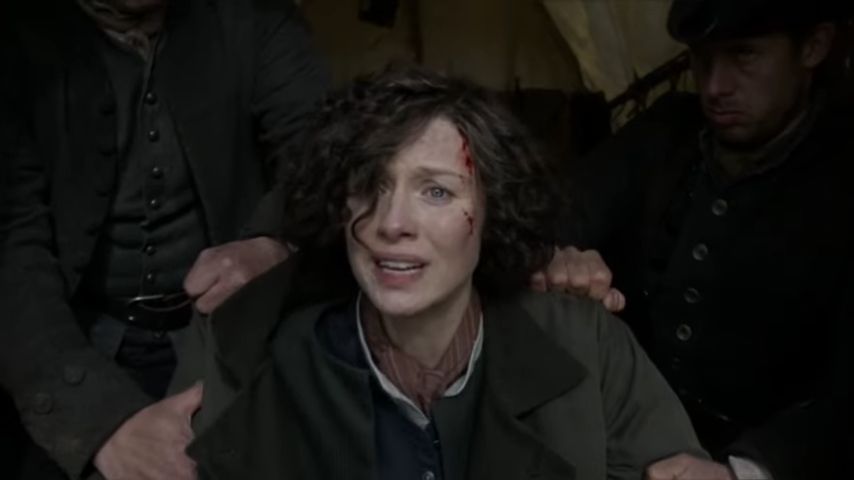 Roger and Bree's Trip
During Roger and Bree's trip, the main struggle is Jemmy's lice, as well as indications and introspection regarding the truth of their future knowledge. Before the Committee of Safety arrived to arrest Claire, Roger and Bree had plainly fled the Ridge. In the woods, they don't come across any of Brown's men, thieves, or enraged townspeople. There isn't a fire, a storm, or any other natural disaster. After discovering that their son has lice, Brian and Roger chop his hair. She finds an odd mole on his head after that. Roger has one as well and says it's a family trait. They are ecstatic when they discover that jemmy is his son. Brianna then goes ahead and cuts Roger's hair. Richard and his men arrive to a meat camp, where lowland hunters drink and have a good time before returning to their homes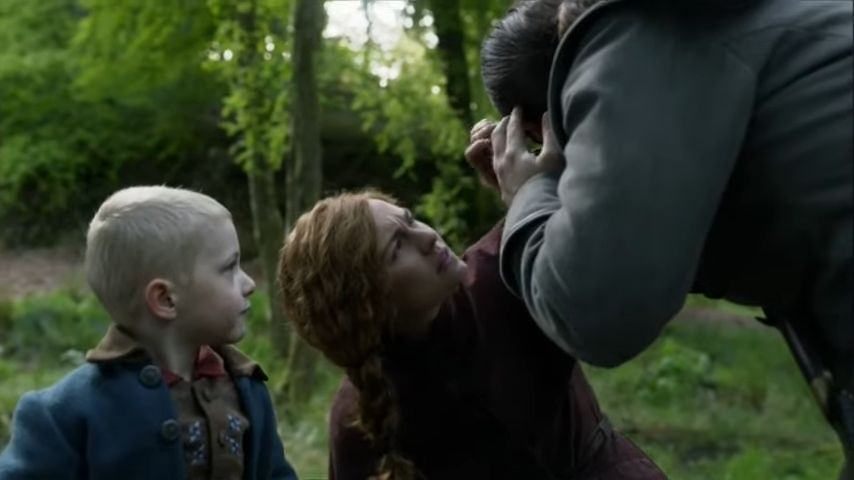 Jamie kisses Claire's injured hand, assuring her that it is not broken. He tells her that they'll be in Wilmington in about ten days. Jamie goes outside to relieve himself. He notices Ian loitering nearby and realizes he isn't alone. The title of the episode alluded to Ian's last-minute rescue. Ian surprises Jamie at one of the campgrounds along the trip, telling him that if they wish to flee, he has troops hiding in the bushes and adjacent mountains. Jamie tells Ian to back off because Brown has too many allies who would be interested in claiming the reward money if he was captured.
All he needs is Jamie to speak the word, and they'll appear. Jamie, on the other hand, requests that he remain near. Jamie informs Claire in the morning that Richard Brown left in the early hours of the morning and returned with a buddy. Claire then notices a man who has fallen from his horse and is dead. She notices that most of them are exhausted from the long trek.
Plan to separate Claire and Jamie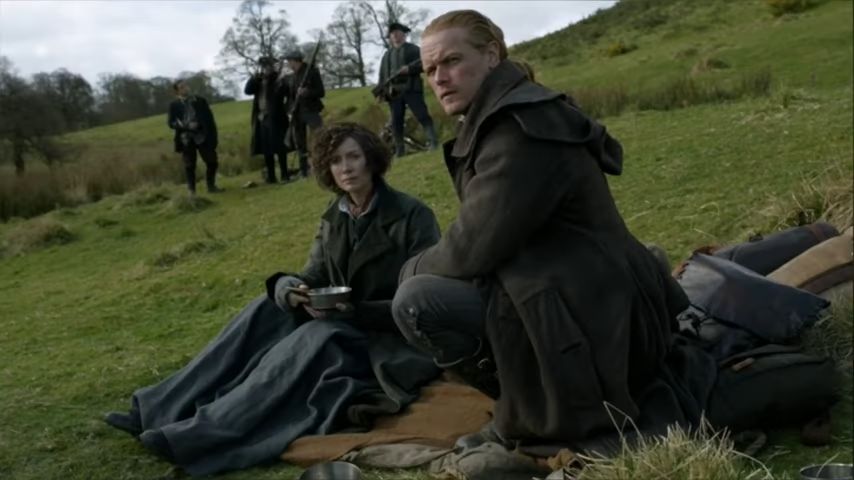 The guys force Jamie to step away from the waggon the next day at another water break. This is a set-up to separate Claire and Jamie, with Claire being transported alone to Wilmington by the waggon. Surprisingly, Tom Christie agrees to travel with Claire the rest of the way. After a colonist uprising against the British, they arrive in Wilmington.  Tom claims Jamie is still alive, but Claire is unaware that Jamie is still in danger.
Jamie is allowed to fill his bottle with water from the well by the guard. Claire, on the other hand, is told to stay in the waggon. They then detain Jamie in order to prevent him from joining Claire. Brown and the other men kidnap Claire and ride away with her. Tom pursues them and seeks a private meeting with Brown. Tom then assures Claire that Jamie will be safe, but he can't let her out of his sight because he has pledged to guard her.
Outlander Season 6 Finale Recap Ending Explained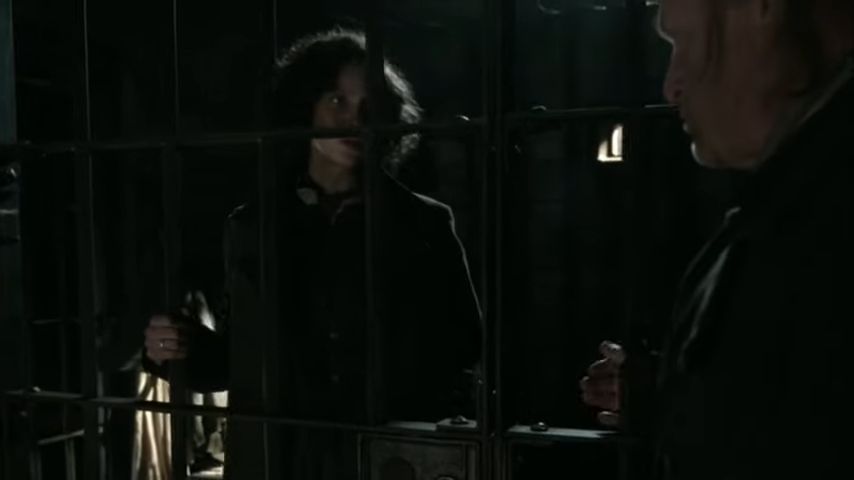 Brown's men have bound Jamie to a post on the beach and plan to convey him to Scotland, where he will never see Claire again.  When Claire and Brown arrive in town, Claire discovers that it has been entirely wrecked. Brown leads her to a prison cell, where Tom assures her that Jamie is still alive and gives her some water. He assures her that he, too, will not leave town. Claire is tormented in prison by an unknown stranger, who threatens her with hanging for murder and witchcraft. He looks to be the same enigmatic guy from the cliffhanger in Episode 5. What is his name, and what crime has he committed? Is he tied to Malva's case, or is he connected to a different plotline?
Jamie wakes up tethered on a beach. Oakes claims that he will be boarding a ship bound for Scotland. Ian and the Cherokee warriors fire arrows from the clifftop, putting an end to the scheme. Fortunately, Ian arrives with the Indians and fires arrows at Oakes and his soldiers. Chief bird shoots Oakes in the head when he is holding Jamie at gunpoint. He smiles as he rides away with Jamie, having committed to fighting beside him. While this cliffhanger does not provide answers to the unanswered concerns behind Malva's assassination. the episode failed to answer these questions. the questions of who murdered Malva and how Claire and Jamie will prove their innocence remain unanswered. But it does lay the stage for future strife between the Cherokee and pro-independence colonists.