We're happy to have you back in the suspenseful world of "Only Murders in the Building." "Ah, Love!" from Season 3 Episode 5 has taken us on yet another wild voyage filled with tension, humor, and unanticipated turns. This episode illustrates the complexity of relationships and the unexpected links that advance the main murder investigation through covert affairs and hidden agendas. The episode delves deeply into Charles (Steve Martin) and Joy's turbulent relationship with Oliver (Martin Short) learning about Loretta's fixation. The mysterious Dr. C. and Loretta's enigmatic clippings offer layers of complexity. Get ready to delve into the fascinating minutiae of this episode if you're a die-hard fan of this popular Hulu series. Catch up on all the excitement with our (www.tvacute.com) breakdown of Only Murders in the Building Episode 305.
Only Murders in the Building Season 3 Episode 6 Recap: Ghost Light
Only Murders in the Building [S03E06] The Haunting 'Ghost Light' Episode
Only Murders in the Building Season 3 Episode 5 Recap
Our three main protagonists start off on different roads in the middle of "Ah, Love!" and each one adds to the complicated web of narrative. As questions about Joy's probable involvement in the developing murder case are raised by the discovery of lipstick in Ben's dressing area, suspicion takes center stage. As Charles struggles with his hesitation to face Joy (Andrea Martin) about this hint, the tension mounts, laying the groundwork for the suspense that permeates the entire episode.
As Mabel (Selena Gomez) sets off on a visit with Tobert in order to learn important details about the ongoing investigation, Tobert is introduced. Tobert, who works as a cameraman, has a special perspective that makes it easy for him to move around the theater and its people. He has knowledge of the characters in the play thanks to his line of work, which makes him an invaluable source of leads and disclosures.
As Mabel and Oliver set out on their own separate adventures, the story develops. While Oliver's date with Loretta takes an unexpected turn due to revelations regarding her relationship with Ben (Paul Rudd), Mabel's encounter with Tobert reveals a potential suspect. Finally gathering the strength, Charles confronts Joy about the lipstick, setting up a confrontation that reveals weaknesses and unspoken truths.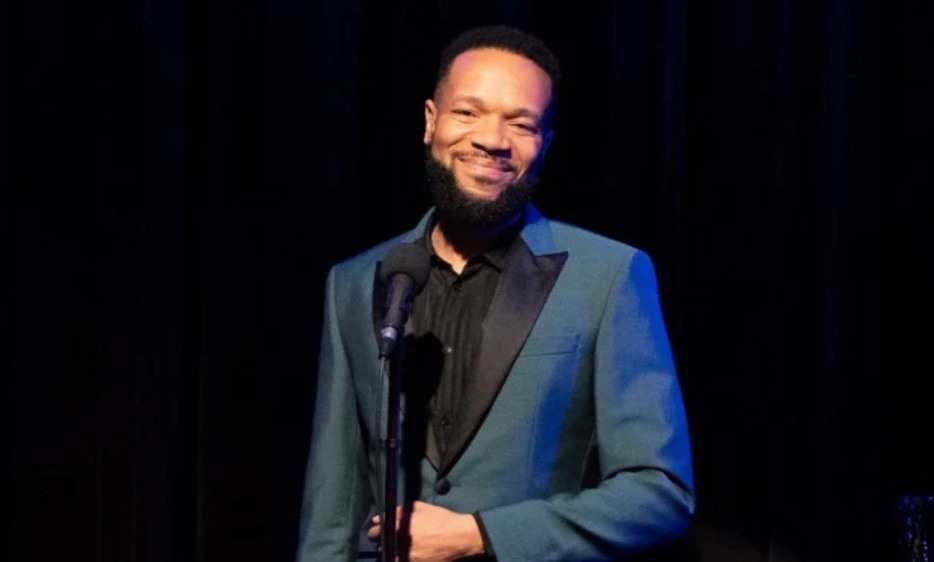 As Tobert (Jesse Williams) reveals a potential link between Dr. C and Jonathan, his involvement in the episode takes an intriguing turn. Questions concerning their intentions and the level of their involvement in the activities leading up to Ben's breakdown are raised by the fact that he was made aware of Dr. C's interactions with Jonathan. Tobert proves to be a great ally in the quest for solutions as Mabel and Tobert work together to solve the puzzle.
The sudden appearance of Sazz Pataki (Jane Lynch), Charles' erstwhile stunt double, adds intricacy as the plot develops. Charles is forced to face his anxieties about love and happiness as a result of this unexpected encounter, which leads him on an inner journey. We are on the edge of our seats as Oliver's odd date with Loretta reveals her potential motivations and connections.
Only Murders in the Building Season 3 Episode 5 Ending Explained
Charles has a discovery and feels vulnerable as the episode rushes to its end. As he reveals his own secrets, the charges he once leveled at Joy are now focused inside. The intricacy of human emotions takes center stage, reminding us that even though a murder mystery is being solved, the complexities of interpersonal connections are just as fascinating.
The plot is advanced throughout the dinner scene between Oliver and Loretta, and it also demonstrates the show's deft blending of humor and mystery. When Oliver and Loretta find themselves in her cluttered apartment, their dinner date takes an entertaining but illuminating turn. The evening, however, takes an unexpected turn when Oliver loses a tooth as a result of Loretta preparing a tough pork chop. This incident sparks a deeper discussion in addition to providing a little fun. Oliver's tooth accident causes others to laugh and be jovial, but it also provides Oliver and Loretta with an opportunity to talk openly and honestly.
Loretta reveals something important at the meal, calling Ben a "f—-g pig," mimicking the writing on Ben's dressing room mirror. This information establishes a strong connection between Loretta and the main murder investigation, raising questions about her motivations and involvement. When this connection is revealed, the suspense in the moment is increased as viewers wonder how much Loretta really knows.
The uncertainty is furthered by Loretta's comments regarding Ben's personality. Her remark regarding pigs is consistent with the inscription on the mirror, raising the possibility that the insult and the mistreatment Ben experienced were related. The viewer's curiosity about Loretta's part in the developing drama is left unanswered as a result of this connection, which raises her prominence as a suspect.
Only Murders in the Building Season 3: Loretta's relationship with Ben
The relationship between Loretta Durkin (Meryl Streep) and Ben becomes more mysterious as the program goes on. Ben and Loretta get into a furious disagreement that raises doubts about their past and ends with a revelation that is similar to the message Ben had scrawled on his dressing room mirror. Newspaper articles Loretta has saved about Ben throughout the years suggest an obsession or a deeper bond.
The possibility that Loretta is Ben's long-lost mother keeping an eye on his professional life is an intriguing one. The prospect of an unknown background gives the character more depth and raises the potential that her intentions are more nuanced than they first appear to be. Although Loretta is the subject of suspicions, the disclosure of her clippings leaves room for a variety of interpretations, leading us to wonder what exactly her part in the play is.
As Oliver learns of Loretta's obsession with Ben, his plot takes a dramatic turn. This information adds a disturbing dimension to the story and fuels rumors that Loretta might be connected to the main murder investigation. The next episode will be eagerly anticipated by viewers as the web of connections and covert plans deepens.
"Only Murders in the Building" Season 3 Episode 5, "Ah, Love!" expertly juggles complex plotlines while highlighting the complex personalities of its protagonists. The episode delves deeply into the emotions and secrets of people, from Charles and Joy's turbulent relationship to Oliver learning about Loretta's fixation. The mysterious Dr. C. and Loretta's enigmatic clippings offer layers of complexity and encourage viewers to solve the murder mystery's puzzle pieces.
The series "Ah, Love!" continues to enthrall us with its thrilling storytelling, leaving us with unanswered questions and an eagerness for the discoveries that are to come. "Only Murders in the Building" consistently demonstrates why it is at the top of the list of suspenseful television dramas with every turn and twist. So put on your detective hat and get ready for more astounding scenes as the mystery plays out in the Upper West Side's heart.
Only Murders in the Building Season 3 Episode 7: Who is CoBro?