FX's Mayans M.C. season four's penultimate episode begins with Miguel Galindo, who is back in California, watching Marcus Alvarez's house. However, with a gun to his head, Marcus gets the jump on the former Galindo Cartel boss. Miguel informs Marcus that he has an offer for him, which Marcus initially rejects.
EZ's (JD Pardo) trailer has Sofia (Andrea Cortés). He wants to inform her about his unlawful activities as She deserves. She tells him she's unfazed. They have sex. Barking Sally disturbs the couple.
EZ has definitely met his match. #MayansMC #MayansFX @JDPardo @AndreaC317 pic.twitter.com/icHAZZdkUF

— morgan (@m_corbetta) June 8, 2022
Jay-Jay appears at EZ's trailer. Jay-Jay loves his former prison brother and admits EZ wasn't transferred. He's positive EZ was collaborating with the cops. However, Jay-Jay tells EZ he needs money and a job with the club. EZ will be exposed if Jay-Jay doesn't help. Sofia overhears the chat and thinks he'll be a problem.
Happy Mayans Monday Family!! Only 2 episodes left, looking forward to seeing how this will play out 👀. Wondering what JJ wants,what Ez will do about it and what did JJ say to Ez to make him pull his gun? Was Ez hiding that gun in his sock?#MayansFX #MayansMc #EzReyes @JDPardo pic.twitter.com/uygNFyyGq1

— Lori (@lorazean) June 6, 2022
Angel (Clayton Cardenas) and Adelita (Carla Baretta) try to name their baby. Maverick is a reference to Top Gun and Maverick James, was eventually chosen by the two. Angel later meets with Nails, and the two reconcile their differences, with him apologizing for his carelessness.
@cardenasclayton and @JustinaAdorno really were matched up perfectly. Angel and Nails deserved better. #MayansFX pic.twitter.com/vvIqBfyFzv

— morgan (@m_corbetta) June 8, 2022
Soledad and Miguel meet EZ and Alvarez later that day. Miguel and EZ's dark past causes tension. EZ tells Miguel he knows nothing about Emily. Soledad and Miguel seek a less violent drug trade. Soledad needs money, so she asks Alvarez to move quadruple the usual amount of cocaine. Soledad threatens she'll join another group, even Sons of Anarchy, if Alvarez doesn't agree. Soledad and Miguel are plainly against El Banquero.
The perfect reaction for EZ in this moment 😂 #MayansFX @JDPardo @TheDannyPino pic.twitter.com/5rNa8q1JcX

— morgan (@m_corbetta) June 8, 2022
Mayans MC Season 4 Episode 9 Recap: Is Taza leaving the Santo Padre Charter?
Alvarez mentions Soledad and Miguel's offer at the temple. Alvarez says he'll reject the offer because drug sales have ruined the team. He wants the Sons of Anarchy battle to cease. The remainder of the group insists on ending the quarrel. Taza interrupts Alvarez to explain Santo Padre is no longer his home and begs him to become a nomad, making him a club member without a charter. EZ tells him to leave since he doesn't want a bothersome companion. Alvarez approves Taza's nomad request. Creeper, Angel, and Gilly follow Taza outside. He's hugged before leaving.
"I don't work for anyone anymore" 👍@EmilioRivera48 #MayansFX #MayansMC pic.twitter.com/iut0L2dcik

— MayansSP (@mayans_sp) June 8, 2022
Lincoln Potter approaches Adelita at Angel's. He narrates Adelita killing Anna Linares and her husband for her child. Adelita isn't involved in their deaths. This is the official verdict in Linares' death investigation. Potter says he won't investigate if Adelita does him a favor. Potter tells Adelita she has no choice.  Bishop starts a new friendship with Maggie, Alvarez's housekeeper. She criticizes his rudeness. The two agree to a date and seem to like it. Gilly befriends Rae's son and teaches him how to change his linens properly. Letty Cruz (Emily Tosta) visits Coco's body after Sons of Anarchy kills him in Oakland. When she goes home with his belongings, she discovers that Coco's girlfriend, Hope, has departed. Letty sorts Coco's belongings. She cries as she finds her baby picture in his wallet.
Emily Galindo fled her refuge to see Cristobal and Erin. Erin is reluctant to flee with Cristobal despite Emily's urging. Emily discusses the strategy with Erin. Before exiting the nation, Emily checks into a motel. Her call to Erin goes unanswered. Luis, one of Miguel Galindo's thugs, murders her instead.
Mayans MC season 4 episode 9 Ending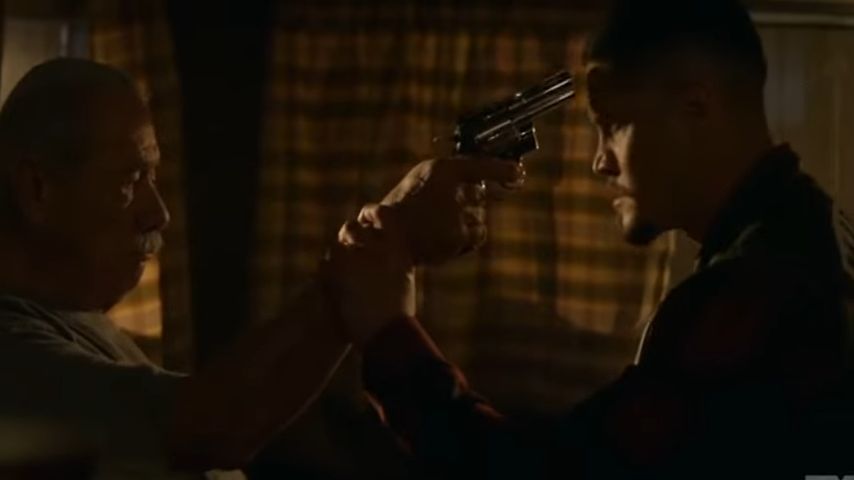 EZ goes to his trailer after the meeting to discover his father (Edward James Olmos) with a gun. Felipe blames himself and his sins for EZ's terrible behavior. Felipe then mentions EZ killing Gaby. EZ acknowledges he'll be a monster to defend his family. He demands his father's secret true self. EZ snatches Felipe's gun and places it on his head, challenging him to shoot. Felipe leaves without shooting EZ.
Creeper's (Joseph Raymond Lucero) girlfriend Kody encounters a police officer at her flat. Kody is a mistake-prone undercover officer. The other cop presses Kody to gain more information from Creeper about the Sons of Anarchy battle. At Kody's apartment after the event, Creeper reveals his mother was a drug user, forcing him to learn to cook in prison. Creeper reveals facts that could lead to his imprisonment when Kody asks whether he's worried about prison as She nervously checks the smoke camera. Kody brings him to the bathroom. She explains everything there.