In the thrilling finale of Prime Video's hit series 'The Marvelous Mrs. Maisel', our beloved titular character's journey comes to a close as loose ends are finally tied up. Over the course of four seasons, we've witnessed Midge Maisel (Rachel Brosnahan) navigate the cutthroat entertainment industry, where the odds are never in her favor. Our protagonist faces numerous obstacles, but she's a master at navigating them, even if it means bending the rules.
In the climactic moment, our heroine defies all odds and rises to the occasion, showcasing her true talents and surprising everyone with her impressive skills. As she meticulously crafts her latest masterpiece, she can't help but feel a sense of pride and ownership. This creation is hers and hers alone, a true reflection of her unique vision and creative spirit. In the final moments, we see Midge and Susie Myerson contemplating their future. we see Midge and Susie at a crossroads as they navigate the ups and downs of their comedy careers. The final episode of 'The Marvelous Mrs. Maisel' left audiences in awe.  Will they end up together?  (tvacute.com)  here is the recap of a series finale episode. let's start it.
The Marvelous Mrs. Maisel Season 5 Episode 9 Recap
In the season finale of The Marvelous Mrs. Maisel, we see a struggling Lenny Bruce on stage in 1965 San Francisco. Bruce was once a terrific comedian. Midge's manager, Susie, sees Lenny's downward spiral and tries to assist, but he turns her down since he thinks his stand-up days are done. Recognizing Lenny's special abilities, Susie begs him to change his mind. Lenny is about to answer her, but he gets a phone call.
Outside the venue, Susie runs into Midge, who is distraught at Lenny's condition. They part ways with Lenny, and it turns out that he would die within a year. Back in 1961, Susie is living on a park bench in New York City when she has a run-in with the law and is taken into custody. After Midge comes to her rescue, the two of them enjoy coffee together, during which Susie discusses her past and her relationship with Hedy.
Meanwhile, owing to Hedy's intervention, Midge is given a chance to appear on The Gordon Ford Show. Midge's ex-husband, Joel (Michael Zegen), finds out about this and gives her his consent to discuss him whenever it comes up during her performance. When Abe (played by Tony Shalhoub) gets word that Midge would be making an appearance, he rushes home to notify Rose, but she initially declines to go. After they finally make contact with Rose, everyone rushes to the studio to record.
Marvelous Mrs. Maisel Finale; Gordon Fired Midge
As the curtains rise, we see Gordon, our antagonist, plotting his next move. He sets his sights on Midge, our beloved protagonist, just as she begins to soar to new heights. Will Gordon succeed in tearing her down, or will Midge rise above his cruel intentions?  Susie and Midge are dismayed when the show's host, Gordon, decides at the last minute to switch Midge's portion from a performance to a human interest feature. Midge, despite Gordon's protests, chooses to take the stage for the interview and grab the mic to perform her routine. She gives a performance that changes the game, captivating the crowd and even Gordon.
Introducing our newest addition to the writing team, she's a fresh talent ready to make her mark. Susie chases after Gordon, but he remains resolute in his decision. As Susie frantically searches the office, she screams for Mike. Our protagonist is completely clueless about the situation at hand. In a sudden twist, Gordon transforms Midge's segment into a heartwarming human interest story. Midge prepares herself and takes a seat on the set stool. Joel looks at Midge with a puzzled expression, but she simply shakes her head in response. As the camera rolls, Gordon initiates an interview with Midge on the set. "It's a simple case," said the detective, matter-of-factly. In this scene, our male character refers to our female character as the "resident lady writer," but his tone suggests that he intends it to be an insult. Midge seizes the opportunity to take her chance. Gordon abruptly interrupts and segues to a commercial break, despite having a remaining 4 minutes of airtime.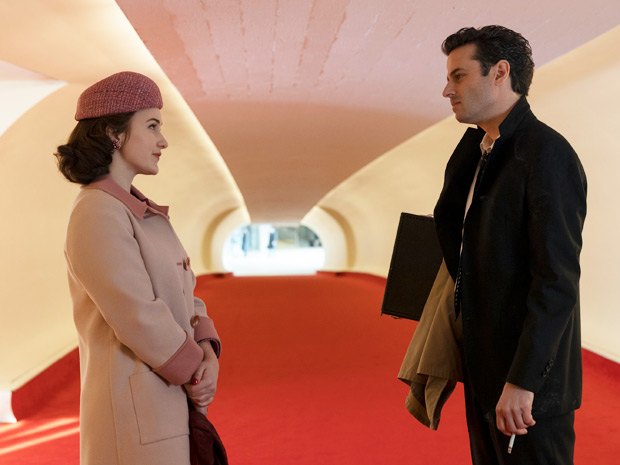 After Midge's standup performance, Gordon interviews her, calling her "the magnificent, the magical, the marvelous Mrs. Maisel." Gordon, however, quietly informs Midge of her dismissal. The scene then flashes back six months to when Lenny was attempting to educate Midge on the subject of celebrity.  Six months before, Lenny is advising Midge on how to become famous to the best of his ability. They've had a wonderful evening together so far. The one and only night they spent together. She takes a bite out of her cookie, the same one she had saved, and brought with her everywhere, and reads over and over again about the night her life was turned upside down.
In the season finale, the fate of Midge and Susie's relationship is left up in the air. Will they end up together? The future is uncertain, but one thing is for sure – these two will always have each other's backs.
In the final scene, we jump ahead to 2005, where Midge has made it as a comic and is extremely busy.  As Midge strolls through her opulent abode, she lovingly caresses her cherished wedding photograph featuring her and Joel, a prized possession. As the night wears on, our protagonist finds herself in solitude. Seeking solace, she reaches for her phone and dials Susie's number.  Susie lives on the opposite coast. They have a spirited phone conversation, full of reminiscences and laughter, and end it by making plans to watch Jeopardy!
In the latest episode, Midge recounts her day to Susie. Midge pleads with Susie to return to work. After serving her sentence, Susie is finally free. In the latest episode, Midge and Susie rekindle their friendship over the phone with their classic bickering and laughter. Midge's rise to fame, her tenacity, and the value of genuine friendships are all highlighted in the series finale.