Lord of the Rings: The Rings of Power on Prime Video is a unique interpretation of the lore that Tolkien mostly sketched out in broad strokes. With gorgeous, standout acting, and a tale that, after a laborious setup, displays some significant potential and intrigue, the two-episode opener is off to a solid start. In order to prepare for the Second Age, it is also necessary to briefly recap some of the major First Age events. The first episode also introduces us to the Southlands, where humans and elves coexist awkwardly after decades of conflict. The second episode is able to develop the characters and their relationships much more naturally, launching a few intriguing subplots and providing a reasonable amount of action. The final portion of episode two is incredibly tense and far gorier than we had anticipated.  www.tvacute.com provides a comprehensive recap on this page.
The Lord of the Rings: The Rings of Power Episode 1 Recap
The premiere episodes start with A young Galadriel who is seen sailing a paper ship in "the immortal realms" of Valinor at the start of this serenely beautiful story. but the small boy playing by the river destroys it. Her older brother comforts her and teaches her a valuable lesson as he draws her to one side. He conveys the significance of continuously following the light via poetry.
The voiceover, which is narrated by Galadriel, describes how the elves rebelled and went to war when Morgoth attempted to destroy their homeland, with disastrous results. The Elves clashed viciously and suffered numerous losses as they waged war on Middle Earth after fleeing their homeland. The conflict would decimate Middle Earth and have long-lasting consequences. Galadriel (Morfydd Clark), who is now an adult, describes how the Orcs gained power after the war and came into contact with Sauron. Galadriel's brother makes a commitment to confront Sauron, but he ultimately perishes in the battle. In death, his body has a scar that displays an enigmatic symbol that nobody seems to be able to decipher. According to Galadriel, she took on her brother's mission and was determined to defeat Sauron. She pursued him for years and eventually for aeons. Many Elves eventually come to think that Sauron is no longer a menace, but Galadriel is not one of them.
Galadriel is directing a party of elves as they climb a mountain covered in ice. She is begged by one of her soldiers to stop the search, but she insists, and they continue into the night. The famed Mount Doom, home to the fabled Sauron and the orcs, appears to have finally been discovered. This place is so cold that not even the Elves' fires can provide warmth there. They discover the long-dead Orcs' bodies while exploring the cave. Galadriel finds the mark of Sauron in the cave after sensing a magical force. They know they are on the correct track when she decides to continue the hunt by moving forward and following the mark. Our group of elves must fight a Snow Troll in the caves; it's a huge, nasty creature that easily kills two or three of our group before Galadriel enters and slays it with her sword. Galadriel, however, encounters rebellion from her devoted soldiers who refuse to advance with her after suffering losses. She's now on her own.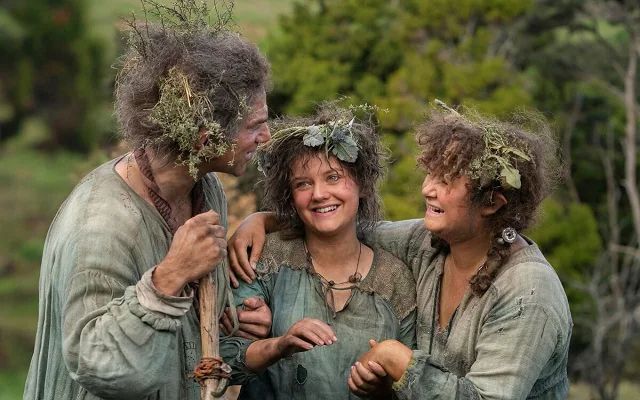 The only place where there is peace is in the land of the Harfoots, where these migrant forebears of the Hobbits are peacefully going about their daily lives. Only two girls, Poppy (Megan Richards) and Nori (Markella Kavenagh), who are out picking berries and nearly run into a wolf, disturb this peace. The hobbit youngsters need to return immediately. Young Nori learns about the tourists while getting up on village rumours. Despite her family's concerns, she shares the same restlessness as other Hobbits we know and love and longs to see the world outside of the shire. Nori appears as Sadoc Burrows (Lenny Henry) consults his book of omens and discovers that something is happening that she isn't yet aware of. Strange skies prevail.
Young Elrond is passing the time in Lindon, the high elf nation's capital, writing his diary when he learns Galadriel is on her way to meet him. Following their heartfelt reunion, Galadriel tells Elrond about her findings. She is eager to return and wants to talk to the King, but Elrond warns her that she is on the very thin ground with the monarch because she has repeatedly disobeyed his orders. Galadriel is unmoved and still wants a meeting with the King. Galadriel is one of the heroes receiving honours from the King during a ceremony. Galadriel is deeply saddened by the king's speech, which proclaims peace. In addition, the king will allow the warrior elves access to Valinor, the elves' home, probably to prevent Galadriel from continuing to challenge the king and carry out her sworn mission. Galadriel confides in Elrond that she will continue to battle despite the King's wishes since she is undeterred. Elrond persuades her to give up her search and accept the King's invitation to go back to Valinor in a particularly moving passage of writing.
A mystery (Daniel Weyman) man enters a tavern to catch up on some local rumours; it turns out that he is an elf named Arondir. It appears that trouble may be in store for the Elf when one of the locals rears up at him. After leaving the tavern, Arondir approaches Bronwyn, who gives him a tiny bottle containing the petals of an uncommon flower with therapeutic capabilities. They part ways after sharing a few final words, with Arondir continuing on his adventure. He reassembles with an Elven soldier who tries to forewarn him about getting close to human women. They get a dispatch telling them the conflict is finished and it is finally time to return home and depart Middle Earth.
Ismael Cruz Córdova's Arondir (who is ambivalent about the news) is. The Watch Warden tries to comfort him but instead just warns him about the shortcomings of Men. Arondir yet returns to Bronwyn to say farewell personally. A man walking around with a sick cow disturbs them. When the Cow is examined, Arondir discovers that a weird substance, rather than milk, is emanating from her udders. She had been eating something while she was grazing to the east. Together, Arondir and Bronwyn (Nazanin Boniadi) set out to discover the source of the illness. They are moving toward a burned-out village. There is a lot of danger developing. When Bronwyn's kid Theo (Tyroe Muhafidin) and a friend are left alone, they break into a barn and hide what looks to be the handle of an orcish sword. The youngster is drawn to the blade in his hands as the Sauron symbol flashes.
Back in Lindon, Elrond (Robert Armaya), a half-elf, and the High King Gil-galad (Benjamin Walker) are talking about Galadriel. Despite how difficult it was, it was important to remove her from Middle Earth since they all agree that the threat still exists and that her search was more likely to increase the threat than to lessen it. Elrond will soon get news from the King about a new task. Galadriel reluctantly relinquishes the warrior Elves after stripping them of their armour and weapons on the ship to Valinor. The Elves all feel a tremendous sense of contentment and well-being as they draw nearer to home, and music intensifies as they approach. Their house is finally made visible when the sky split. Galadriel retreats and decides to remain in Middle Earth rather than accept her return home. Sadoc Burrows (Lenny Henry), a Harfoot elder back in the hamlet, looks up at the sky but is unsure of what he sees. After Sadoc tells him, "The heavens seem unusual," Nori chooses to continue his astrological investigation on her own. Later, a large fiery object flies through the air and smashes not far from the camp.  Nori walks to look into the crater that is smoking. Stranger still is what falls from the sky: a guy engulfed in flame.