Koala Man, a new program on Hulu, is a hilarious niche and frequently unexpected take on the superhero genre.  Hugh Jackman, Sarah Snook, Jemaine Clement, and Miranda Otto all contributed to the voice cast. On the Australian comedy anthology series Fresh Blood, Koala Man first made an appearance. Take a look at the information that is provided at tvacute.com to learn everything there is to know about Koala Man on Hulu.
A cartoon comedy about middle-aged dad Kevin and his not-so-secret identity, Koala Man was created by Michael Cusack. His superpower is a fierce dedication to upholding the law and eliminating minor offenses in the Australian town of Dapto. Dapto is full of cosmic and human-made evil, which Koala Man is come to purge, despite the fact that it may appear to be like any other suburb.
Koala Man Season 1 Release Date
On January 9, 2019, Hulu will debut Koala Man to audiences in the United States. However, Disney Plus subscribers all over the world may relax because the show will debut on the service at the same time. Every episode will be available right away.
How to watch Koala Man Episodes
You'll need a Hulu subscription if you want to watch Koala Man in the United States, and the show is now unique to the streaming service. You can subscribe to Hulu by itself, in conjunction with Live TV, or as part of the Disney Bundle. Koala Man is available on Disney Plus, which requires a subscription, for viewers in the UK and elsewhere outside the US.
HULU's Koala Man Plot
"Koala Man" follows middle-aged dad Kevin and his titular not-so-secret identity, whose only superpower is a burning passion for following rules and snuffing out petty crime in the town of Dapto. Though it may seem like any other Australian suburb, forces of evil both cosmic and man-made lie in wait to pounce on unsuspecting Daptonians. On a quest to clean up his hometown, and often roping his frustrated family into his adventures, Koala Man stands at the ready. He'll do whatever it takes to defeat villainous masterminds, supernatural horrors, or worse: jerks who don't take their rubbish bins down on the proper days.
Koala Man Season 1 Episode Guide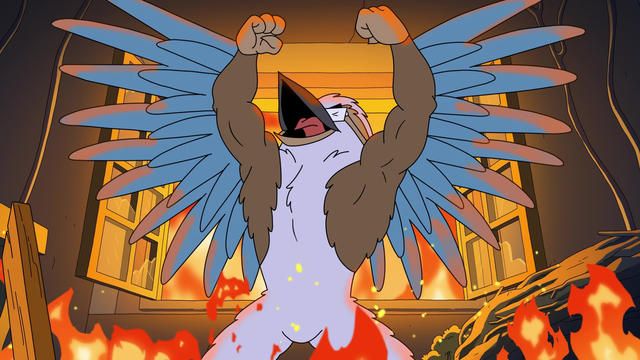 The eight-episode first season of the short animated film, created by Cusack, was ordered by Hulu and will be executive produced by Solar Opposites, Justin Roiland, writers Dan Hernandez, and Benji Samit. Additionally, Michael Cowap is the executive producer. The official plot summaries for each Koala Man episode have also been made available on Hulu.
Koala Man episode 1, "Bin Day"
"Kevin forgets to take the garbage bins down."
Koala Man episode 2, "Deep Pockets"
"Koala Man tries to get an official superhero license from Big Greg so he can compete with the Tradies. At school, Vicky launches a healthy initiative, banning soft drinks."
Koala Man episode 3, "The Red Hot Rule"
"The Queen is coming to Dapto! Koala Man is thrilled and volunteers to run security. Unfortunately, Liam cares more about his new American friend, Chad Wagon, than the Queen."
Koala Man episode 4, "The Great One"
"The Williams family visits the Dapto Royal Show, where a meteor crashes into Dapto. Its residents start behaving oddly, led by an eerily calm Janine. Vicky is feeling unfulfilled by Kevin."
Koala Man episode 5, "Ode to a Koala Bear"
"Liam and Alison leave for a weekend music camp in the Outback, but Liam forgets his jacket. Kevin insists on bringing it to him, but must face down kangaroos, evil and his own past."
Koala Man episode 6, "The Handies"
"Dapto is hosting the Handball Olympics! A shocking tragedy strikes the team, so Koala Man steps up to form a new one. He recruits Alison and Liam, coaching them to play fair."
Koala Man episode 7, "Emu War II"
"When someone makes an omelette out of the Royal Emu Egg, the emus take revenge by attacking Dapto. Koala Man will do everything he can to protect his family in the face of avian war."
Koala Man episode 8, "Hot Christmas"
"Koala Man is on the verge of death, stuck on Toothbrush Island and desperate to finally face off with The Kookaburra. Back home, Vicky misses Kevin and feels that Christmas won't be the same without him."
Koala Man Trailer
Kevin, a mediocre superhero and middle-aged father who has dedicated his life to cleaning up his hometown, is introduced in the video. It also gives us a sneak peek at the insane activities he'll engage in and a glimpse of the intriguing side personalities he'll encounter along the way.
Koala Man Season 1 Cast
Hugh Jackman, Jemaine Clement, Alexandra Daddario, Rachel House, Angus Sampson, Hugo Weaving, Michelle Brasier, Mark Coles Smith, Liam McIntyre, Claudia O'Doherty, Jordan Shanks, Natalie Tran, and Jarrad Wright are among the voice actors who appear as special guests.
Michael Cusack, who created Koala Man, wrote the script and served as executive producer. He also provided the voice for the title character. Benji Samit and Dan Hernandez, the show's creators, also serve as executive producers and write the script.