Welcome to the fascinating world of "Burning Body," a popular Spanish criminal drama series with viewers both at home and abroad. This compelling program explores the murkiest aspects of human relationships, including violence, treachery, and the effects of unlucky love. "Burning Body" promises to be an exciting and suspenseful watch thanks to its all-star cast of excellent Spanish performers, which also includes Ursula Corberó, Quim Gutiérrez, José Manuel Poga, Isak Férriz, and Eva Llorach.
But the fact that this series is based on a real story adds an extra layer of interest. The horrific and dramatic real-life incidents that served as the basis for "Burning Body" provide a window into the intricacies of human emotions and the fatal results that can result from unhealthy relationships.
In this article, (tvacute) we will take you on a tour through the "Burning Body" universe while examining the plot of the show, its ties to historical figures, and the background of the terrifying true story that forms its basis. So let's explore "Burning Body"'s dramatic story and learn the truth about this compelling crime drama.
[Netflix] Burning Body Series' Story
"Burning Body" is a story about passion, trickery, and ultimately murder at its core. The plot centers on the horrifying murder of Pedro, a police officer, whose burned remains are found inside a burned-out automobile in the Foix reservoir outside of Barcelona. The victim, along with two of his fellow police officers—his fiancée Rosa, and her previous lover, Albert—are all implicated in a web of deceit, violence, poisonous relationships, infidelity, and sexual scandals as a result of this gruesome finding.
Pedro, Rosa's husband, was known for moving about a lot, so when he didn't come home, suspicions were raised. Both Rosa and Pedro served as Barcelona Urban Guard police officers, and their relationship had a history of conflict. Rosa and her ex-husband had a little girl named Sofa, and they were embroiled in a contentious custody battle over her.
The investigation, nevertheless, reveals that Pedro's absence is more complicated than a straightforward case of abandonment. His burned remains being found inside a car sparks a murder investigation involving shady relationships, fatal repercussions, and clandestine escapades. Rosa and her partner, police officer Albert Lopez, play an increasingly important role in the investigation as the story deepens.
As the narrative develops, we see the nuances of a love triangle gone disastrously wrong. A horrific climax that has viewers on the edge of their seats is reached after the story explores the tensions, secrets, and obsessions that propel the protagonists to do heinous deeds.
Is Burning Body on Netflix Based on Real Events?
The fact that "Burning Body" is based on real-life incidents is one of its most intriguing features. Indeed, "Burning Body" is based on a true story; you read that right. The series' producers and authors drew inspiration from a terrifying incident that took place in May 2017 in Barcelona, Spain, and is known as "el Crimen de la Guardia Urbana" or "the crime of the Urban Guard."
The murder of Guardia officer Pedro Rodrguez, whose burned body was found inside a burning car parked at the Foix reservoir, a large natural park covering over 7,800 acres close to Barcelona, is the subject of the actual story. This shocking finding rocked the country and ignited a media frenzy that captivated the public's interest.
Pedro Rodriguez was more than simply a policeman—he and Rosa Peral (36) were also romantically involved. Since 2016, the couple had been cohabitating. There were, however, subtexts to their relationship, as is typical of true crime tales. Rosa's involvement in an intermittent sexual connection with another Guàrdia Urbana officer named Albert López (39) was a crucial fact that Pedro was ignorant of.
When it was discovered that Rosa and Albert had been involved since 2012, when she was married to another man, the complicated web of love and deceit became even more convoluted. Both of Rosa's relationships experienced tremendous pressure as a result of this disclosure, resulting in brief separations. However, Rosa and Albert restarted their relationship in the beginning of 2017 and came up with a cunning scheme to permanently cut Pedro out of their lives.
They made no mistake about how they went about carrying out this horrible act. Despite the fact that it might have appeared that fire killed Pedro, forensic examinations have shown otherwise. On May 2, 2017, Pedro had been killed in the house he and Rosa lived in the resort town of Vilanova i la Geltr. He suffered "at least one blow to his temple when he was either asleep, dozing, or drugged." It was a cruel end. It's still unclear who exactly struck the victim with this fatal blow.
24 hours after Pedro's murder, Rosa and Albert set fire to the car he was killed in, continuing the terrifying story. The disposal of Pedro's automobile and mobile phone at numerous sites he visited was part of their carefully considered plan. They even resorted to spreading untrue rumors among friends, portraying Pedro as being the aggressor in a conflict with Rosa's ex-husband, and creating a bogus story to explain Pedro's disappearance and demise.
The Pedro Rodrguez Murder Trial: Rosa and Albert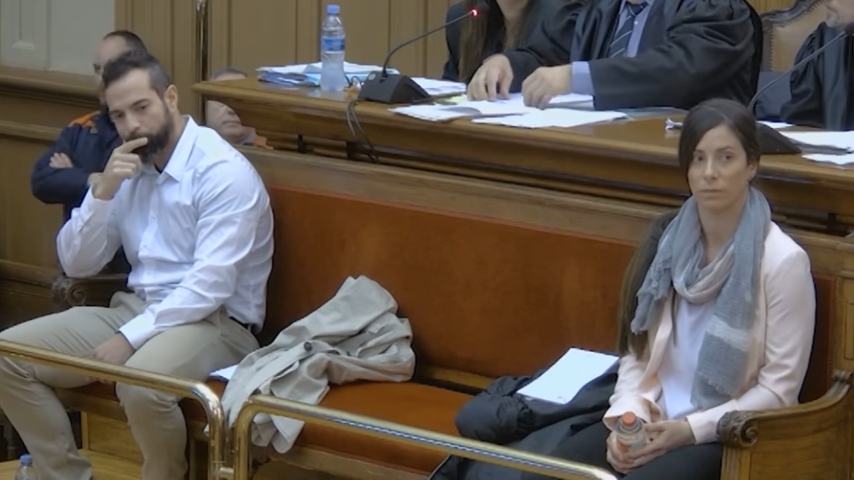 We must go into the historical setting and the court cases that followed this terrible crime in order to properly comprehend the complexity of the real-life events that served as the basis for "Burning Body."
In April 2020, three years after the murder, Rosa and Albert were eventually brought to court. Both were judged responsible for Pedro's murder and were sentenced to lengthy prison terms as punishment. Albert was given a 20-year sentence and Rosa was given a 25-year prison term.
Where is Pedro Rodrguez's Wife Rosa Peral Now?
The truth about the painstaking preparation that took place after Pedro's murder was revealed during the trial. Rosa and Albert had made a conscious effort to hide their tracks and allay suspicions about them. To further muddy the waters and try to incriminate an innocent guy in their evil scheme, they even made a stop at Rosa's ex-husband's home.
It's important to note that, in an effort to escape the repercussions of their conduct, both Rosa and Albert made attempts to pin the murder on the other during the trial. The jury, however, saw through their deception and determined that both were responsible for the act with malice aforethought.
Even if "Burning Body" is definitely based on actual events, it's crucial to recognize that the show uses some artistic license to tell a gripping and tragic story. While the case's essential components are still present, some details have been fabricated for entertainment value.
In essence, "Burning Body" is a sobering reminder of the difficulties of interpersonal relationships and the perverse outcomes that can result from the mingling of love, obsession, and dishonesty. It is evidence of the true crime genre's ongoing appeal, which draws viewers from all over the world and encourages them to delve into the murkiest recesses of the human psyche.