In Yellowstone Season 3, The Dutton family faced certain potential losses as a result of startling twists and turns. Jimmy, a ranch hand with a passion for rodeo, returned to the arena following a previous accident. In the fourth season, Jimmy Hurdstrom (Jefferson White) is in a new situation, surrounded by new faces. One of these strangers is getting too close to Jimmy, and we're sure viewers are wondering who this new lady is. Yes, Emily Yellowstone's fourth season has changed things up by introducing new characters that bring surprising twists to some themes. here's everything you need to know about her and her romantic subplot with Jimmy!
In Yellowstone, Who is Emily?
Emily is a vet tech who first appears in 'Yellowstone' season 4 episode 7 'Keep the Wolves Close.' She works for Four Sixes. Emily meets Jimmy after he is assigned a mission. Emily is gathering horse semen for the ranch's lab. She appears to be helping the ranch's vets. Emily's wit and candor impress Jimmy.
Who Played Emily's role in Yellowstone season 4?
The show Emily is played by Kathryn Kelly. She is an Atlanta native who has appeared in numerous films and TV shows. She is most likely be known for her role in the country music drama Nashville. In the final season of Nashville, which aired in 2018, she played Angela McPherson. Kelly has only a few credits to her name, aside from the Heroes series starring Hayden Panettiere. Kelly has appeared as a District 4 Family Member in The Originals, Powers, Local Talent, and The Hunger Games: Catching Fire. In 2019, the actress had a role in Dolly Parton's Heartstrings, which was released on Netflix. Melissa Meeks was her character in the limited series episode Down From Dover.
Is Jimmy in a relationship with Emily?
In Yellowstone episode 7 of season 4, Emily pursues Jimmy after work. Then she asks him out to supper. They don't have many gorgeous boys under 30 at the ranch, so she wanted to get Jimmy before someone else did. Emily's approach makes Jimmy think of Mia. Jimmy can't offer Emily a firm answer because of his confusing connection with Mia. Jimmy dismisses Emily's offer to buy him dinner, implying he will wait for Mia as John recommended. But Jimmy immediately offers to buy Emily dinner.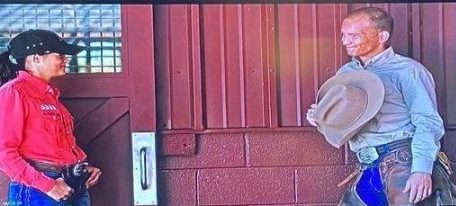 Is Emily Jammy's new girlfriend?
Jimmy seems to like Emily and is being chivalrous by offering to take her out instead of the other way. Regardless, the scene doesn't reveal anything about Jimmy and Emily's romance. If Jimmy believes Mia and their relationship is over, he may have said yes to Emily's company. Overall, we can't call Jimmy and Emily a couple yet because they haven't even gone on their first official date. In the remaining episodes of season 4, they will certainly explore their romantic relationship.