In Fire Country Episode 12, after a plane crash ignited a fire in the nearby forest, a man almost lost his life because he refused to leave his house and evacuate the area. Sharon's return to work coincided with the arrival of a fresh recruit at the firehouse. Freddy's partner gave birth to a daughter, and Freddy became a father as a result. and Jake(Jordan Calloway)  tells Eve that he had a kidney that matched Sharon's. After putting in a lot of effort to suppress their romantic inclinations and desire for one another, Bode  (Max Thieriot) and Gabriella  (Stephanie Arcila) discovered themselves in a precarious situation in the twelfth episode of the first season of Fire Country. as result, the two were very near! Here tvacute.com has "Two Pink Lines," the 12th episode of Season 1 When Bonde went in for the kiss.
Fire Country Episode 12 Recap "Two Pink Lines"
In Fire Country Episode 12: Did Bode and Gabriela, Kiss?
Freddy never stopped supporting Bode and Gabriella throughout the entirety of the show. When we have moments of self-doubt or feel the need to cover up wrongdoings that we haven't committed, we could all use a friend like Freddy to give us a boost. Both Bode and Gabriella made an effort to avoid each other, and for that, we can give them credit.  In point of fact, before Freddy went to visit his daughter, he gave Bode stern advice to go check on his equipment at the laundry.
When Bode arrived there, Gabriela was already waiting for him. While arguing his point, Bode seized the opportunity to steal a passionate kiss from Gaby. Gabriela later said that they all have to put in some effort to become the finest versions of themselves and that once Bode has completed his sentence, they will be able to discover the "gift" that has been waiting for them. Nevertheless, a second, even more, passionate kiss gave the impression that they are both seriously considering unwrapping things RIGHT NOW, despite the fact that Gaby managed to pull herself away from the second, more passionate embrace.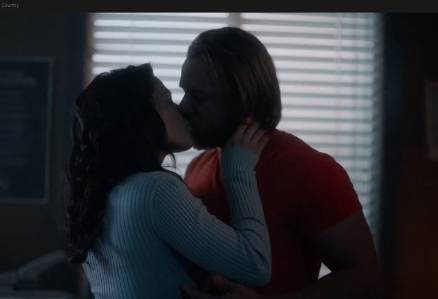 Even though it was only for a moment, the fact that they kissed was so out of character for Gabriella because she is known to be resolute in her decisions, and she had pledged not to get with Bode after she ended her relationship with Jake. It didn't take Bode long to break her will as he stood there staring at her with blue eyes.
Bode: I'm trying to change Gab. I really am. For you. Gabriella: Stop trying to impress me. You wanna change? Okay. Do it for yourself. Don't do it for me.
It seems unfathomable that they will be able to restrain themselves for an entire year in order to wait for Bode's release. As the conclusion of the hour drew near, various characters struggled with fresh discoveries that forced them to revise their perspectives on how they perceived themselves.