The season finale of, a two-part The Big Bang Theory prequel Young Sheldon leaves viewers on the edge of their seats as a storm looms. The season finale of this show features a thrilling tornado that causes chaos for the Coopers in Texas. Meanwhile, the brilliant Sheldon (Iain Armitage) and his mother Mary (Zoe Perry) embark on an exciting summer school program in Germany. As the plane soared towards Germany, a tornado struck Medford, leaving the rest of the Cooper and McAllister family no choice but to seek shelter and wait out the storm.  In this episode, we see new parents Georgie and Mandy (Emily Osment) attempting to reignite their romance with a surprise spa over the weekend. Read on at tvacute.com for a comprehensive breakdown of the season 6 finale of Young Sheldon, and you'll get all the answers you need.
 Young Sheldon Season 6 Finale Recap
In the finale episode, Georgie (Montana Jordan) receives a generous offer from his maternal grandmother Connie Tucker (Annie Potts) to purchase a suitable engagement ring for Mandy. Together, they head over to Mandy's parent's house to show off the stunning ring. However, tensions rise once again between Mandy and Audrey, leading to yet another heated argument.  There was a significant development in the relationship between Georgie and Mandy. As they were driving back from their less-than-romantic spa weekend, Mandy surprised Georgie with a proposal! In a dramatic turn of events, Mandy boldly declares to Georgie that they should tie the knot. Shortly thereafter, Meemaw loaned Georgie the money for an engagement ring.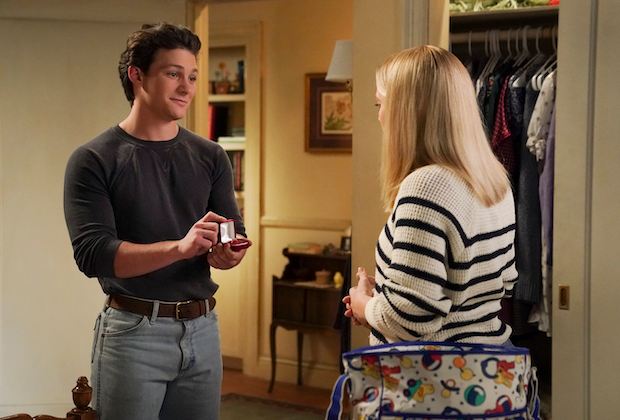 As Mary and Sheldon head to the airport, Missy (Raegan Revord) remains upset with her parents and brother. In this episode, Mary frets over Sheldon's potential meltdown during their flight. However, to everyone's surprise, Sheldon strikes up a conversation with a renowned scientist and spends the entire flight engaged in a fascinating discussion.
In a dramatic turn of events, a tornado strikes the town, causing chaos and danger for our beloved characters. As Meemaw emerged from the laundromat, she was greeted with a devastating sight – her home had been completely decimated. George (Lance Barber) heroically shields Missy from harm while lying on the road, while Missy's baseball coach  Dale Ballard (Craig T. Nelson), and Connie are forced to reveal their secret gambling room to Pastor Jeff Difford (Matt Hobby). Meanwhile, the tense relationship between Mandy and Audrey (Rachel Bay Jones) continues to escalate as they bicker amidst the chaos.
As everyone seeks shelter in the laundromat, the storm rages on, leaving our characters' fates uncertain. As the dust settles and emotions run high, George steps up to comfort a remorseful Missy while Connie's home lies in ruins, her gambling funds strewn about. As the group rallies around her to sift through the debris, she makes the decision to shack up with Dale.
In the final moments of the episode, George extends an offer to Mandy and Constance Cooper "Cece" to take up residence in Sheldon's old quarters. As Sheldon and Mary touch down in Germany, they find themselves in a state of confusion, with no idea what has transpired. Despite their attempts to reach out for help, nobody seems to be picking up the phone.