Grantchester, a popular British ensemble drama, has won over audiences with its complex characters and riveting plots. The two-hour-long season eight finale had viewers on the edge of their seats and left them both satisfied and wanting more. The finale explored the prospects of the main characters, especially the fates of Will Davenport (Tom Brittney) and Geordie Keating (Robson Green), and how they were bound together. As the final episode of Season 8 aired, fans had their questions addressed, their relationships with their favorite Grantchester inhabitants strengthened, and a stunning new chapter in their lives opened.  (tvacute.com)  In case you missed the thrilling climax of Grantchester Season 8 Episodes 5 and 6, we have a recap for you.
Grantchester Season 8 Episode 5 Recap: The Ups and Downs of Will's Struggle
The series finale commenced with an exciting montage that highlighted Will's erratic behavior, from his highs to his lows. He was struggling with remorse and self-destructive inclinations when he wasn't preaching fiery sermons or leading scout troops in song. The ever-vigilant housekeeper, Mrs. C, was optimistic that Will was making progress in his rehabilitation. The conversation quickly switched to Leonard Finch (Al Weaver), whose contentment seemed to elude him, prompting Mrs. C to jokingly predict that the end of the world may occur before Leonard and Will both achieve bliss.
Case of Poison and Personal Struggles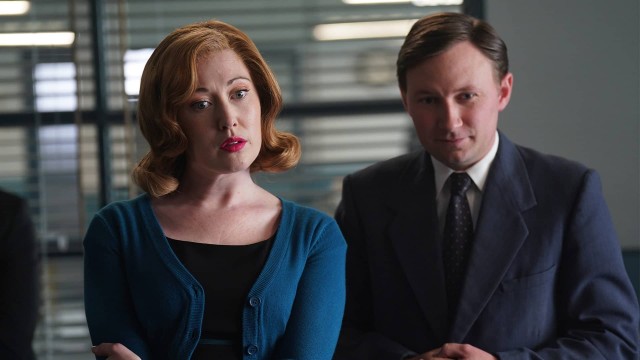 The first hour of the series finale focused on a poisoning case, peeling back layers of lies and secrets. Since Geordie was assigned to desk duty for the time being, Larry headed up the inquiry. Larry Peters (Bradley Hall) followed a tortuous trail of clues and discoveries as he investigated the poisoning of two men in a club. Will confronted Geordie about his drug use, and the two friends had a heartbreaking argument. Their deep connection was highlighted by a touching scene brought about by Geordie's care and attempt to stop Will's downward slide.
Unexpected Alliances and Breakthroughs
As Larry matured as a detective, he forged an unlikely collaboration with Miss Scott (Melissa Johns) during the inquiry. They worked together and discovered a sophisticated web of blackmail and secret identities. After the doctor passed away, his niece revealed crucial details that helped reveal his hidden past. Larry's willingness to learn and adapt was evident in his growing relationship with Miss Scott, which bodes well for Larry's future.
An emotional and frightening encounter between Leonard and Will occurred as the first hour was winding down. The intensity of their friendship was on full display in the intense conversation between the two friends. Leonard's absence would be felt by everyone in Grantchester.
Grantchester Season 8 Episode 6 Recap
The second hour of the series finale focused more on the characters' individual arcs and their relationships with one another. Geordie's dogged efforts to find Will paid off when the two were finally reunited, a touching moment that demonstrated their unflinching loyalty to one another. Will's road to recovery and redemption took shape as Geordie extended a helping hand.
A Tragic Case
The kindness of the Grantchester neighborhood was on display when a heartbreaking case involving two orphaned siblings, Jacob and Sadie, came to light. The show's ability to combine emotional depth with fascinating storytelling was on display when Geordie's resolve to find the truth led to a heartbreaking discovery. Will's ability to empathize and guide his son through the situation illuminated his latent paternal qualities and was essential in closing the case.
Love's Triumph and Personal Growth
Romantic arcs that had been building up all season were also resolved in the finale. An important turning point in Leonard's development was when he and Daniel Marlowe (Oliver Dimsdale) reconciled and realized they loved each other.
In the finale episode, Leonard returned to the halfway house to study the wonderful paintings that Daniel had left him. He looked at the picture of himself and was ecstatic. He needed the courage to love Daniel. "I don't think I've ever seen you run anywhere," Daniel replied as he raced to greet him. Daniel claimed he'd gone out seeking Leonard since the thought of visiting London without him wasn't as intriguing. Leonard informed him in a hushed voice that he was everything to him.
When Geordie and Will got back to the vicarage, they found three cute puppies in a basket waiting for them. The birth of Dickens' child came before any others. Geordie was holding one of the puppies. Will entered the kitchen to find Bonnie surrounded by Mrs. C. Will was at a loss for how to proceed, but Bonnie had no such trouble, and she just punched his arm for herself and hugged him for the baby. She hoped he would tell her he was going before she was reminded of all the reasons she cares about him. He said he would stay with her forever.
Geordie, who Cathy claimed should have left in the car, lugged a basket full of puppies down the hall with Bonnie while everyone else followed in a flurry of activity. The nurse had said only the mother-to-be was allowed in the delivery room, but Will had vowed not to leave Bonnie's side under any circumstances. Jack brought cigars for the guys, and the girls enjoyed them, too. Even Esme wanted one, but the elders unanimously said no. To his credit, Daniel acknowledged her hustle.
The arrival of Will, carrying his son, brought tears to more than just Leonard's eyes. Ernie came up with the name "James" for his sibling after Bonnie and Will had introduced him to him. Geordie had just peaked in when Will announced George as the middle name. There was a nod of agreement from Geordie.
Grantchester Season 8 Episode 6: Ending Explained!
Geordie's retirement was slated for this week, so he returned to work. The rumor was true: Larry had freed Leonard. Elliott barged in angrily, demanding to know if Geordie had reported him for using excessive force. We're relieved that Elliott is being transferred and that Geordie can remain on the force, as Geordie had assured Mac that he would miss being a cop constantly.
At the church, everyone, including one of Dickens' puppies, witnessed Leonard's apology to a drained Will before Will christened his own son. Upon hearing Mrs. C reprimand Geordie and Cathy Keating (Kacey Ainsworth)'s children, Cathy knew she had found the answer to their daycare woes. Cue a montage of Mrs. C packing lunches for Geordie and Cathy's commute to work while also walking off with their children dressed like the Von Trapp children. She's got it covered, so to speak. On the other hand, it seemed that Leonard finally met Keith's adult son, and things were going swimmingly for Mac with Jacob and Sadie. Will was finally himself again, as he counseled his son during the service that he should seek out joy and love even if life would not always be simple.
Will cradled James as he walked with his surrogate father, Geordie, and Dickens and his son, Sam Milburn (Andrew Knott), followed behind. (Geordie's new dog is Jackie Milburn, after the football player picked by the young man.) Will and Geordie's chemistry was as natural as ever. So that James can become a detective like Geordie's favorite great uncle, Geordie is determined to instill in James a healthy dose of skepticism. Wait until the terrible twos and the teen years, he warned Will.
Grantchester Season 8 Finale Review
Season 8 of Grantchester concluded with an episode that delivered highs, lows, touching reunions, and happy endings for fans. The maturation and change of the characters, especially Will and Geordie, demonstrated the show's skill in telling stories that stick with viewers. Because of their undying love for one another, Bonnie Davenport (Charlotte Ritchie) and Will were able to overcome their worries and look forward to a bright future together. James George's birth represented a fresh start for the couple.
Grantchester's supporting cast, including Mrs. C, Cathy, and the rest, sparkled in the season finale. The friendship between Geordie and Larry was encouraging, and Geordie's willingness to challenge authority showed his dedication to doing what was right. The characters' separate paths merged, emphasizing the value of their friendships and the significance of their experiences together.  Fans are looking forward to the next chapter in the lives of the Grantchester people since the finale demonstrated the power of friendship, love, and redemption.
The final episode of Grantchester Season 8 did a fantastic job of encapsulating the series' central appeal—its compelling mix of mystery, drama, and poignant moments. Now that this era has come to an end, fans can only look forward to the next season of their favorite show.