Disenchantment, a comic fantasy series by Matt Groening, has finally premiered on Netflix. It is the fifth and last episode, and it wraps up the exploits of the hard-drinking, hard-hitting Queen Bean (Abbi Jacobson), her feisty elf companion Elfo, and her own personal demon Luci. Our heroes battle Satan, a headless body, an evil scientist, and the most horrifying of all—their true destiny—as the stakes rise to their highest point.   We (www.tvacute.com)  break down the significant happenings and turning points that made this episode a must-watch in this recap.
Disenchantment Season 5 Episode 10 Recap
The fourth season concluded with Dreamland in disarray as Bad Bean, the evil twin of Queen Bean, wreaked havoc. Season 5 opens with Queen Bean facing a moral choice. She considers beginning a new life with her mermaid lover even if everyone believes she is dead. She eventually decides to go back and preserve Dreamland once and for all out of loyalty to her friends and the general populace.
Chaos reigns in the last episode, "Goodbye Bean," as Queen Bean attempts to purge the kingdom of magic, God meets his doom, and Dreamland devolves into anarchy. After Queen Dagmar is ultimately vanquished and Dreamland is saved, Queen Bean addresses the people in a moving speech, which is followed by jubilant festivities. Even her pirate stepmother surprisingly takes part in the festivities.
The townspeople show their dissatisfaction of Queen Bean's plan to resign and take a much-needed break by throwing rotten vegetables at her. Mop Girl is chosen by King Rulo to be the new ruler of Dreamland, ushering in a new era for the realm.
The final scenes contain a sequence where all characters discover love and happiness. All the loose ends are neatly wrapped up, and Satan seals Queen Dagmar's doom. The couple are seen having a romantic moment on a beach at dusk in the final image.
How Queen Bean Saves Dreamland?
In episode 10 of Disenchantment Season 5 titled "Goodbye Bean," Queen Bean sets off on a risky quest to free Dreamland from the control of her evil mother, Queen Dagmar (Sharon Horgan). Here's the full explanation of how Queen Bean manages to save Dreamland in the end:
Queen Bean begins her mission by entering the castle covertly via a tunnel in the basement. Queen Bean enters the castle undetected via an underground sex tunnel in order to complete her daring rescue operation. As she nears her mother's location, these tunnels carry mysteries and hazards.
Queen Bean arrives at a crucial point after traveling via the tunnels. She finds Queen Dagmar taking part in a ceremony with the Trogs, an enigmatic tribe in Dreamland. Consuming the sacred waters from stalagmites used in this ritual results in immortality but necessitates brain sacrifice from the participants. A high-stakes battle ensues when Queen Bean faces Queen Dagmar.
The Death of Queen Dagmar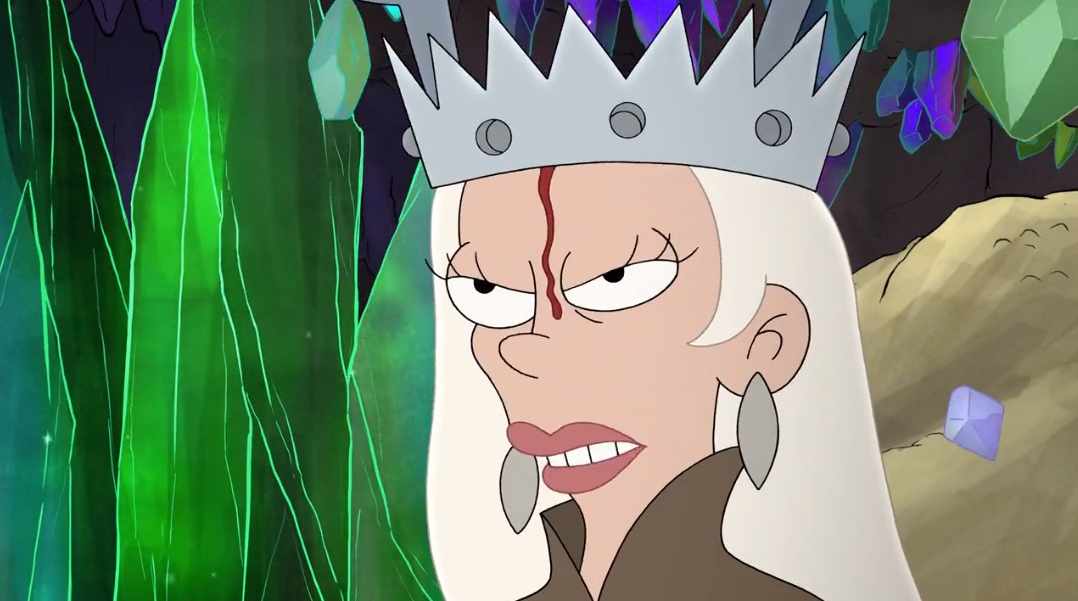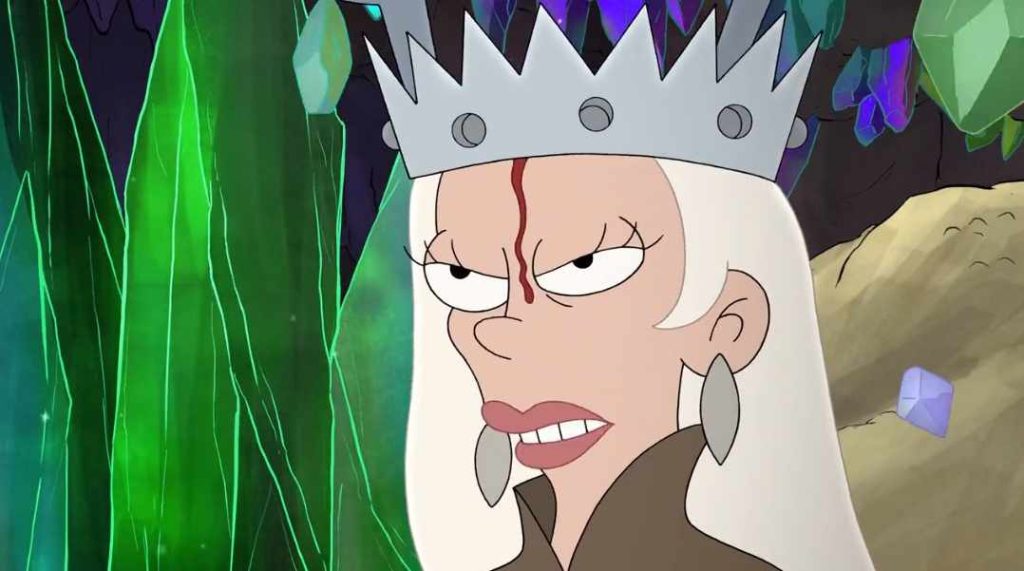 Confrontation with Queen Dagmar. The holy waters' effect on the Trogs has increased their aggressiveness, making the confrontation much riskier. Queen Bean chooses to use a big stalagmite as her weapon of choice in the dramatic climax. Stalagmites are organic cave formations, and in this instance, Queen Bean uses one of them as a potent weapon. She pierces Queen Dagmar with the stalagmite using all her tenacity and power. Queen Dagmar is taken down by the enormous stalagmite. This action neutralizes the threat she poses to Dreamland as well as ending her despotic control.
After Queen Dagmar is vanquished, the underground cave network starts to disintegrate, causing pandemonium. The decisions made by Queen Bean have a big impact on the castle and its occupants. In the aftermath, Queen Dagmar's fate is determined, and in the final scene with Satan, she is shown to be bound for hell.
Queen Bean's successful endeavor to free Dreamland from her mother's evil dominion was largely attributed to her valiant efforts, tenacity, and creative use of the enormous stalagmite. This dramatic and exciting scene represents a turning point in the series and is essential to the conclusion of Disenchantment Season 5.
What happend to Luci?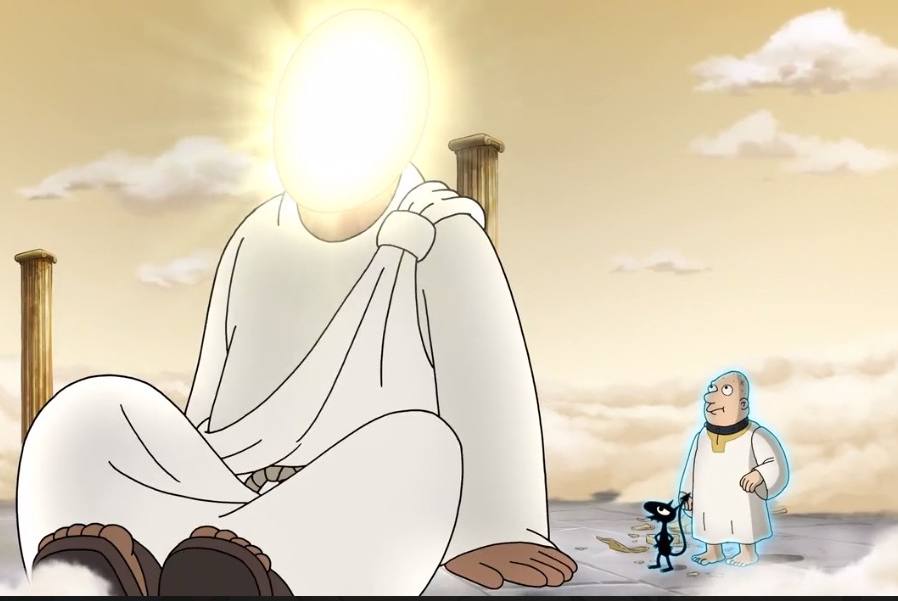 Luci's untimely death at the hands of Queen Dagmar takes an unexpected turn as he soars to heaven, a destination that, considering his demonic nature, he isn't very excited about. However, his deeds in heaven are very significant to the narrative:
Luci's Unhappy paradise: Luci's first impression of paradise is one of unhappiness. Being in the celestial realm is strange and uncomfortable for him because he is a demon. Luci's experience in heaven is dramatically changed when he is given the chance to save God. This surprising display of bravery shows how Luci (Eric André) has developed as a person.
Luci receives one request from God as thanks for sparing his life. This request turns out to be a crucial turning point in the plot since it enables Luci to have a big impact on the people he loves. Luci's wish is an admirable act of selflessness. He decides to revive Mora the Mermaid for Queen Bean. This action illustrates how deeply devoted Luci is to Queen Bean and how much he would give to make her happy, even if it meant sacrificing his own life.
What happend to Elfo?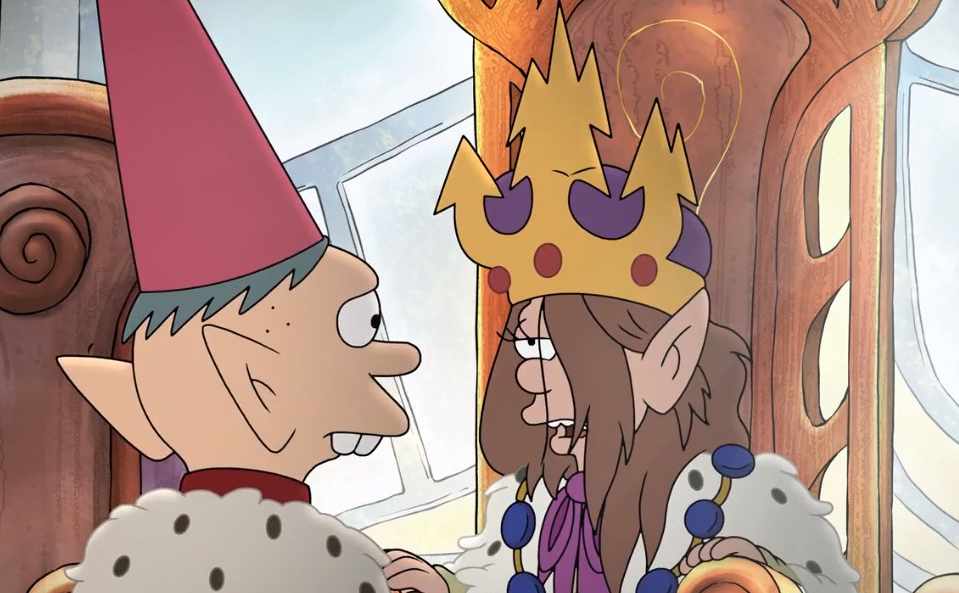 Throughout the course of the episode, Elfo (Nat Faxon) is placed in danger while engaged in a crucial struggle with Queen Dagmar, who is affected by the holy waters and is attempting to drag him to hell with her. The chaotic and dramatic events that are taking on in Dreamland are present during this battle.
Elfo successfully makes a fast getaway and narrowly avoids being transported to hell alongside Queen Dagmar. His ability to survive is a monument to his ingenuity and good fortune in the face of grave peril.
After the pandemonium has subsided and Dreamland has undergone substantial changes, such as the choice of a new queen, Mop Girl, Elfo assumes a supportive position. As Mop Girl ascends to the status of Queen of Dreamland, he becomes her partner. A new chapter in the Disenchantment universe begins as Bean and Mora flee their wedding and make room for two more couples to exchange vows in their stead.
Disenchantment Part 5 Ending Explained!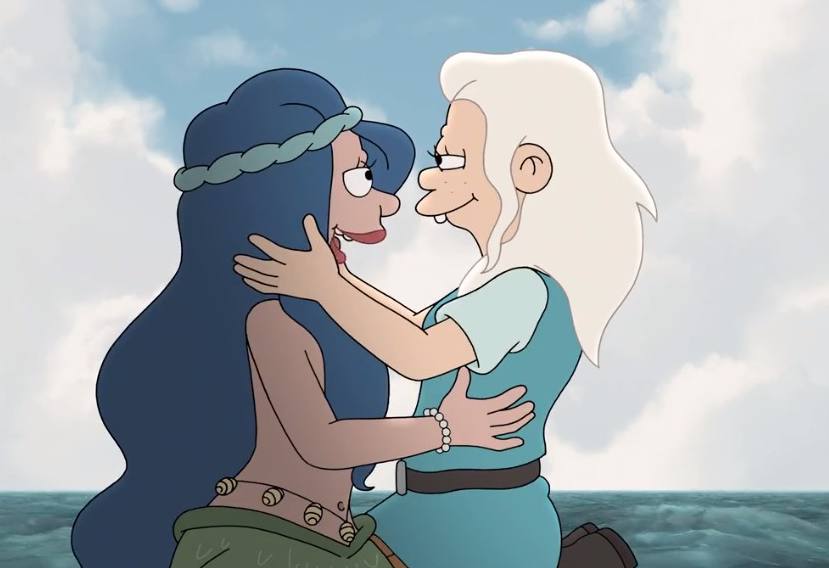 Dreamland is saved at the end of the episode. In a pivotal fight, Queen Bean triumphantly beats her evil mother, Queen Dagmar. After the conflict, Queen Bean makes an unexpected declaration. She makes the decision to relinquish her throne, citing the need for a respite. The residents of the town had a range of reactions to this revelation, with some voicing their disdain.
Following Queen Bean's choice to abdicate, King Rulo names Mop Girl as the next monarch of Dreamland. This decision ushers in a huge shift in the kingdom's hierarchy as Mop Girl assumes her new position. Many of the characters receive a resolution in the last scene. It contains scenes in which diverse characters experience love and joy.
Notably, Luci makes a noble desire to resurrect Mora the Mermaid for Queen Bean despite his death and ascent to paradise. In the series' concluding image, Queen Bean and Mora the Mermaid are shown kissing passionately on a beach as the sun sets. With so many misadventures throughout the series, Bean finally achieves a peaceful and joyful finish in this scene.
Disenchantment Season 5 (Episode 10) offers a fulfilling and exciting climax to the show, chock-full of recollections, character growth, and unexpected turns. Fans can reminisce about the mishaps and development of Queen Bean, Elfo, Luci, and the rest of the characters in this distinctive animated fantasy world as they say goodbye to Dreamland and its eccentric residents.