Chucky Season 1 Episode 8 contained many of the qualities that made Chucky Season 1 such a hit. "An Affair To Dismember" brings Chucky's first season to a close. Tiffany and Nica/Chucky worked on their plot to unleash swarms of killer dolls around the country. So, who survived and, who perished? Continue reading here (www.tvacute.com/) for a complete summary of "An Affair to Dismember."  The series leaves viewers eagerly anticipating the next adventures of Jake, Charles Lee Ray, and this colorful group of characters by leaving clear loose ends at the end of this episode.
Andy arrives at the Wheeler estate in search of Jake and asks a series of strange inquiries. When he leaves, Chucky creeps out of the toilet bowl, warning Junior to keep away from the doll. Junior inquires as to why he didn't kill Andy right then, but Chucky responds that he has "other plans" for Andy.
Lexy and Jake are perplexed as to why Chucky is so determined to persuade one of them to commit a murder, but their discussion is cut short by one of the Chucky's. Kyle storms in and shoots the doll dead before he can attack. Yes, there are several Chuckys, she explains, but he can only conduct his soul-swapping voodoo on other Good Guy dolls. Kyle further claims that if Chucky can persuade one of the children to kill, he will be able to form his army. Jake tells her that they must help Devon, but Kyle poisons them to keep them safe, and they pass out.
Nica/Chucky tackles Tiffany to the ground at the Charles Lee Ray residence and threatens to kill her. Tiffany yells that he needs her or "the plan won't succeed," but Junior and his Chucky doll interrupt Nica/Chucky before he can act on his killer urge.  The gang continues downstairs, where dozens of dolls, all of which are alive, are kept. When Chucky tells his army that they can't kill anyone under the age of "five or six," the psychopaths burst out laughing.
Tiffany and Junior are ordered by the doll to kill Nica/Chucky, but when they refuse, Tiffany decapitates him. When Junior approaches Tiffany with a knife, she informs him that once they locate his father's body, he'll need her to get out of town. Tiffany was the one who originally called the cops on Charles in the 1980s, according to a flashback. As a result, she's the one who started it all. Tiffany drugs Nica/Chucky and pulls out a cute little suitcase that "her sweetheart Glenda" gave her after she tells her narrative. (Seed of Chucky fans, look alive!) She explains it's "a little something to welcome Andy Barclay with a bang!" as she opens the wire-filled case.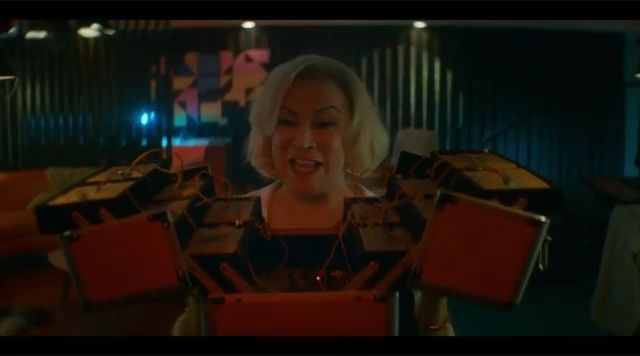 Tiff and Junior flee, but Andy comes just in time to save Devon from the headless Chucky. Kyle also arrives, but when she opens the front door, the bomb goes off, and the entire home explodes!
When Jake and Lexy wake up, they discover Charles' house has exploded, leading them to believe Devon is dead. Jake laments a little, but that's okay because Devon arrives shortly after. They infer that the criminals are on their way to the mayor's feast, and they must prevent the army from arriving.
Jennifer Tilly is the famous guest for the event, and she's brought a truckload of Chucky dolls to distribute to underprivileged youngsters across the country. Junior entices Lexy inside by claiming to be kept captive while the mayor and "Jennifer" (who is actually Tiffany) speak to the gathering. Junior and the doll try to persuade Lexy to join them as the horrible jerkface that he is, and as the entire town watches a charity screening of Frankenstein, the teen shows himself to be the villainous jerkface that he is. Junior rushes through Lexy after an emotional conversation and stabs the doll in the chest, but Chucky also stabs the youngster with a knife. JUNIOR, that's what you get for murdering your own father.
Meanwhile, one of the Chucky dolls murders Lexy's father Ethan in his theatre seat. As the audience erupts in hysteria, bodies begin to fall from the ceiling. While Devon walks Lexy's sister away from the scene, Chucky revels in the idea that Hackensack will be remembered as "ground zero for the army of me." Jake pins the doll to the ground and throws him against the wall after the doll teases him about his sexuality. Chucky is choked till his eyes bulge out and he collapses dead.
Tiffany prepares the doll truck for the airport outside, but Andy knocks out the driver and takes over the wheel. He offers a screaming Tiffany the middle finger as he drives away. Tiffany — the doll version — holds him at gunpoint from the back of the truck before he can get too far! If he knows what's good for him, she tells him to drive.
In the meantime, the human version of Tiffany has Nica bound to a chair, but the lovely crazy has done something unfathomable: she has amputated Nica's forearms and legs! Nica is screaming at the top of her lungs in terror the last time we see her.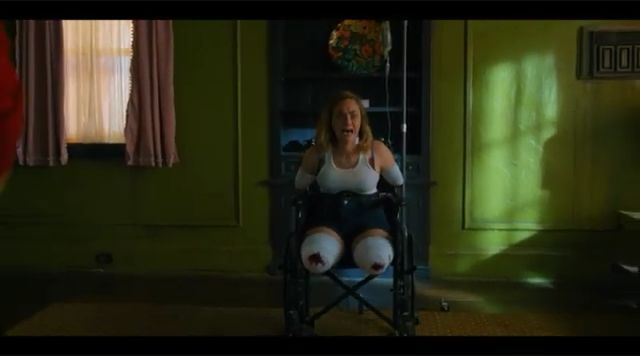 Jake, Devon, and Lexy pay a visit to Logan, Junior, and Bree's graves the next day. Jake thanks his pals for saving his life, and as they hug, a mystery figure in a black glove emerges from behind a tree and follows them. Chucky sits by a fire with a book in an epilogue, regaling us with a rundown of the season's kills.