Last week's Call the Midwife season 11 episode 6 ended in a gloomy tone, and I know Sister Monica Joan, at the very least, shares my low-key fear that something horrible will happen in the next two weeks. With the exception of little Timothy Turner, who has returned from school wretchedly unwell, the rest of the squad appears to be relatively relaxed. Lucille, on the other hand, is in much better shape, beaming cheerfully as she catches up with the rest of the gang at Nonnatus.
Sister Hilda (Fenella Woolgar) presided over the midwives' morning meeting and observed Nurse Nancy, who seemed concerned with the news of the 1967 Abortion Act. Sister Hilda only wanted Nurse Nancy to concentrate, while the rest of the staff praised the law for saving lives. She discussed it with Sister Julienne (Jenny Agutter), and the two devised a strategy to offer Nurse Nancy more responsibility. Soon after, Nurse Nancy was supposed to lead the morning meeting, but she overslept. Sister Julienne then agreed to accompany Nurse Nancy and Dr. Turner (Stephen McGann) to an obstetrics conference in Chelmsford. Before Tim came home sick from school with mono and needed care, Nurse Shelagh was meant to go.
Nurse Nancy was initially hesitant to attend the conference because it was scheduled on a Saturday, which is when she usually spends time with her daughter Colette. Nurse Nancy, on the other hand, came around after speaking with Sister Hilda and giving it some thought and became enthused about expanding her professional expertise. Sister Hilda also felt horrible for Nurse Nancy for having to choose between her career and motherhood, so she offered to cover her Sunday shift so she could spend the day with Colette instead. Nurse Nancy, Dr. Turner, and Sister Julienne had a great time learning about the future of epidurals and suction equipment during the conference and enthusiastically talked commerce on the train way home.
The train was being operated by Lionel Corbett, the husband of Sister Hilda's expectant symphysis pubis patient, Edina Corbett. Everything was going swimmingly until he had a seizure and lost control. After Lionel failed to stop at a red signal, a second train slammed into the side of his train. During the incident, Nurse Nancy, who had gotten up to use the ladies' room, was slightly bruised. Sister Julienne and Dr. Turner were not so fortunate, and the impact threw them around brutally. It was unknown at the end of the episode how seriously the two had been harmed and who had survived.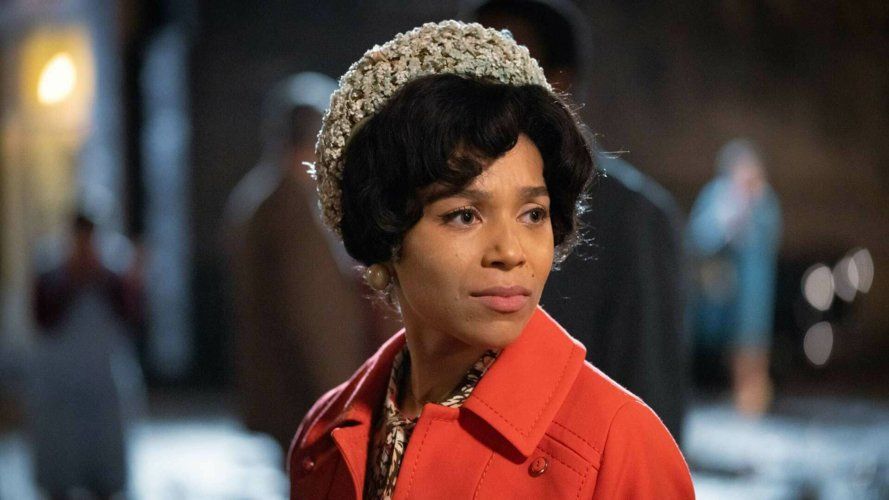 The train derailed on an overhead bridge, injuring residents of Poplar as well. Mrs. Wallace, one of Cyril and Nurse Lucille's parishioners, was injured in the eye by a fragment of glass while attending a church service. Others had minor scratches and bruises, and the majority of them were escorted to Nonnatus House by Fred, Lucille, Cyril, and Matthew. Sister Monica Joan frowned, fearful that the crow, who had returned to see her, was to blame for the calamity. Tim, on the other hand, would probably be concerned that his quarrel with his father, Dr. Turner, might be their last. Sister Frances, meantime, remained at the hospital with Carole, the pregnant adolescent. Carole, who already had a son, gave birth to a baby girl prematurely. That baby also didn't seem to be breathing.