The second season of Bridgerton ended on Netflix on March 25, but we're already looking ahead. We're particularly interested in determining which Bridgerton will succeed current top man Anthony Bridgerton (Jonathan Bailey). Seasons one and two followed Julia Quinn's Bridgerton book series in book sequence, with Phoebe Dynevor's Daphne Bridgerton serving as the lead in season one, but we believe season three will be inspired by book four, titled Romancing Mister Bridgerton. While we await word on season three, we check out Bridgerton books based on their potential for adaptation to the screen. Here's what (tvacute.com) knows about Ton's future plans. let's find out Which novel will Bridgeton Season 3 be based on?
Season three will focus on Benedict Bridgerton, the second Bridgerton brother if the series continues to follow Julia Quinn's books. An Offer From A Gentleman is based on the Cinderella story. Each book in Julia Quinn's novel series, on which the show is based, is about a different sibling.
An Offer from a Gentleman (Bridgerton Book 03)
Bridgerton season 3 will focus on Benedict Bridgerton and his search for Sophie Beckett, a girl he meets at a masquerade party if the series follows the plot of the Bridgerton book series. Benedict falls for Sophie, the illegitimate daughter of the Earl of Penwood, in the third novel, titled 'An Offer From A Gentleman.' When the earl dies, his wife Araminta discovers that keeping step-daughter Sophie under her roof will earn her more money, so she puts her to work and keeps her there. Sophie's life is suddenly turned upside down by an accidental encounter with Benedict at a masquerade party. Given that the storylines of Bridgerton seasons 1 and 2 strayed slightly from the books, it's probable that season 3 will do the same.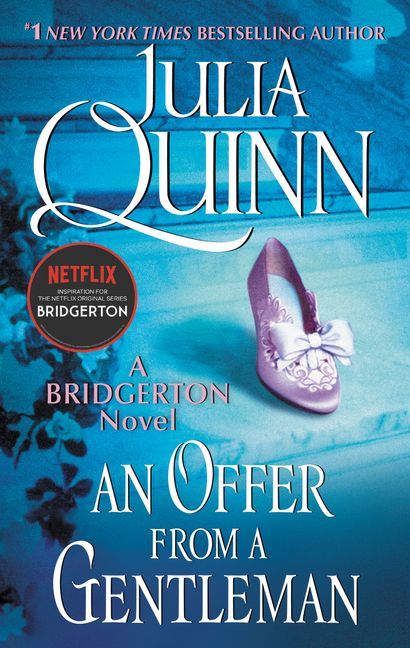 According to esquire.com, the third novel, An Offer from a Gentleman, inspired the film. Benedict Bridgerton (who we've met, played by Luke Thompson) and Sophie Beckett (who we haven't) are entangled in a Cinderella-esque love story including a wicked stepmother in that. Penelope's best friend Eloise Bridgerton (Claudia Jessie) discovered Lady Whistledown's true identity towards the end of season two, prompting a painful conflict and rupture between the two characters. Penelope then overheard Eloise's brother Colin make fun of her in front of a bunch of males, adding to the drama. She's heartbroken, unfriended, and has nothing to lose now. So Penelope and Colin may need to fix some fences before they start courting next season.
Bridgerton season 3 might potentially begin teasing the fan-favorite romantic pairing of Penelope Featherington and Colin Bridgerton, which is the subject of the fourth Bridgerton book. To find out, we'll have to remain tuned!
The extent to which Season 3 will adhere to the novels is currently unknown. "We have no idea how close they're going to stay to future relationships or how it's going to go," Newton admitted to E! News. Nicola  Coughlan teased E! News on where her character stands with the Bridgertons in the future "I believe she still respects and admires the Bridgertons and aspires to be one day. It will be fascinating to see where she will go from here."
Bridgerton Season 4 Based on Mister Bridgerton's Romance (Book 4) (Colin)
The story of Colin Bridgerton, who considers Penelope Featherington a dear friend, and Penelope, who is hopelessly in love with Colin, is told in Romancing Mister Bridgerton. He knows she's more than a nice buddy eventually, but it takes a half-book and a Lady Whistledown expose for him to grasp it. The spectators already know that Penelope is Lady Whistledown, but no one (not even the reader) knows until Colin learns it in the books. Colin needs to mature (and improve his character) before this story can conclude, but if Penelope's secret can be kept hidden until the perfect time, this may be a very gratifying romance indeed.
Who will appear in the third season of Bridgerton?
We have no idea. But we can guess, Penelope Featherington, often known as Lady Whistledown, is played by Nicola Coughlan. Dame Julie Andrews will almost certainly lend her voice to Whistledown's observations once more. Then there's Violet Bridgerton (Ruth Gemmell) and her eight children: Anthony (Jonathan Bailey), Benedict (Luke Thompson), Colin (Luke Newton), Daphne (Phoebe Dynevor), Eloise (Claudia Jessie), Francesca (Ruby Stokes), Gregory (Will Tilston), Hyacinth (Will Tilston), and Hyacinth (Will Tilston) (Florence Hunt).
Will Kate and Anthony be in Bridgerton season 3?
Daphne has been consigned to the sidelines after season one centered on her, and she only appears in flashbacks. Duke Simon Bassett (Regé-Jean Page), her spouse, has left the series. So we have no idea if Phoebe will return for season three. With this in mind, Jonathan Bailey, who plays season two's central Bridgerton, Anthony, faces an unclear future. The Duke, Anthony, and his new wife Kate Sharma (Simone Ashley) are central figures in both of their families. It's significantly less likely that they'll vanish completely. In addition, Kate's younger sister, Edwina (Charithra Chandran), has yet to find love.
When will the third season of Bridgerton be released?
Season four is also on the way, according to the latest news! But We still don't know. when the Bridgerton Season 3 will return since. Season one premiered on December 25, 2020, while season two premiered on March 25, 2022.  Season two took around 15 months to arrive. So we assumed that Season three could theoretically premiere in March 2023. We'll let you know as soon as we have more information.
How many episodes will there be in the third season of Bridgerton?
Bridgerton season 3 will most likely consist of eight episodes, each lasting about an hour. There's still time to fall in love with the next Bridgerton pair to grace our television screens!
Bridgerton Season 3 Trailer
yet not!
If you're curious, here's the complete list of Quinn's "Bridgerton" novels, along with their sibling.
"The Duke and I" is the first book in the Daphne series.
"The Viscount Who Loved Me" is the second book in Anthony's series.
"An Offer From a Gentleman" is the third book in the Benedict series.
"Romancing Mister Bridgerton" is the fourth book in Colin's series.
"To Sir Phillip, With Love," Eloise, Book 5
"When He Was Wicked" is the sixth book in the Francesca series.
Book 8, "On the Way to the Wedding" by Gregory
"It's in His Kiss" is the seventh book in the Hyacinth series.