Jimmy Keene (Taron Egerton), an undercover prisoner, gets closer than ever to revealing the secrets of spooky serial killer Larry Hall (Paul Walter Hauser) in the gripping conclusion of producer/writer Dennis Lehane's fact-based prison drama Black Bird—until the crooked prison hierarchy jeopardises Jimmy's chances of reaching the officials who put him in this situation. Ray Liotta gives one of his best performances as Jimmy's dying father, and Hauser is eerie and terrible in his closing outbursts of wrath at his treachery. A number of captivating twists that change Jimmy and Hall's fortunes are revealed in the last moments of episode 6 of Black Bird. Let's start to find out
Black Bird Episode 6 Recap
Jimmy's nightmare. He imagines himself as Larry, choking females, arguing with his father, and playing football. Jimmy's nightmare is woken by Larry. Jimmy accuses Larry of misleading to him about the girls he had sex with to anger him. Big Jim had a stroke because he can't phone Jimmy. Vincent "The Chin" Gigante tells Jimmy about his fake cover narrative. In Larry's workshop, Jimmy sees a map with 21 red dots. He assumes the dots represent Larry's victims' bodies.  Jimmy convinces Larry to give the map to the girls' families so they can find their bodies. He wants the parents to have closure by properly burying their daughters. Larry refuses, though. The suspect wants to transmit the map and falcons to brother Gary. Larry realises from Jimmy's confrontation that Edmund Beaumont dispatched his "buddy" to snoop on him. Guards separate the combatants. Jimmy's efforts to speak with Dr. Aaron Zicherman, who is on vacation, were denied. Brian, Lauren, and Gary discuss Larry. Gary says that Larry raped a hitchhiker when they were kids and he didn't stop him. Gary denies Brian's accusation that Larry is a murderer. Brian doubts Gary.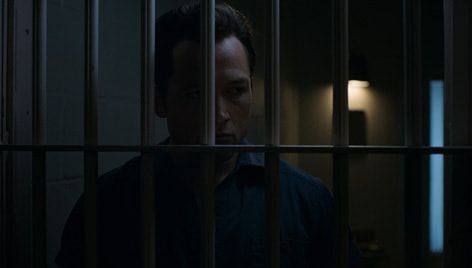 Jimmy is released from solitary confinement on Dr. Zicherman's return to Springfield. Jimmy sees Lauren at the prison and discusses his interaction with Larry, his encounter with Larry's map, and the suspected killer's revelations about Jessica Roach. Lauren leads Jimmy to Beaumont, who frees him. Even though Jimmy hasn't found Tricia Reilter's body, which was required for his release, Beaumont praises his covert efforts. Through Jimmy, Beaumont and Lauren have something to fight Larry, therefore the federal counsel demands Jimmy's sentence be commuted. The judge understands Jimmy's personal improvement and his bureau job. The judge sees a guy who has lost conceit, so he commutes Jimmy's sentence and lets him go free. Beaumont and the judge agree that remaining in Springfield for the FBI, regardless of the undercover mission's outcome, deserves a reward. Jimmy is released for partially completing a perilous mission.
Larry's appeal is denied because… his defence has portrayed him as a victim of the police's illegal interrogation practises since his conviction. The appeals court even considers Larry's initial confession coerced. The first trial's shortage of a false testimony expert discredits the conviction result, giving Larry a chance to prevail in the appeal and walk free. Jimmy's participation changes the case's dynamics. Jimmy helps Beaumont prove that Larry knew Jessica Roach's case information only the perpetrator of the crime knows. This disproves Larry's innocence. Larry's defence contention that his confessions were compelled is also rejected, favouring the prosecution. The court refuses Larry's appeal due to the lack of tangible proof to support his guilt, especially that can undermine the prosecution's "source."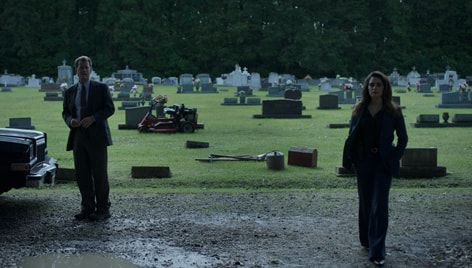 The FBI doesn't find Larry's victims. Lauren, Beaumont, and Brian can only find Larry's victims using his map. Larry's father burns, to the authorities' dismay. Beaumont and Lauren agree that pursuing suspected victims without evidence is useless. Through Jimmy's intercession, Larry's appeal is denied, sending the alleged killer to prison for life. Beaumont and Lauren's main goal is to keep Larry from leaving prison to continue committing crimes. They ensure Larry won't damage another girl by denying his appeal. Beaumont and Lauren settle since there's no evidence linking Larry to additional crimes. Gary tries to encourage Larry to confess to his crimes, but his efforts don't assist the FBI to discover Larry's purported victims.