In this episode titled "Burnt Hands and Broken Hearts" of Below Deck Sailing Yacht, the love triangle between Daisy, Gary, and Colin intensifies. The crew was also seen overcoming additional difficulties in the episode. A problem with the boat's engine resulted in smoke and the activation of the fire alarm. The group handled the predicament and found a solution. New charter guests arrived at the end of the show as Daisy, Gary, and Colin were attempting to manage their delicate connection. (tvacute.com) We have a recap of Below Deck Sailing Yacht: Season 4 Episode 11 in case you missed the exciting conclusion.
Below Deck Down Under Season 2, Episode 10 Recap
Below Deck Sailing Yacht Season 4 Episode 11 Recap
Chief Engineer Colin MacRae is contemplating the news that Chief Stew Daisy Kelliher and First Office Gary King once shared a bed when the episode opens. He challenges Daisy on it. Colin expressed his disappointment and accused his buddies of lying to him since he felt hurt and betrayed by them. Colin has a hunch that Daisy still harbors feelings for Gary despite her insistence that the sex was meaningless. The following morning, Gary acknowledges that he chose to obey Daisy's desires by keeping the hookup a secret from Colin. Colin decides he wants some distance because he's not sure where he stands with Daisy. Gary, in the meantime, adds fuel to the fire by speculating that Daisy may still harbor secret affection for him.
The team gets a preference sheet for the incoming visitors, which includes a main visitor named SuGinia Jones who asks for an all-white birthday party and an Ileisha-prepared Caribbean supper. Ileisha accepts the challenge despite not having any experience with Caribbean food. Deckhand Alex Propson and Junior Stew Lucy Edmunds learned from Junior Stew Madison Herrera that Colin had just learned of Daisy and Gary's previous liaison as the crew tried to diffuse the tense situation. The drama was addressed among the crew, who identified a love triangle as the cause.
Gary tells Mads about his relationship with Daisy in the past, but she brushes it off and refuses to play into Gary's tricks. Daisy tries to mend things with Colin, but he ultimately decides to separate from her for a while. Alex mistakenly admits that Gary might be hunting for Daisy, which heightens the tension. When Colin becomes upset, Mads informs Alex and Lucy of the circumstance. Captain Glenn Shephard is the only person aboard the yacht who is still in the dark about Gary and Daisy.
A fire alarm sounds and smoke is seen in the engine room while the drama is still going on. The crew learns that Captain Glenn over-rodded the engine, which resulted in the smokey exhaust. Although the problem is soon rectified, the emergency causes tensions to increase between Colin and Gary. When Captain Glenn discovers that Daisy ignored Gary's radio request for a pia colada, he becomes irate with the inside team. He underlines how crucial prompt service is for the visitors.
Colin confides in his sister Monica about his feelings about being duped by Gary and Daisy's hookups. Monica wonders if Daisy felt embarrassed and wanted to keep it a secret. Lucy worries about her university grades all day and is first upset when she sees her grades. She later learns that, although not achieving her expectations, her grade of 2.1 is actually good.
Gary and Daisy debate the ongoing turmoil and whether Gary should apologize as the crew gets ready for a beach party. After having him agree not to expose it, Gary and Daisy later had a conversation in which Gary questioned why she had told people about their previous hookup. Daisy was aware of her error and repented. Chase intervenes and exhorts them to concentrate on their task and fix the problems before they have an impact on the crew dynamic.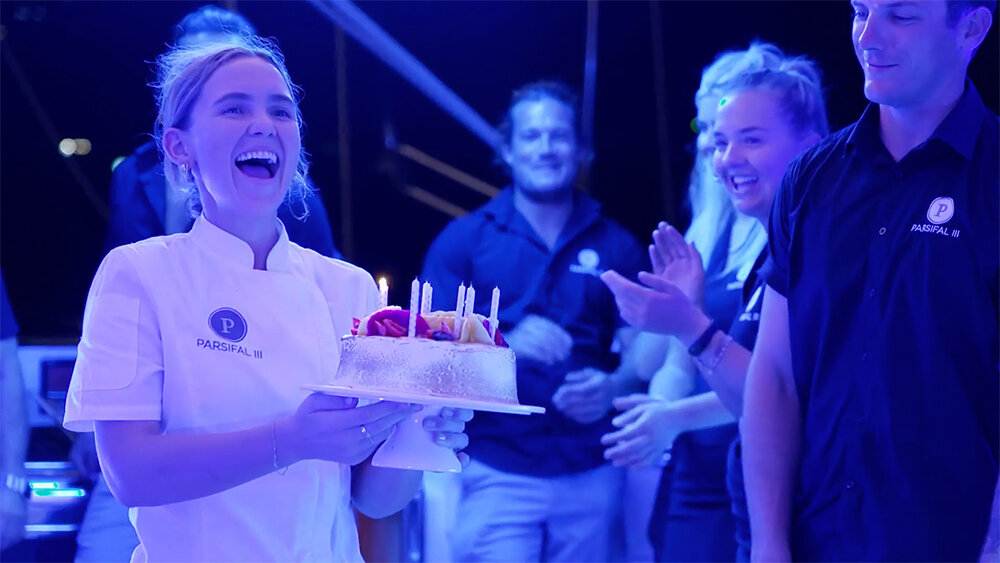 Daisy neglects to set up adequately before the birthday party, which leads to a shoddy furnished event. Daisy figures there won't be any more requests after serving the cake, but the guests do. Daisy is away trying to work things out with Colin, so Chef Ileisha is left to manage things. Ileisha also burned her fingers while cooking, and Chase Lemacks attended to her medical needs. Colin confesses at the end of the episode, explaining his conflicted emotions. While his mind counsels him to avoid the drama, his heart begs him to be with Daisy.
It appears that Colin's choices for the remainder of the season may not be popular with Daisy or the audience based on recent extra-show happenings, such as Colin and Daisy unfollowing each other on Instagram and Daisy praising Gary.
Below Deck Sailing Yacht Season 4 Episode 9 Recap