Are Sam Mark and Aussie Chau Still Together? – Netflix's popular dating series "The Ultimatum" will return with a new cast this year. Ten episodes will showcase five couples made up entirely of women and non-binary individuals facing tough decisions about moving their relationships forward or parting ways.
"The Ultimatum: Marry or Move On," an experimental take on romantic relationships, premiered in 2022. While its first season focused on heterosexual couples facing pivotal moments in their relationships, "The Ultimatum: Queer Love" takes this concept further by featuring same-sex and non-binary partnerships instead. After the initial group dating rounds, couples will again be selected during the "Choice" stage of filming.
"The Ultimatum: Queer Love" will be hosted by JoAnna Garcia Swisher from "Sweet Magnolias," rather than Nick and Vanessa Lachey, who hosted its inaugural season last year.
In this season, audiences will follow five couples comprised entirely of women and non-binary individuals as they navigate the uncertain waters of their relationships. Living together for several weeks, these couples will reconcile with one another before ultimately facing a crucial choice: either continue together towards marriage or part ways and pursue different paths.
Sam and Aussie are participating in this romantic test to see if their love will survive beyond the confines of the television show. Their journey, along with that of other participating couples, will keep viewers intrigued while shedding light on queer relationships.
"The Ultimatum: Queer Love" provides an intimate and passionate portrayal of these couples' emotional journeys as they navigate significant decisions that determine their futures.
Who is Sam Mark?
Sam M has diverse professional experiences and interests, such as Tarot Healing, DEIBJ (Diversity, Equity, Inclusion, Belonging, and Justice) advocacy, LGBTQIA+ activism, and creative strategy. Sam attended UC Irvine, where she earned a degree in chemistry. During summers at California State University Fullerton, she studied investment.
Sam began her professional journey as a cashier at ARAMARK Higher Education before rising through the ranks to become a site supervisor. Additionally, she served in a professional support role at Michaels Stores Inc and as an agent representative with New York Life Insurance Company in the financial sector for almost three years.
Sam launched her Conscious Altruism Movement in 2022. Additionally, she provides freelance consulting services for Braindom LLC's LGBT+ initiatives and serves as the Executive Virtual Assistant of Exec Wranglers, holding the title of Chief Connections Wrangler. At 31 years old, Sam draws her motivation from her community and appreciates collaborating with individuals with open minds and genuine intentions.
Sam seeks to connect and empower others so they may achieve self-confidence, insight, and self-love through connection and empowerment. Through her advocacy work in diversity, equity, inclusion, belonging, and justice, she has met many inspiring individuals whom she considers friends.
Through her Conscious Altruism Movement, Sam strives to plant seeds of grassroots movements driven by inspired leaders, change-makers, advocates, and community members. This movement drives motivation toward this goal by showing people across the country the possibilities of an egalitarian society without class divisions. It harnesses the collective strength of its members to reduce costs associated with providing essential services, and support guidance opportunities, ultimately creating positive global change.
Who is Aussie Chau?
Sam and Aussie's first meeting has been described as being out of a movie. Their love story began after they crossed paths on an LGBTQ+ social network during the pandemic. Since then, they have been in a committed relationship for nearly one and a half years. Sam, who is ten years younger, has reached a point where she wants to commit to life with Aussie.
Aussie is nervous about marriage and feels it would be best for the pair to spend more time together before entering such a significant commitment. Due to these diverging perspectives, Sam issued an ultimatum that could either strengthen or threaten their bond. Only time will reveal its effect on their relationship.
Deliberating on a course forward can be challenging when partners have divergent views about when and whether it is appropriate to tie the knot. Sam and Aussie find themselves at an important crossroads where they must carefully navigate their feelings and aspirations to decide the future of their relationship. The ultimatum lays down a choice that could determine their love story's trajectory.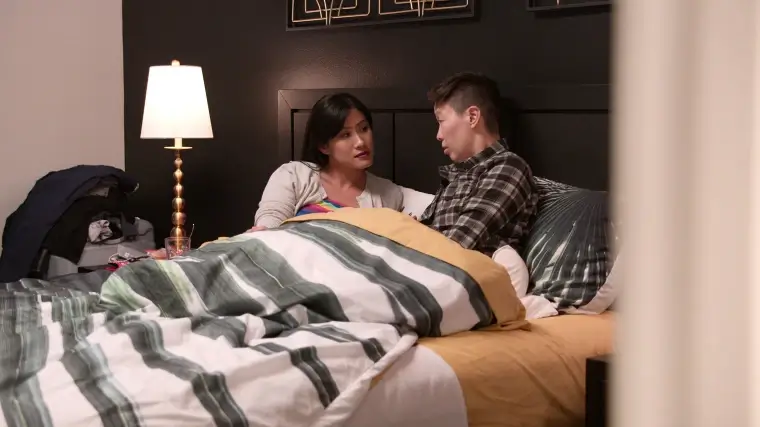 Are Sam and Aussie Still Together?
Sam and Aussie fully participated in the experiment in hopes of finding lasting love together. However, as time progressed, their compatibility gradually diminished as each marital union encountered challenges and strains, making each relationship unpredictable. Their online profiles indicate that they are no longer together as an official couple.
Signs that Sam and Aussie may have drifted apart have recently surfaced. Both no longer follow each other on Instagram, and there is no evidence of communication through other channels. While they were close at Netflix's Pride celebration in Los Angeles recently, they no longer appear as an engaged couple, despite attending as close neighbors. They were not wearing wedding bands and had not shared common interests or activities in recent months.
Aussie appears to be prioritizing both health and employment equally, while Sam appears more focused on her work as a tarot reader, mental health advocate, and supporter of the Conscious Altruism Movement. Their paths have diverged, and they have chosen different focuses for their lives.
Sam and Aussie have seen their relationship transform over time, seemingly taking two separate paths toward their life goals as individuals instead of continuing the romantic journey together. As individuals, they now pursue separate endeavors and no longer share common interests.
Must See: Where Does The Ultimatum: Queer Love Film? All Filming Locations