In the dynamic realm of Love Island, where partnerships are established and scrutinized by a worldwide viewership, the narrative of Justine Ndiba and Caleb Corprew serves as evidence of the intricacies of love that extend beyond the limitations of reality television.  tvacute explores the post-Love Island path of one such well-known couple in this story: Love Island USA Season 2 winners Justine Ndiba and Caleb Corprew.
Are Justine and Caleb still together?
The second season of Love Island USA was an emotional rollercoaster, with fan favorites Justine Ndiba and Caleb Corprew taking center stage. Caleb's arrival in the villa was the catalyst for Justine, who had won hearts since the beginning of the reality TV show. Justine and Caleb won the coveted title of Love Island USA Season 2 winners, but not before defeating Cely Vasquez and Johnny Middlebrooks, the season's runners-up.
The pivotal moment for this dynamic pair came during Casa Amor when Cely and Johnny's prospects were threatened by Johnny's brief affair with Mercades Schell. On the other hand, Justine and Caleb successfully managed the challenges of the tournament, strengthening their bond and winning the season's top prize. But after the triumphant glare subsided, the practical difficulties of preserving a relationship in the face of public scrutiny became apparent.
The storyline of Justine Ndiba and Caleb Corprew's relationship took a turn following the conclusion of Love Island USA Season 2. The pair had to deal with the painful reality of a split despite the early joy and the success of their love on national TV. The romantic tale that developed within the villa proved to be unsustainable in the real world, and just a few months after winning Season 2, Justine and Caleb called it quits.
Fans were eager to learn the reasons behind their breakup, but the specifics of their breakup remained buried in rumors. Justine appealed for privacy on Instagram during this difficult time. In her statement, she emphasized the significance of understanding the human side behind public personalities and expressed a wish to communicate her sentiments when the moment was right for her. Caleb agreed, asking followers to honor their right to privacy while they worked through the difficulties of a breakup following Love Island.
Following their split, Justine and Caleb turned to their own interests for comfort and support. Even though their romance ended, the two Love Island celebrities went off on different paths and became successful individuals in their own right. While making appearances on The Challenge: World Championship and expanding her career in modeling, fitness, lifestyle, and beauty, Justine continued to enjoy the limelight of reality TV. Conversely, Caleb pursued interests in modeling, philanthropy, family, and fitness, demonstrating fortitude in the face of adversity.
As of 2023, Justine and Caleb don't appear to be in a romantic relationship and appear to be paving their own routes. Both have turned their attention to pursuing personal and professional goals, exhibiting a strong spirit that won't let the dynamics of a previous relationship define them. Even though it's unclear if they will ever get back together, the couple has made the decision to maintain some degree of privacy in their private life.
Even though Justine Ndiba and Caleb Corprew parted ways, the season 2 victors made the most of their notoriety by using it as a launchpad for their own achievements. Fans' memories of their time on Love Island are forever altered by the passing of time, and this serves as a constant reminder that love, like reality TV, is a journey filled with unexpected detours.
Who is Justine Ndiba's New Partner?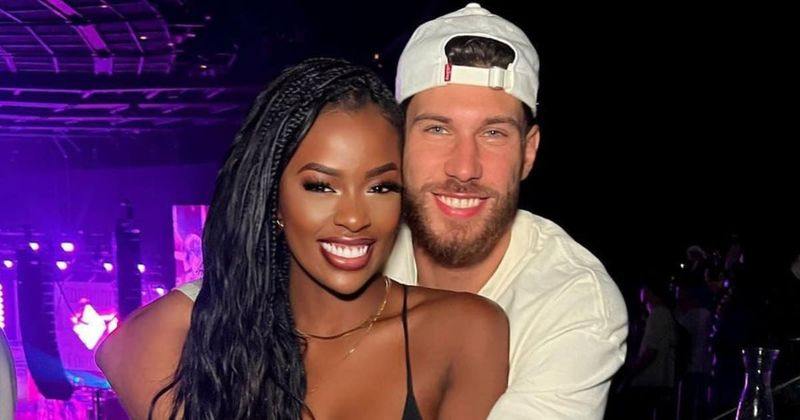 As a TV personality who was first reserved and afraid to show her feelings, Justine Ndiba had some unexpected revelations during the Love Island Games. The course of events changed when she met fellow Love Island USA member Jack Fowler against the colorful backdrop of Fiji, creating the conditions for an enthralling love tale. Jack and Justine's romance began off-camera, hidden from the reality show's prying eyes. During open exchanges and chats, the two found things in common, like their allergies.
After they became separated over lunch, Jack hurried over to Justine's side and asked, "Justine, did you finish the salad? It contains chickpeas." Justine found great meaning in Jack's little yet considerate gesture, which demonstrated his concern for her welfare. Their relationship transcended the reality program and revealed a sincere and compassionate connection.
Another cast member, Deb Chubb, showed her support for the budding relationship by stating, "They're in love. They simply go together and are adorable together. It just functions. Deb's support is a testament to the good effects Justine and Jack's relationship had on everyone around them.
As the season goes on, viewers are drawn in by Justine and Jack's developing connection because of its genuineness and relatability. In addition to providing a platform for a love relationship, the Love Island Games changed Justine's life and strengthened her conviction that, despite the false promises of reality TV, decent people and meaningful connections can still be found.
Love Island USA Season 2 winner Justine Ndiba and Love Island UK Season 4 candidate Jack Fowler were the winning couple at the center of this reality competition. The drama, which was filmed against the mesmerizing background of Fiji, gave its diverse cast members a second shot at love. The trip full of dramatic entrances, difficulties for teams and couples, and unexpected turns that changed the course of the show culminated on November 20 with the finale. With the ability to make her own decisions, Justine chose to share the $100,000 ultimate prize with Jack, demonstrating their resilience throughout the competition's difficulties.
Who is the winner of 'Love Island Games' 2023?