Our unforgettable five weeks later, on Wednesday, American Horror Story: Double Feature Part 1, "Red Tide," concludes with Alma (Ryan Kiera Armstrong) killing her father Harry (Finn Whitrock). Belle and Austin kidnap Eli. The plot then shifts to Los Angeles for an extended postscript in which the Chemist (Angelica Ross) and Ursula (Leslie Grossman) try to sell the black tablets to aspiring Hollywood writers. The pill doesn't work for any of them, and the city is destroyed as a result.  AHS Double Feature the first tale is over. Did the six-episode adventure satisfy you? Now, what will come next? As we all know that the 10-episode season is divided into two stories, one by the sea and one by the sand, the first six episodes long story, DF Part 1 has ended today.  We're going to get next is a prequel to "Red Tide." The second part "Death Valley" will start. it will be around the aliens  With a desert theme.FX has kept a tight lid on the situation, which may or may not is related to what we are seeing in Provincetown right now. www.tvacute.com has included the promo for American Horror Story Season 10, Episode 7, along with information on how to watch it. What is the plot of the AHS S10E07 Feature, and when will it be available to watch? What you need to know is right here. also, read the AHS DF Finale recap below.
American Horror Story Season 10 Episode 7 Spoiler – Death Valley Part: 2 (Aliens Story)
 "Take Me To Your Leader" is the title of Part 2 Episode 7 of Death Valley. We're hoping the show will be a little more inventive than the title, which is about as obvious an extraterrestrial story title. It's probable that most of "Death Valley" could serve as the main supernatural flavor for the next four episodes, the shortest in "AHS" history. but it's unclear how things will play out or if the aliens will be antagonists or not. We have no idea who Rabe would play, however, early speculations said she would play a female aviator who inexplicably vanished.
While Ryan Murphy was afraid to delve into the world of aliens, we understand. They go a little further into science fiction than horror! We saw them in American Horror Story: Asylum, but they were never the main focus of any of the storylines he brought to the table. Watch AHS Death Valley Promo
AHS Double Feature Eps 7 Synopsis: – A group of college students on a camping trip are swept up in a horrifying and deadly conspiracy decades in the making. Written by Brad Falchuk & Kristen Reidel & Manny Coto; directed by Max Winkler.
AHS S10 "Death Valley" Cast
Sarah Paulson will play Mamie Eisenhower in the season, alongside Neal McDonough, who plays Dwight D. Eisenhower. "Death Valley," will also feature Rebecca Dayan and Rachel Hilson, who will be appearing in the horror anthology series for the first time. Kaia Gerber, Leslie Grossman, Cody Fern, Angelica Ross, and Lily Rabe will also return for "Part 2." though details about Cody Fern's latest role are not yet known. others names Nico Greetham and Isaac Cole Powell
The signal will come in strongest on Wednesday. Be ready on Twitter at 12PM EST / 9AM PST. https://t.co/qm1Nv0YF41 pic.twitter.com/ouOBcHW1xo

— AmericanHorrorStory (@AHSFX) September 28, 2021
What time does the Seventh episode of AHS Double Feature air?
AHS Double Feature; Part 2 Episode 7 titled "Take Me To Your Leader," premieres on FX on Wednesday, September 29 at 10 p.m. ET.  The following day, Thursday, September 30th, the episode will be accessible on FX on Hulu. At 5 a.m. EDT, the streaming platform updates the collection with new episodes. As a result, AHS S10 E7 should be available around that time on the platform.
American Horror Story: Double Feature on Netflix
Every season of American Horror Story is still available on Hulu, but it's also available on Netflix and Amazon Prime Video. While Season 10 isn't available yet, you can watch Seasons 1 through 9 on Netflix, Prime Video right now.
American Horror Story: Double Feature Available on Streaming Service
The new episode 7 of Double Feature Part 2 can also be viewed with your active cable subscription data on FX's official website or FX Now. Live TV streaming services such as Fubo TV, Philo TV, Sling TV, YouTubeTV, DirecTV, and Hulu + Live TV are available to those without a cable subscription. A day after the episode airs on television, it will be available on Hulu. The seven-episode season of the all-new American Horror Stories anthology program is also available exclusively on Hulu.
How many episodes are in AHS Death Valley?
From the first half of AHS Season, 10 episodes were unique to the "Red Tide" stories, the remaining four episodes of the season will be devoted to "Death Valley." The timetable of broadcast and finale date has already been determined, which you can take a look at below.
Season 10, Episode 7, "Take Me To Your Leader," available September 29
Season 10, Episode 8, "Inside," on October 6
The release date for "Blue Moon," the ninth episode of AHS S10: October 13
"TBA," the tenth episode of Season 10, will air on the 20th of October.
AHS Double Feature "Red Tide" Finale Recap
The episode opens with the long-awaited return of Adina Porterbody's who is discovered floating in the water by an unwitting fisherman. An inquiry into the heinous act will be launched by the Massachusetts State Police. Officer Coach Beiste investigates the case. Holden orders Belle and Austin to eliminate the Gardners. police chief died. That last threat apparently works, for when Harry returns home, he discovers Belle has abducted his child.
In the meantime, Harry tells Alma and Ursula that they're all done with the pills "for good" after this summer, eliciting conflicting reactions.) Actually, there's nothing ambiguous about Alma and Ursula's (Leslie Grossman) reactions; neither of them is enthusiastic. Alma, on the other hand, does a little better job of concealing it. with it, She also does a poor job that she and Ursula are plotting behind Harry's back to murder him.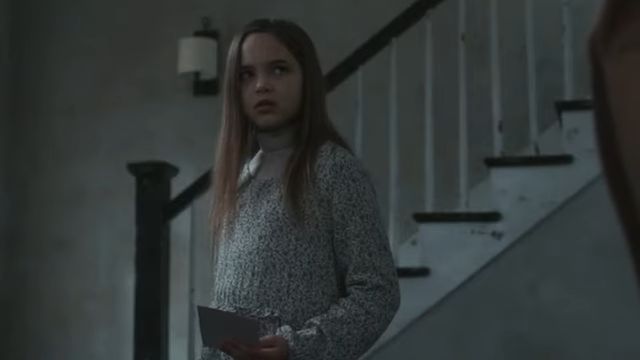 Ursula has a plan she goes to the pale people in the graveyard. She travels into the woods with a batch of "new" drugs in order to manipulate the baldies into performing her bidding. She informs them. "I understand you received a bad deal. You, on the other hand, are not monsters. You're all Laurence Fishburne wants tobes. She then offers them a new medication, claiming it is more powerful and has no negative effects. Things at Belle's, on the other hand, aren't going so well. Harry tries to save his baby.
The beasts charge in, quickly dispatching both Belle and Austin. But, just as the baldies are about to zero in on Harry and Alma, Ursula appears, guns firing. Alma bites into harry to kill her father. Then she and Ursula, the Chemist, and the baby go to Hollywood.  the Chemist is using her medicines to target racist LAPD cops. the Chemist (Angelica Ross) and Ursula (Leslie Grossman) try to sell the black tablets to aspiring Hollywood writers. The pill doesn't work for any of them, and the city is destroyed as a result.
In American Horror Story: Double Feature: Red Tide, who dies?
Austin and Belle were suffocated to death by pale bloodsuckers. Ursula kills the remaining bloodsuckers after Belle and Austin are slain. After finding that Harry wanted them off the drugs. Alma assassinated Harry and Rory. Many victims – Ursula dupes a number of young, talented writers into taking the pill, knowing they won't have any talent. And now it's time to relocate to the next city. But They didn't murder baby Eli. Ursula, and the Chemist, on the other hand, were fully dedicated to their new duty as mothers.