The eight-part sci-fi drama created by Holden Miller Amazon's Night Sky story follows Irene (Oscar winners Sissy Spacek) and Franklin York (JK. Simmons), an elderly couple living in Farnsworth, Illinois. They've been together for over 50 years. They have kept a secret for many years. their backyard shed leads to a gateway to a distant, seemingly barren planet, which they monitor from a hidden chamber. They have a granddaughter (Denise McKirnan, daughter of Kiah McKirnan) whom they adore and care about. They have a nosy neighbor (Adam Bartley's Byron) who is constantly trying to infiltrate their lives. They have a shed in the back that is built over a bunker with an elevator that can send them to an observation chamber in an evacuated community on an extraterrestrial planet that appears to be barren. Let's break down what happened in each episode of Night Sky.
What happened in Night Sky Episode 1?
Titled "To The Stars":  Irene and Franklin use their extraterrestrial teleportation technology to take a vacation, which they've done numerous times before. Irene thinks the portal, which transports them to an alien viewing platform, is a puzzle. While Franklin becomes increasingly suspicious of its existence, he only wants to tell his granddaughter Denise about it. At night, nosy neighbor Byron snoops around, capturing the elderly couple on their way to and from their garden shed. Denise is informed of this peculiar behavior by a concerned neighbor. Denise confides with Franklin, concerned about her grandmother's failing health. After a fall, Irene is now wheelchair-bound, and Franklin's memory is fast deteriorating. Irene writes Franklin a note and heads to the viewing platform alone, wondering if she'll make it to the strange world, but desperate for answers. As she walks away, she notices a man trying to breathe on the floor.
What happened in Night Sky Episode 2?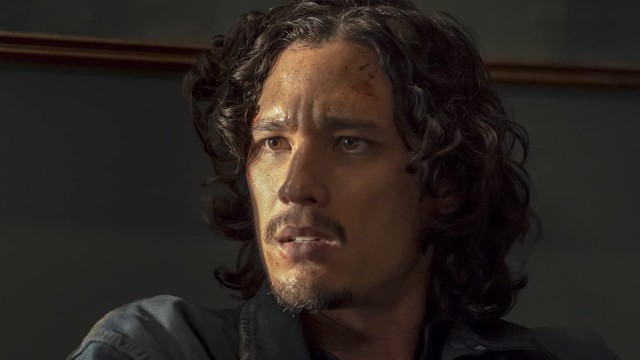 Titled "La Capilla":  Stella and her daughter Toni work on a llama farm in Argentina. Stella's territory has a church with its own mystical doorway, which she guards with her life. Back in America, Franklin invites the visitor inside his home, where the two discuss their future steps. Irene decides not to call the cops after nursing the wanderer back to health. Jude, the stranger, claims he has lost his memory, but Franklin does not believe him. Byron is a candidate for the town council. Denise explains that her father Michael (Irene and Franklin's son) killed himself on a bad date many years ago. Jude sneaks out of his locked room in the middle of the night to remove a GPS tracker from his leg.
What happened in Night Sky Episode 3?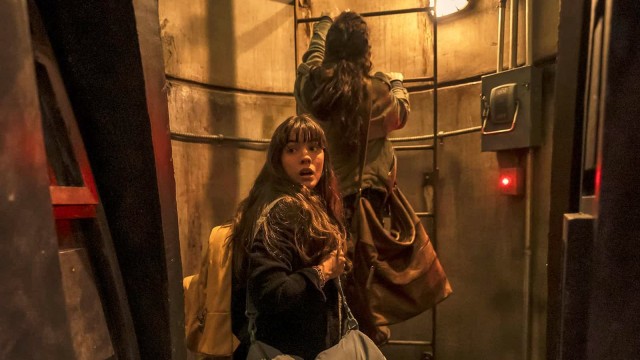 Titled "The Caretaker":  Jude recovers quickly and is kept hostage by the York family. Irene is taken with the stranger, but Franklin is still wary. He tries to compensate Jude, but the man is able to persuade both elderly to stay. They opt to hire him as a caretaker to assist the elderly couple with daily tasks. Denise is also suspicious of Jude and confronts him in person. Stella is given a task and decides to accompany Toni on the journey. She reluctantly reveals the alien chamber's secrets to her daughter and the two teleport to America. When Byron is accused of faking signatures, his candidacy is wrecked. He breaks into York's shed, blaming Franklin for the complaints, and discovers the alien entrance in a concealed bunker.
What happened in Night Sky Episode 4?
Titled "Boilermakers":  Jude takes and buries a bright orb that powers the alien teleportation apparatus. At the local library, Irene assists Jude in his hunt for his absent father. Stella and Toni enlist the assistance of an American named Nick in their search for their lost apostate. Nick proposes driving the van so they may better triangulate the location of the runaway. Jude's belongings are stolen by a kleptomaniac named Chandra, and the drifter tracks her down that night. He wanders into a karaoke club to inquire for directions and meets Denise for a few drinks because he is lost. Franklin and Byron also get drunk together and try to see the alien chamber, but it doesn't work this time. Byron believes the whole thing is a joke. Irene searches the streets for Jude and Franklin, only to discover that her babysitter has been detained for dodging a police officer.
What happened in Night Sky Episode 5?
Titled "Driving Lessons":  They've spent 50 years together, and when tensions rise in the second half of the season, every note of aggravation and desperation, particularly from Simmons, rings true.   Jude tells Irene about his shady past while in the police station. He reveals that he escaped a compound connected to York's portal, that there are many more of these 'chambers,' and that they're all linked together like a network of gateways. Irene gets Jude out of jail and teaches him how to drive. They go to Chandra's house to get his possessions. Franklin gives Byron photos demonstrating the existence of the alien viewing platform. The buried orb is then discovered by Byron.
What happened in Night Sky Episode 6?
Titled "Dear Franklin":  Franklin finds Irene's suicide note in the garbage and is saddened by its consequences. He chooses to spend the night at Byron's when the nosy neighbor shows him the lost orb. Denise joins Jude on his search for his father after receiving a new lead. Irene expresses her regret to Franklin. Denise, Irene, and Jude prepare their belongings for a road trip to Michigan now that they have a new lead. Stella, Toni, and Nick stay at a motel, where Nick impresses a woman with his very own magical orb. Stella is enraged, and she steals Nick's van, leaving Toni behind. With jumper wires, Byron and Franklin attempt to reactivate the alien doorway. The sudden burst of energy sends shockwaves across the neighborhood. They teleport to the viewing platform, where Byron sees the unearthly stars for the first time.
What happened in Night Sky Episode 7?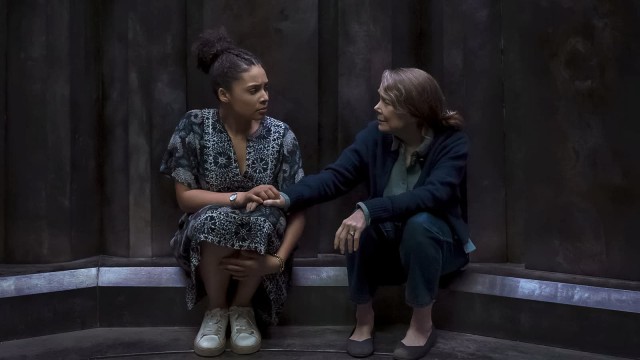 In the penultimate episode titled "Lake Diving", Byron and Franklin practice diving in preparation for their voyage beyond the viewing platform. Byron describes how he was compensated handsomely for blowing the whistle on his former employer. This turn of events humiliated Byron's wife, so they had to relocate and start over. His wife says that she was the one who raised the issue of forged signatures. Irene, Jude, and Denise follow an address to Hannah's abandoned B&B. She recognizes Jude's father (Gabe) and interrogates the mysterious drifter. When Stella and Toni arrive in Farnsworth, their investigation takes them to Chandra. Cornelius, the crime boss, murders Chandra when she reveals Jude's location. Michael's unstable mental state soon before his death is addressed through flashbacks. Irene was cruel to her suicidal son and should be ashamed of herself for not doing more. Byron takes a step into the unknown, wandering across the alien world until he disappears from view and Franklin loses contact.
What happened in Night Sky Episode 8? Ending
In the finale episode titled "Compensation" Stella, Toni, and Cornelius arrive at the Yorks' mansion. While Stella pursues Jude, the others bind Irene and Franklin in their living room. Jude and Denise are eventually apprehended, bringing the entire gang back to the Yorks. Toni opposes Cornelius' request to kill Jude. Cornelius is disarmed after a scuffle. The Argentinians leave after Stella ties him up in her van. Denise and Jude fly to Bangkok via teleportation technology. Stella's van gets pushed off the road and into a ditch. Hannah and her associates apprehend Stella, Toni, and Cornelius. Hannah explains that she was previously an apostate and that she still owes Cornelius money. Franklin dons his diving equipment and sets off to find Byron. However, he runs out of oxygen and passes out. Irene saves him just in time, proving that the alien air is breathable. A human village may be seen in the distance as the elderly couple walks across the planet's surface. Franklin roots up a tree in the past, which reminds Irene of her departed son. While digging, he discovers the alien portal's bunker. Irene believes there is a direct link between Michael's death and this incredible discovery.