Kayce Conversation with Monia about his father Kayce left the house. In the second scene starts with fairgrounds where Johan his grandson looking at the horse in the Yellowstone Season 3 Episode 8.
Johan said to Tate "There are 2 ways to make money on a ranch." sell cattle and market horses. I don't have a horse to market.
Tate: How do you market a horse?
Johan: Send them down the road and see what they can make. So I ain't just liking at the horse today. I'm looking at the rider, too.
Tate: Are these the best riders?
Johan: Best in the world.
Johan said to Bob Nice Horse
Bob replied thank you, sir, he's a good one.
Johan asked Bob: you gonna him on the road if I buy him?
Bob Said: you know, I'm trying to enjoy my life. If you buy him, you show him.
Johan: Don't wanna show him. I'm trying to enjoy mine, too.
Rip said to jimmy: you make big money on a horse, learn how to do that. Learn how to be an artist.
Rip: you running her in the cow horse or the reining?
A cowman said to Rip, I'd show her ina chariot race. if there was enough prize money. you still pal around with Travis Wheatley?
Rip said to cowman: shit. Against my better Judgement.itch.. if you were stuck in quicksand, he'd charge you for the rope before he pulled you out.
Rip tells Jimmy that's how you make money on a horse. You create art with it
Rip: That's his special skill.
(Kayce enters at fairground)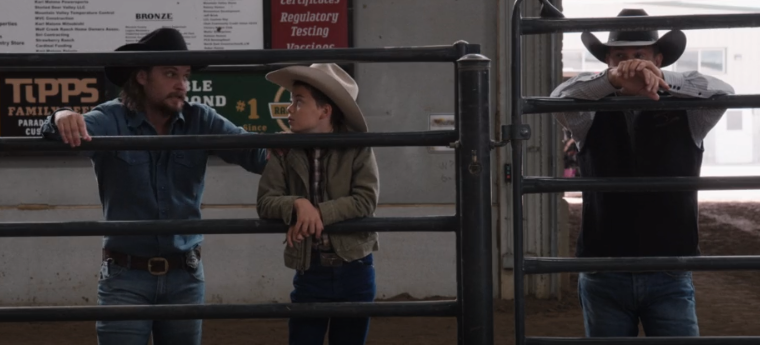 Kayce said his dad, we do not need ….. looking at a horse and silent then said, Nice horse.
John replied Expensive taste run in the blood.
Tate: That's the only way my dad would get it because he's broke as hell.
Kayce said with smiling face to Tate Stay away from the Bunkhouse.
John tells Kayce that hiding the incident from Monica isn't worth the effort since it's already in the newspaper. John offers himself for a conversation.
Johan said to Kayce pretty quick investigation.
Kacy: I just wanna get through some paperwork.
Tate: Why were you guys talking in the secret ways.
John told Tate that secrets are like a callous on your heart. You tell enough of them, and before long, your heart won't feel a thing.
Tate asked what's a callus?
John showed his finger and touch it.
Tate: That so hard.
Yellowstone Recap continued
Yellowstone Recap: Season 3 Episode 8 – "My dad ain't retired"