Are you ready to dive into the world of "Boruto: Two Blue Vortex"? This follow-up series, which begins three years after the original Boruto plot, seems to be an exciting ride filled with mystery, adventure, and character reunions. One pressing issue remains as tvacute goes deeper into this engrossing story: Will Kashin Koji make a reappearance in "Boruto: Two Blue Vortex"?
Will Kashin Koji Return in Boruto: Two Blue Vortex?
Fans were given a tantalizing tease of a character return in the most recent chapter of "Boruto: Two Blue Vortex," which has the Boruto community up in arms. One name that sticks out among the many adored characters from the original series is Kashin Koji, a Jiraiya clone. However, where has he been and what part might he play in Boruto and his pals' upcoming adventures?
The last time we saw Kashin Koji in action, it was during an exciting battle with Jigen. He forced Jigen to awaken the Isshiki Otsutsuki inside his body in that fateful encounter—a risky move that nearly lost Kashin his life. Thankfully, he was able to get away just in time. His whereabouts have been a mystery ever since, leaving admirers anxious for his homecoming.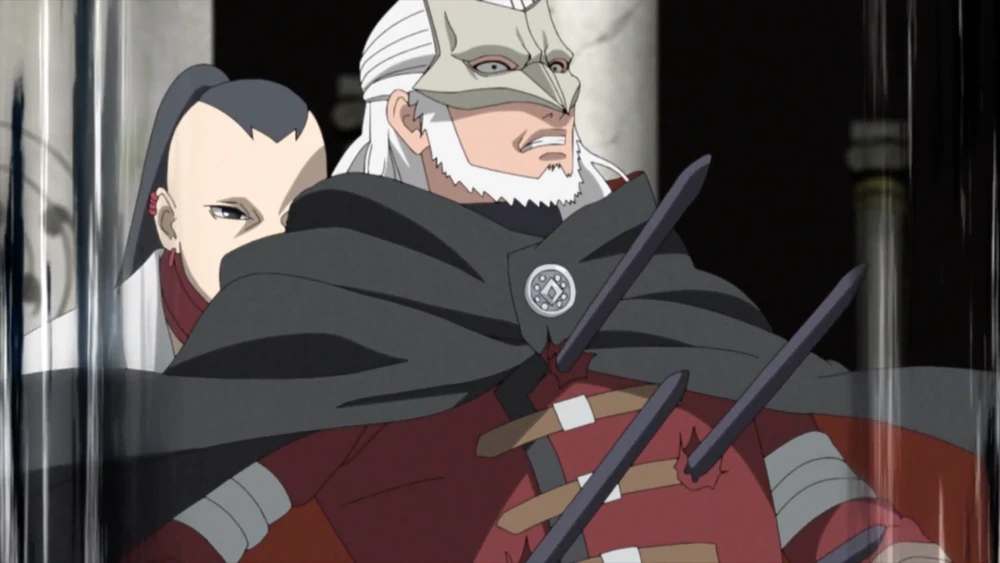 Three years later, Boruto makes his way back to Hidden Leaf Village and seems to be preparing to take on Code. Boruto's attention is now on Code, a frightening figure in his own right. The intriguing part is that toads—those recognizable friends of the fabled Sage Mode users—provide Boruto with unanticipated help.
This helps begs the intriguing question: Is Kashin Koji about to make a spectacular comeback? He appears to be using his monitor toads to assist Boruto in tracking down Code and even in locating the elusive Ten-Tails. There are a few twists to take into account, but the options are virtually limitless.
The mystery surrounding Kashin Koji's mental state is one perplexing part of this possible comeback. Is he still the Hidden Leaf Village's ally? Or has he been affected by the brainwashing of omniscience by Eida, which would make him view Boruto as an enemy? These queries deepen the storyline and heighten the intrigue around Kashin Koji's return.
Another interesting thing to note is that Boruto hasn't demonstrated any mastery over using toads up until now, which is a talent strongly related to Sage Mode. If Kashin Koji does come back and tell Boruto what he knows, it might be a big turning point in the young ninja's growth. Through this alliance, Boruto may be able to acquire new skills and talents that will increase his strength and adaptability.
Boruto now uses toads for eavesdropping and information gathering, much like Kashin Koji did during his invasion of the Hidden Leaf. This method, which was formerly only used by people who have mastered Sage Arts, demonstrates how far Boruto has come in his ninja development. Even though he may have learned these allies through training, the idea that he has allied with Kashin Koji elevates the narrative to a new plane.
Fans of the Naruto series would surely be delighted to see Kashin Koji return. Many people find him endearing because of his likeness to Jiraiya, one of the most beloved characters in the anime. It would be a touching throwback to the mentorship dynamic between Jiraiya and Naruto if he made a reappearance and taught Boruto what he knew. This would create an emotional bond between the two generations.
Essentially, Kashin Koji's reappearance in "Boruto: Two Blue Vortex" is expected to close the gap between the older and younger ninja generations while also bringing excitement and nuance to the story. We can't help but wonder if Kashin Koji's return may hold the key to revealing Boruto's actual potential as the story progresses.
Fans are excitedly awaiting the upcoming chapters and the disclosure of this fascinating character's fate as the plot develops and the threat of Kashin Koji's reappearance looms big. It remains to be seen how this historic reunion will affect the course of "Boruto: Two Blue Vortex."
In summary, "Boruto: Two Blue Vortex" looks to be a fascinating continuation of the Naruto universe, and the plot is made even more intriguing by the possibility of Kashin Koji's reappearance. As the story progresses, all we can hope for is an incredible return that will thrill die-hard fans while also taking Boruto's quest to new heights. Every new chapter is a must-read because of the mysteries surrounding Kashin Koji's homecoming, which have us wondering and anticipating. Thus, let's continue to watch "Boruto: Two Blue Vortex" and wait for the exciting unveiling of Kashin Koji's part in this exciting story.
Boruto: Two Blue Vortex Episode 4 Release Date: What to Expect?