Look no further than Netflix's "Love, Sex and 30 Candles" if you're looking for an enthralling movie that explores the difficulties of turning thirty and its intricacies. The lives of four women – Dikeledi, Nolwazi, Sade, and Linda – who have been close friends for more than ten years are followed in this South African comedy-drama. The women are still there for one another as they get closer to their 30th birthdays, offering support in all facets of life. But with this new chapter comes a slew of issues that could put their friendship to the test. The movie crafts a gripping narrative that keeps you interested until the very end, covering everything from relationships and family issues to career challenges and unexpected pregnancy.
Overview of the plot:
In the movie, we meet Dikeledi (Amogelang Chidi), Nolwazi (Bahumi Madisakwane), Sade (Gabisile Tshabalala), and Linda (Candice Modiselle), four people who became friends while attending college. As they get closer to their thirties, their friendship holds strong despite the growing difficulty of life. While raising her child, Dikeledi, a successful professor, manages a tumultuous relationship with her ex Tebogo. The unanticipated pregnancy of Nolwazi, a successful fashion designer, upends her meticulously planned life. While Sade struggles to strike a balance between her genuine self and the expectations of her devout fiancé Winston (Loyiso Macdonald), Linda struggles with commitment difficulties in the middle of her mother's illness.
The complex network of connections and hidden facts in "Love, Sex, and 30 Candles" is what fuels the emotional complexity of the movie. The unplanned birth of Nolwazi sets off a chain reaction of problems and reveals the frailty of human ties. Her choice to keep the child causes stress to spread among the group, undermining the entire basis of their friendship.
Dikeledi's turbulent relationship with Tebogo (Lunga Shabalala) takes center stage amidst this upheaval. Despite their complicated chemistry, Tebogo's relentless pursuit and her lingering affections make things even more difficult. Her emotional conflict between a potential new relationship with Professor Guideon and the comfort of her past with Tebogo is expertly shown in the movie.
The tale is further complicated by Sade's connection to Winston. Sade's internal conflict worsens as Winston's domineering actions get worse. The movie fearlessly addresses the realities of emotional abuse and deception, exposing the potentially destructive dynamics that can exist in relationships.
Hidden secrets that threaten to destroy the trust they once held holy come to light as the group's cohesion begins to break down. A number of confessions that reveal the surface fissures are sparked by Nolwazi's revelation of her private experience with Tebogo, which she initially suppresses from the group. The moment Dikeledi learns of this betrayal and how her friends helped keep it hidden, it marks a turning point that pushes the boundaries of forgiveness.
The movie navigates a path of atonement and the eventual reunification of the friends amid the mayhem and sorrow. The moving act of Nolwazi naming her clothing line after Dikeledi illustrates the transformational power of appreciation and forgiveness. This symbolic act strengthens their connection and emphasizes their shared heritage while also mending their broken relationship.
The moment Dikeledi realizes that every relationship has flaws is a turning point in her development. With the help of Professor Guideon's viewpoint, she discovers the courage to forgive and rebuild while learning to accept the imperfection of human relationships. This realization serves as a potent reminder that even the closest friendships can face difficulties and are strengthened by kindness and empathy.
Liberation from an abusive relationship is one step on Sade's path to salvation. Her choice to elude Winston's deceptive hold on her is a wonderful example of how toxic dynamics can be defeated by self-worth. Her decision to depart not only strengthens her but also acts as a ray of hope for those going through a similar ordeal.
Love, Sex, and 30 Candles Movie Ending!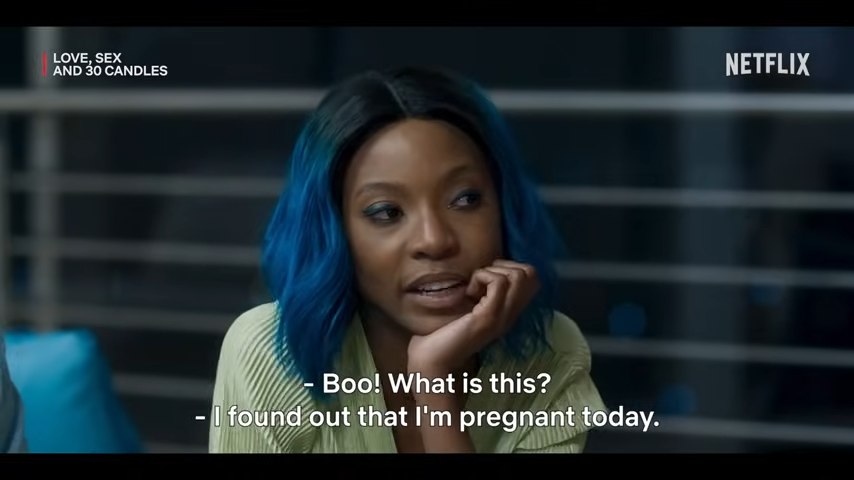 In the movie's conclusion, which coincides with Dikeledi's 30th birthday, the four friends finally get together after a long separation. As Dikeledi has the chance to repair the relationships that have been put to the test, the moment is infused with a sense of vulnerability and rejuvenation. Gideon's insight acts as a catalyst for peace by highlighting the importance of forgiving others and the possibility of improvement in even the most strained relationships.
To sum up, "Love, Sex and 30 Candles" expertly navigates the complexity of human connection, from the turbulence of hidden secrets to the subsequent restoration and reconciliation. The movie delivers a meaningful and accessible representation of the forces that create our lives through its examination of problematic relationships and the healing power of forgiveness. Viewers are reminded of the strength of friendship and the potential for personal growth as the characters navigate through their challenges and victories, making the movie a remarkable and impactful cinematic experience.
"Love, Sex and 30 Candles" offers a close examination of the processes that build these relationships in a world where friendships frequently act as pillars of support. The movie captures the essence of negotiating complicated connections, making difficult decisions, and discovering one's true self through realistic characters and an engaging story. This Netflix treasure resonates well because it depicts actual human situations, providing amusement and insightful information long after the credits have rolled. Along with Dikeledi, Nolwazi, Sade, and Linda, you will experience an emotional journey that will cause you to think on the value of friendship in the midst of life's challenges and victories.