The Upshaws was a unique take on the family sitcom genre when it premiered on Netflix in 2021.   Disagreement ensues, and violence breaks out. It has always been the show's strength that it is able to find humor in ordinary situations. Nonetheless, there are times in the new third season when humor is impossible to muster. Bennie Sr. (Mike Epps), an auto mechanic, and Regina have three children.    Bennie also shares parenting duties with his ex-girlfriend Tasha  (Gabrielle Dennis)  with whom he has a kid named Kelvin (Diamond Lyons) who has the same old as Aaliyah. Lucretia, Regina's older sister (played by Wanda Sykes), and  Aunt Esther, completes the blended family. Bennie and Lucretia have arrested in the season two finale for allegedly stealing and selling components from their body shop. The arrest occurred shortly after Regina had resigned from her job in a huff of anger about the loss of the fellowship that would have paid for her Master of Business Administration degree. Continue reading at tvacute.com for an in-depth analysis of everything that took place in The Upshaws Season 3, to get all the information you need.
The Upshaws [Part 3] Recap
Lucretia is able to save herself, but Regina, who recently lost her job, has a hard time-saving Bennie. She enlists Bernard's aid, but he refuses to assist Bennie until Lucretia convinces him otherwise. With the help of the garage's surveillance camera, Lucretia is able to identify the perpetrator and put an end to the problem. After their quarrel in church, she and Regina don't talk about what caused the tension but they do manage to make an uneasy peace. When Lucretia finds out that Bennie is responsible for her and her husband's arrest, she fires him from his job as a garage attendant. When Lucretia's garage starts failing due to a lack of a good mechanic, Bennie and Regina start working on automobiles in Bennie's driveway. Aliyah has abandoned Savannah in favor of the school's exclusive social circle. Hector, Bernard's boyfriend, breaks up with him when Bernard requests him to tone down his personality around Sydney. Hector is openly gay and proud. Eventually, Regina and Bennie are weary of the garage's disruptions at home and make amends with Lucretia so that Bennie can return to work there. Their garage is flooded after a water main burst in the city. Regina has been to numerous interviews but has not been successful in finding employment.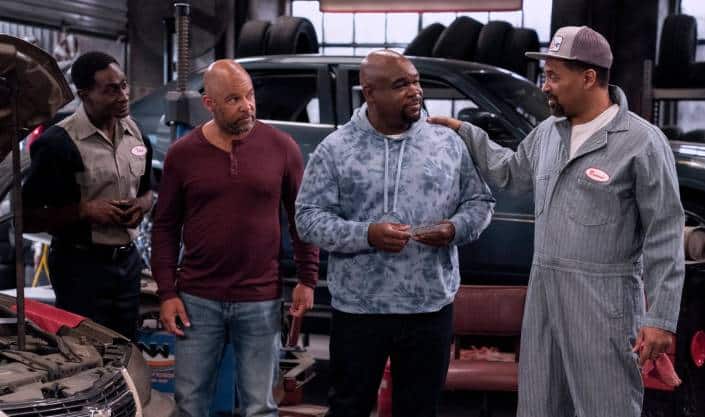 Bennie finds his new career as a mechanic at Lexus to be peaceful, but he still longs to be his own boss.  In an effort to introduce Sydney to his passion, Bernard puts on a boxing match, but Sydney isn't really interested. After a long day of managing with the kids, Regina and Lucretia slip away for the weekend to celebrate Lucretia's college homecoming. There, she has some profoundly settling epiphanies while intoxicated out of her mind. After apologizing to Sheila, Sheila gives her a position working at the small clinic her husband runs in a tough neighborhood. Aliyah battles with the reality that she and Savannah are no longer friends, but issues seem to have settled down after an awkward Instagram live. When Kelvin comes to town, he treats Regina with disdain. Maya and Aliyah have to share a bed now that he's here, and that's causing tension between them. When Bennie inquires more, Kelvin reveals that he blames Regina for his decision to leave the family. Bennie explains to him that he made the decision after witnessing the joy that Kelvin would experience in Noah's company. Frank extends an invitation for Lucretia to travel to Atlanta and live with him for a bit. Regina has ambivalent thoughts regarding her dream concerning her boss, Dr. Webber. Bennie's back hurts, so the doctor gave him pain medication. This has made things more difficult in the garage. Regina had a heart attack because she is so overwhelmed by her profession and her home life that she needs to be hospitalized. Bennie and Lucretia make significant modifications at home despite the doctors' assurances that she is healthy and only requires rest. Upon her return, Regina discovers a letter waiting for her from Indiana University. In it, they inform her that she has been admitted to their MBA program, which she promptly opens
Upon receiving the news of Regina's heart attack, Lucretia and Frank cancel their flight to Atlanta. She had already made plans with Frank, but she insisted on getting off. Later, over fast food restaurant dinner with Frank, Aliyah, and Maya, he realizes how much she loves her family and Indiana. After realizing that Lucretia, no matter how much she loves Frank, cannot bring herself to uproot her family and relocate far away, the two agree to part ways peacefully. After his mother has a heart attack, Bernard notices Hector at the gym and informs him that he's learned that life is too brief to be concerned with what other people think. He asks Hector for a second chance, and Hector suggests they reconnect in the pub where Hector occasionally performs. When Bernard arrives, he discovers that the place is a drag bar and that Hector is one of the drag queens performing there. When Bernard leaves, Hector is concerned, but Bernard returns with several singles to prove to Hector that he is committed.
Regina doesn't look very excited when she first receives her acceptance letter. Regina's family sent her on a campus tour the following weekend, but she was still on the fence. Bennie meets Regina at a local casino with the boys and confronts her about her lack of college attendance. When they return home, she breaks the news to him and Lucretia that she has decided against attending university after all. Bennie and Lucretia try their hardest to understand why Regina changed her mind, but the only explanation they can come up with comes from Dr. Webber, who suggests that Regina could be sad and responding to a stressful incident. They attempt to cheer her up on their own rather than suggesting she see a professional, but it doesn't work. Upon learning about Lucretia's split, Regina visits her at her home and stays for an extended period of time, later telling Bennie that she is unsure of her return. An unexpected visitor arrived at the end of the third and last episode of The Upshaws. Bennie was relieved to see Regina again, but it was actually Tasha and Kelvin. Tasha dropped Bennie off after telling her that her son Kelvin preferred to live with his dad. Lucretia was so distraught by this development that she proclaimed Regina would never return.