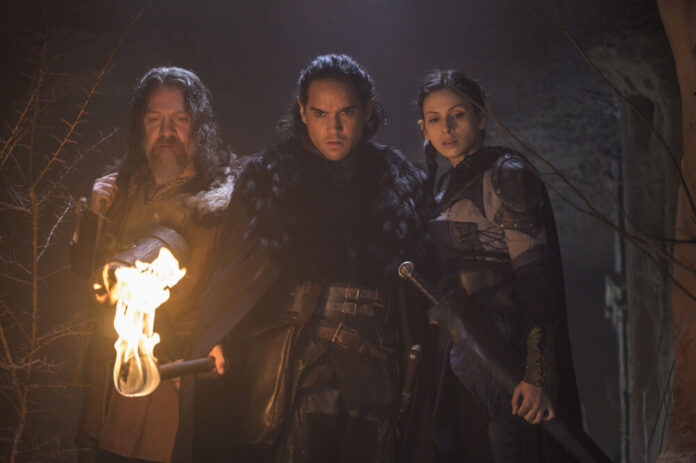 In the previous episode 9 of the Outpost,Talon is filled with guilt about her people's near extinction. After the loss of her people, Nedra is lost. Munt fights for his king. He is willing to die for justice, even if it means death. Considering what transpired in the past episode. You can take a glimpse of The Outpost Season 4 Episode 10 release date, photos, and synopsis with www.tvacute.com below, which will enable you to understand the episode better. check recap below for episode 409. As we know The Outpost season 4 episode 10 nears its end. We have got bad news, The Outpost will not be returning for a fifth season. The Outpost's time at the CW is coming to an end, as the network opted not to renew the fantasy drama for a fifth season, Deadline has confirmed. The series' final episode will air Thursday, October 7. This is The CW's second cancellation of the 2020-2021 season, following the Republic of Sarah earlier this month.
"Something to Live For" is the title of the tenth episode of The Outpost season 4. it was directed by Milan Konjević and written by Jason Faller and Kynan Griffin, In this episode, we will see Talon and Zed viewing some of the scary visions that have been occurring. They are witnesses to the events taking place beneath the Outpost. The other side of this coin is that Garret has now embarked on a journey that will put his relationship with Talon to the test. In addition, Janzo will be of assistance in deciphering the puzzle of an ancient relic.
The Outpost Season 4 Episode 10 Synopsis
A GAME OF CAT AND MOUSE — Talon and Luna return to a familiar tomb. Janzo and Wren find themselves in a precarious position. Meanwhile, Zed, Munt, and Nedra must play a deadly game against the gods.
The Outpost Season 4 Episode 10 Photos
This slideshow requires JavaScript.
The Outpost Season 4 Episode 10 Release Date
The Outpost Season 4 Episode 8 will release on September 16 at 9:00-10:00 p.m. ET. (Runtime about 43 min) The episode will be available on the CW. New episodes of the series are released every Thursday. You don't need cable at home if you want to watch your episode online. YouTube TV allows you to access the most recent episodes live on the platform, but you will need a subscription. (Also Available DirecTV and Fubo TV) .You can rent or buy your favorite shows on various VOD platforms like Amazon Prime Video and iTunes Apple.
If you're curious about The Outpost's story but aren't sure where to find it, we can help. The easiest and fastest way to access the latest episode of The Outpost is to tune into The CW Network on TV at the time indicated above.
The Outpost Season 4 Episode 9 Recap
Janzo wants to change 313's docility by offering him a choice. This tiny experiment works too well, leading 313 to make a huge decision of his own. But the harm is done, and there is only one way forward. It may be a route of repercussions. Aster sees the other's loathing for the Blackbloods. This softens Aster's heart. He decides to defend rather than control the Blackbloods. As distinct individuals, he chooses to see them. Talon is finding out the hard way. Talon refused to bring the Blackbloods out of the Plane of Ashes until she was ready. she was afraid. Talon is filled with guilt about her people's near extinction. Why should the Blackbloods be denied their freedom? So Talon doubts her ultimate destiny because of her decisions. What is she if not the people's savior? Her moral compass has gone.
After the loss of her people, Nedra is lost. She has no conflicts or fights to fight. So she lashes out at Zed. Nedra blames Zed for not liberating her people. She doesn't realize he didn't choose to keep the Blackbloods in the Plane of Ashes. Munt seems to best demonstrate the link between decision and purpose. Munt may not be of much use in the battle ahead with such great soldiers on their way to destroy a god. Still, he fights for his king. His decisions are based on his purpose. This is quite powerful. Munt is willing to die for justice, even if it means death. He doesn't let anything deter him from his goals. Making good choices can help us find meaning in our lives. Knowing our mission helps us make good choices.
About The Outpost
The Outpost is a television series created by Kynan Griffin and Jason Faller that follows Talon (Jessica Green), the last survivor of a race known as the Blackbloods. Fortressed on the outskirts of civilization, Talon must control her extraordinary talents and join forces with a queen in hiding to defend the world from a religious dictator. She goes to the stronghold with Janzo (Desai-Barochia) to find her family's killers. Janzo is the journey's logical and sensible voice and is fiercely loyal to Talon. He is the Outpost's scientist, brewer, and alchemist.
The Outpost Season 4 Cast
Jessica Green as Talon, Jake Stormoen as Garret Spears, Anand Desai-Barochia as Janzo, Aaron Fontaine as Baron Tobin Aegisford, Reece Ritchie as Zed, Izuka Hoyle as Wren, Georgia May Foote as Falista, Adam Johnson as Munt, Maeve Courtier-Lilly as Luna, and Nikki Leigh Scott as Vorta.