Janine's immediate future is particularly bleak, but by the end of "The Handmaid's Tale Season 5 Finale Episode Safe," all of our heroes have arrived at completely new destinations, and none of them seem safe at all. The memorial shooting at the end of last week, which now seems to have been a botched assassination attempt, made fans wonder if Commander Joseph Lawrence (Bradley Whitford ) had planned it. Lawrence claims to Nick that he didn't order a hit in June  (Elisabeth Moss).  In the last scene, it was made clear that June wouldn't be traveling alone because Serena would be accompanying her on her quest for refuge. For a detailed explanation of everything that happened in The Handmaid's Tale Season 5 Episode 10 titled "Safe" continue reading the recap at tvacute.com.
The Handmaid's Tale Season 5 Episode 10 Recap
When June receives a package delivery, she is out in the garden. She opens the parcel after bringing it inside. It is an armored vest. This weekend there will be another memorial service, and June will lead a prayer. Luke (O-T Fagbenle) is aware. She must remain secure. The commanders are gathering once more.  Lawrence and Nick want to discuss the shooting. She is not a target, he claims. Lawrence argues that she might be. According to Lawrence, it is not now company policy to execute former citizens. Nick is not pleased with that exchange.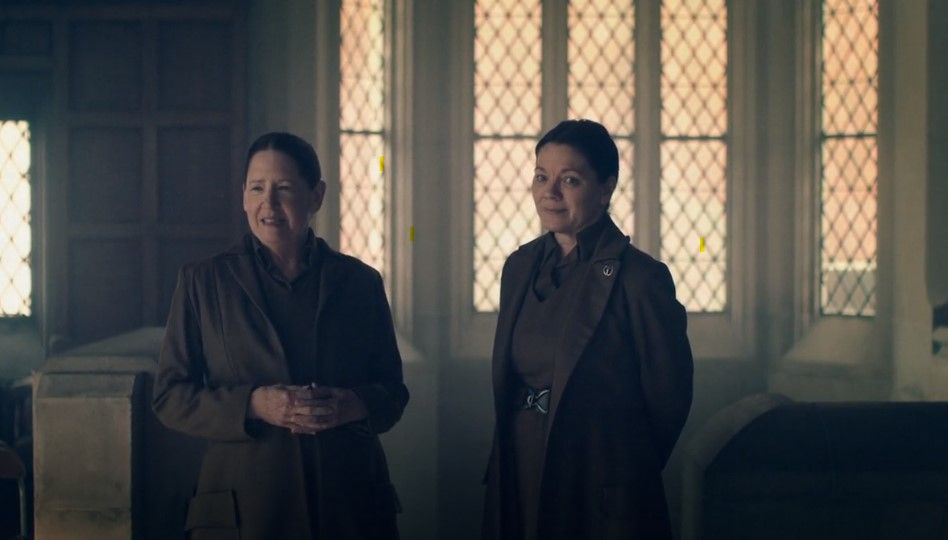 On their hands and knees, the handmaids are mopping the floors. They are thoroughly cleaning the place from top to bottom. Everyone joins in as Janine starts singing. When Aunt Lydia hears them, her expression changes to a smile. She claims that while joyous work is acceptable, she would like a more fitting hymn. Another aunt claims that Janine's generosity has caught people's attention. She must locate a position for herself. Janine should allow Aunt Lydia back into her life, Aunt Lydia suggests. When Janine responds negatively, Aunt Lydia makes room for more conversation. She claims that welcoming Janine into their homes will complete the new image that Lawrence is attempting to present. Commander Putnam's wife Naomi (Ever Carradine) would serve as an example of grace and forgiveness. She is the kind of leader that Gilead needs.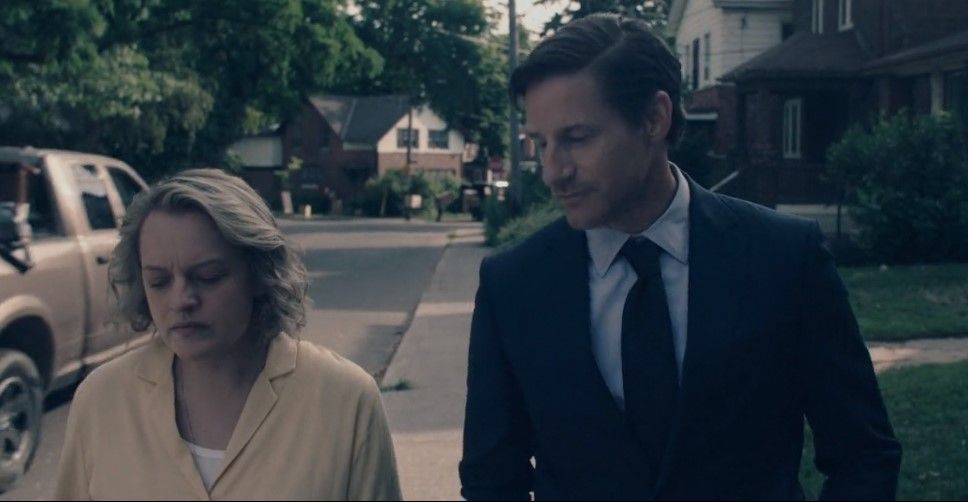 June is shot in the head whenever she is in front of a window. When Mark Tuello (Sam Jaeger) enters, the group is in the kitchen and he wakes Nichole. The shooter was caught. He is a gun-toting, irate man. There was nothing odd about him, and if he had connections to Gilead, they would discover them. Nine days ago, Mark attended his 19th funeral. June has experienced being in charge of someone just to lose them. June surveys the activity going on in the world from the street outside. Everyone in the area is on the move.
Gilead typically attacks with the subtlety of a red pickup truck slamming into a pedestrian in the middle of a quiet suburban street in broad daylight, so presumably, this is their next strategy against June An SUV pursues June down the street carefully before running her over. A legitimate attempt to stop a man from killing her wife. Although we only see their feet since June's perspective on the situation is so hazy. Now, the fact that Luke appears to beat the truck driver to death after witnessing June being struck by a bright-red pickup truck qualifies. it first knocks her to the ground before running over her arm and coming back to run her over once again. Luke will be escorted by someone to the police station so they can question him there.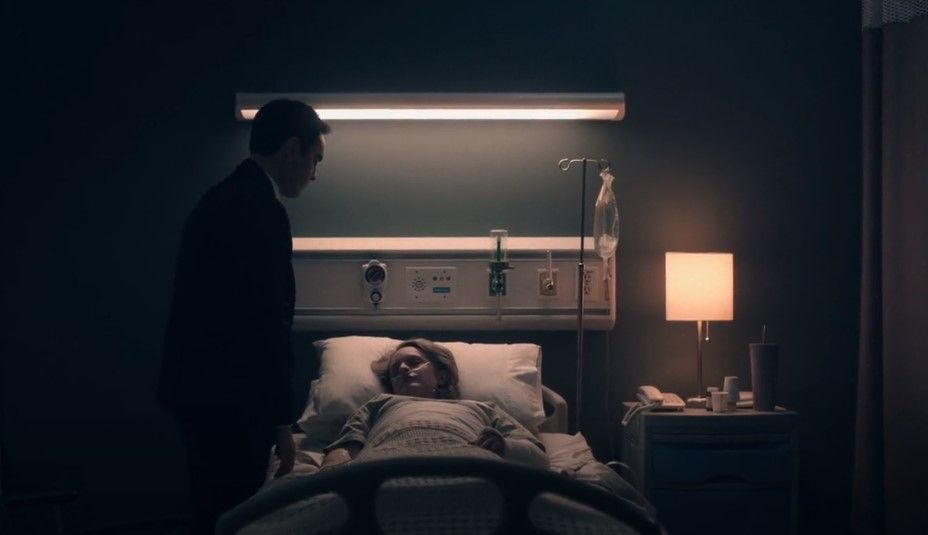 To meet Mark, Nick is crossing a bridge. To tell Janine the news, Aunt Lydia travels to her. Even if it meant spending time with her daughter again, Janine doesn't want to be posted. Mark and Nick are at the medical facility. Nick believes it would be better if June didn't know he was there, but Mark gives him some space so he can meet June privately before Luke gets back. Nick must sign a contract that Mark has prepared. Mark affirms that he will take Nick at his word, but Nick adds he is unsure of its validity at this time. For June's safety, he has agreed to share information with the US. Nick responds that June didn't need him and that he was nothing when Mark asks him why he never ran with June. Mark is opposed. Luke bought a gun. They must defend themselves because the cops also despise refugees. According to Luke, this will not be like Boston. She claims it wasn't his fault, but he won't allow anyone to harm her. On the eve of Lawrence and Naomi's nuptials, Naomi meets with Janine for a difficult chat that calls for Janine to behave herself. Finally, Naomi invites her to take part in the family portraits. As Martha who informs Janine of the news states, "They never let anyone get away," the arm of Gilead is long and getting longer. Fuckers." she also informs her that June was hurt. All is well until Naomi calls Janine Of Lawrence, at which point Janine lashes out at her.
June has visions of the man accelerating the truck. People are arguing in the kitchen as she awakens. Luke is acting too subtly, in Rita's opinion. Rita replies that her acquaintance, a police officer, heard an alarm when June inquires as to what transpired. The driver of the truck, Mr. Thorpe, passed away. They will detain him for murder since he killed a Canadian citizen on Canadian territory. When June announces that they must leave, Luke is shouting about how little he cares. Last time, they waited. They were too slow to realize how much they despised them. To protect themselves, they must flee. When Mark shows up, they are in the driveway. They cannot fly out, he asserts. We'll fly the airport's flag. American refugees are being loaded into trains and sent west. One of them, according to Mark, he can acquire them. Nicholas strikes Lawrence. He claims he had the ability to kill her. Lawrence claims he didn't make the choice.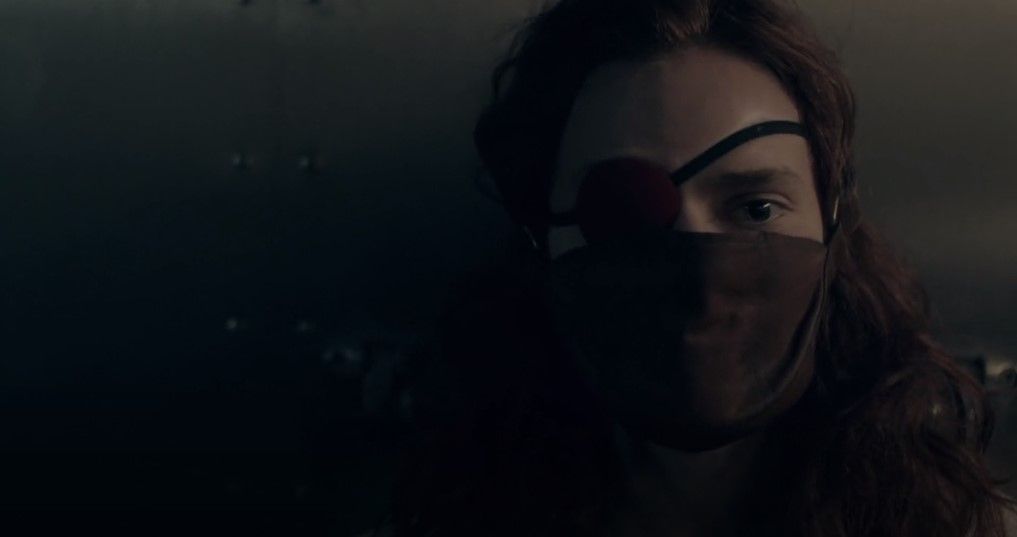 Aunt Lydia is sobbing in front of Janine, who lost the chance. She desires Janine to implore pity. They are looking for Janine. She is being detained. The command came from Commander Lawrence. They restrain her and remove her. They push Aunt Lydia to the ground after she follows them to the van. Another girl is crying in the van. Janine extends a hand to her. Now, the fact that Luke appears to beat the truck driver to death after witnessing June being struck by a pickup truck qualifies. after the driver passes away, Canada immediately issues a warrant for Luke's arrest, flags their refugee cards to prevent them from leaving, and sets up law enforcement patrols at the airport and train station to catch him.
The Handmaid's Tale Season 5 Episode 10 Recap: Ending Explained! Is Luke Arrested?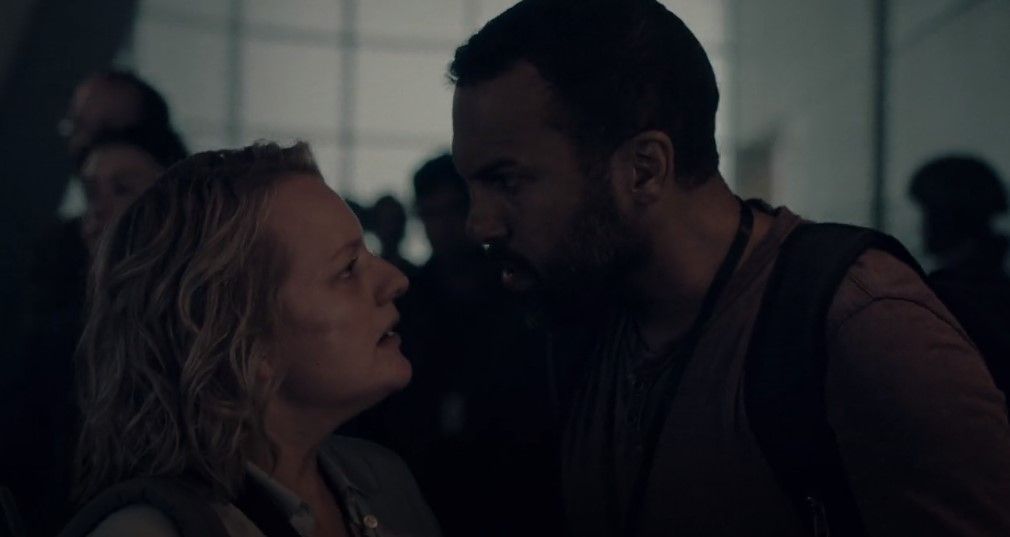 It's busy at the train station. There are people there to leave from all over. To prevent them from being noticed, Mark has given them phoney refugee identification cards. June requests that Mark inform Nick that she and Nichole are secure. This is terrible imagery. Papers are being checked. Luke says he'll follow after sending June and Nichole. June needs to go immediately if the Justice Department-level poor public opinion toward Americans is the reason the police are accusing Luke of murder rather than acting in self-defense. They are directed to the railway station by Mark Tuello, who hastily arrived and has already organized an evacuation train for all the American refugees in Toronto.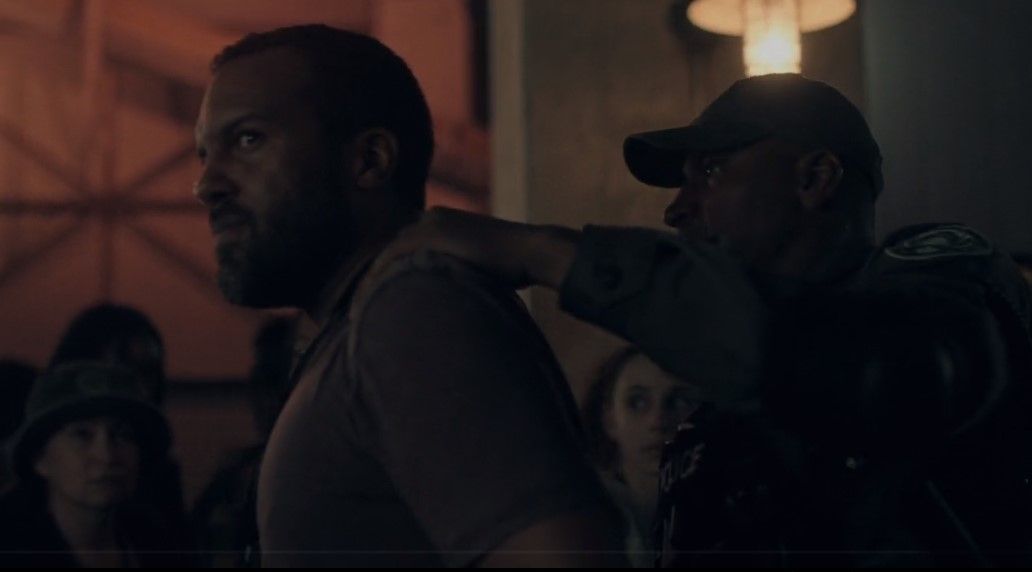 Unfortunately, the police are already one step ahead and are distributing posters with Luke's image on them as a wanted person. Luke calls her. She must board the train. Luke begs her to board the train even though she doesn't want to leave him.  She is ready to board the train when she realizes that Luke never intended to ride with June and Nichole at all and pushes them in front of him in line.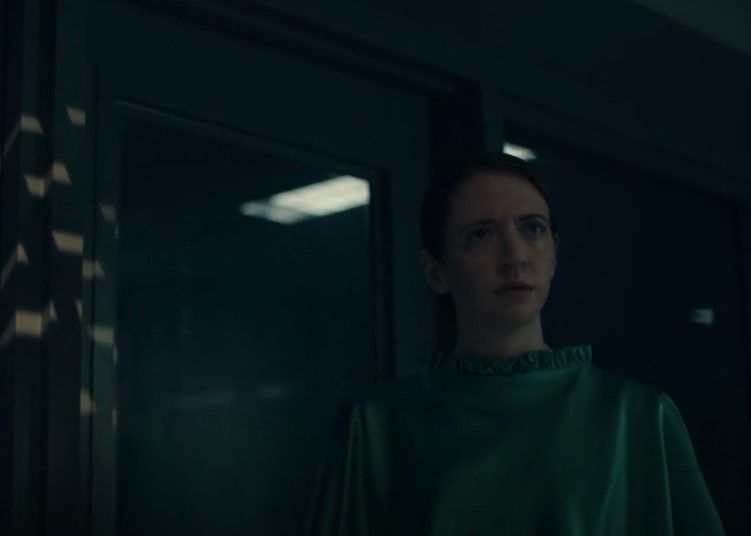 Nichole has been imprisoned. Rose shows up with rage in her eyes. She is curious about his fake affection for her. When his girlfriend calls, a good man wouldn't abandon his pregnant wife.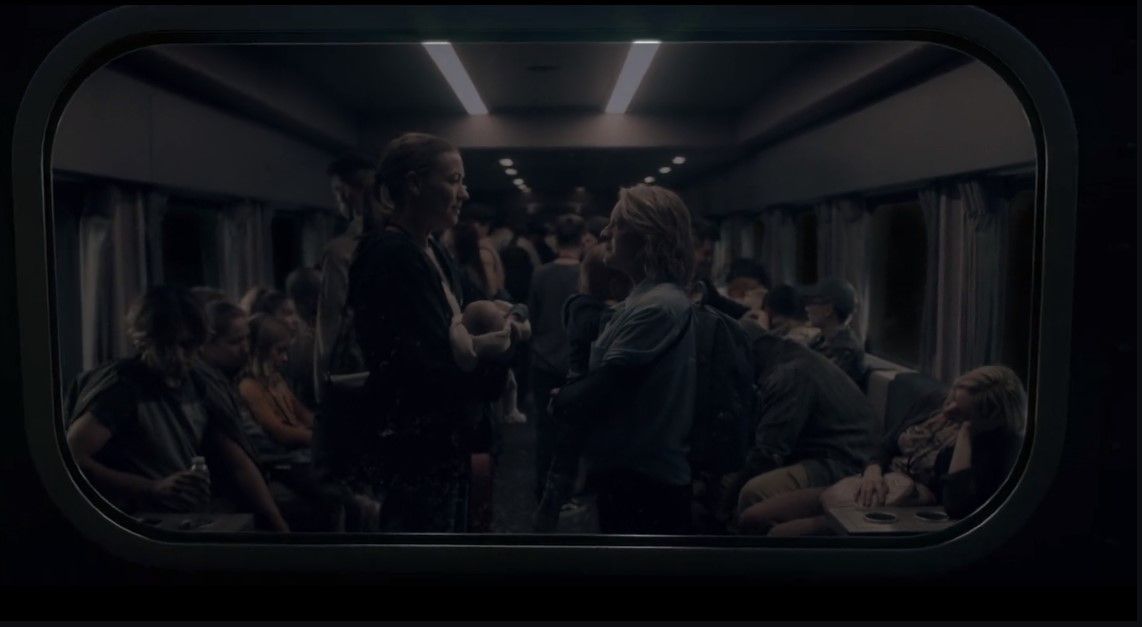 Do you know who did board the refugee train, though? When June hears another baby on the train, she starts talking to Nichole about vacationing in Hawaii. Noah's here.  June and Serena's exchange looks. Serena Waterford (Yvonne Strahovski) is delighted to see June. Serena's requests,  Do you have diapers?