In the Good Doctor Season 5 Episode 16 'The Shaun Show', As Shaun and Lea struggled with their new reality as subjects of a forthcoming Hulu documentary on unusual couples, Antonia Thomas as Dr. Claire returned to the show. In exchange, the producers would pay for their fantasy wedding, which might cost up to $150,000.
The episode opens with, Shaun waking up and goes about his daily routine, followed by Lea, and the two are vastly different. They're being photographed for a reality show. The camera is still functioning when Shaun arrives at the hospital. Marcus is also filming a television commercial. Lim informs Shuan and Alex that they will each be in charge of a surgical case and will be judged on their ability to transfer responsibilities, manage junior residents, and stand on their feet in the OR.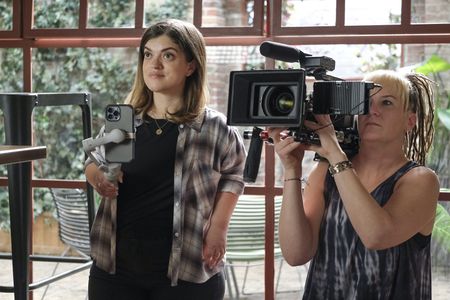 Shaun is in the ER, tending to a patient with second-degree burns, who is rushed into the operating room. Then, in Alex's case, a firefighter arrives after a fall. Another is sent to the OR, where they must open him up. Marcus is being questioned, and he claims that Shaun is a valuable asset to any hospital and that they accept him for who he is. He confesses that there was a period when he didn't think Shaun was a good fit for him, but that was in the past. They then interview Jordan and Asher, and she claims that Shaun possesses superhuman abilities.  Nurse Villanueva, who since Season 1 has been portrayed by Elfina Luk, received a storyline of her own. Prior to Shaun and Lea's shindig, she sat down with Lim and acknowledged that she is the victim of domestic violence.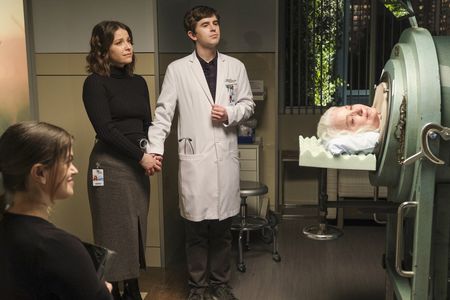 Shaun's surgery went smoothly, but there is a lot of edema on the woman's face, which Shaun doesn't understand. The patient's young daughter enters the room, looks at her mother, and says she wants to go home. Jordan and Shaun are trying to figure out why the graphs aren't working. Jordan should double-check her labs, he says. She admits to skipping a step because the patient was uncomfortable, and she is irritated by the fact that the camera is trained on her.
Alex and Jordan visit Grant, the firefighter, and inform him that he has an unstable lumbar fracture that would have significant surgery to correct. He will no longer be allowed to work as a firefighter after this type of fusion. Grant instructs them to devise an alternate solution so that he can rejoin his team. Jordan is irritated, and she informs Lim that Shaun believes she is to blame for the graph problems since she skipped a step and it was all seen on tape. Alex may have had an idea for Grant, and when he asks Lim for her view, she says it's up to his patient.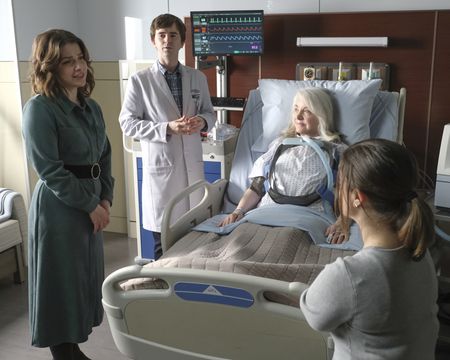 Lea and Shaun are being questioned about their favorite aspects of each other. Jordan enters the room and informs Shaun that the graph problems are not her fault. Shaun requests to examine the surgical tape, but he cannot see anything that went wrong. Then he requests to go back to when the patient first entered. His patient's condition is his fault; he failed to recognize the extent of the burns.
Shaun visits Aaron without the cameras and informs him that he overlooked the fact that his patient had third-degree burns rather than second-degree burns. Aaron instructs him to perform another surgery to correct the problem. Shaun claims that the cameras are distracting him and that he made a mistake as a result. Aaron reassures him that he does not have to be flawless all of the time.
Sophie also spoke with Aaron, who pondered on his changing position in Shaun's path. He emphasized how much the medical prodigy had changed in the last five years now that he was no longer Shaun's defender. He'd grown up and met Lea, and he was proud of the man who had grown up to be his surrogate son.
Dr. Claire Browne surprised Shaun and Lea at their bachelorette party. Claire went on stage and screamed out a revised version of the Faith Evans/Puff Daddy classic "I'll Be Missing You" to symbolize the time she's spent away from her St. Bonaventure family while friends embraced the soon-to-be-marrieds the wedding, we're informed, is in a matter of days. Dr. Murphy was overjoyed to see his old buddy back, leaping up and down for the camera and exclaiming, "It's Claire!" as the hour drew to a conclusion.
A surprise performance from @AntoniaLThomas? We were served nothing but the best tonight! 🙏 Thanks for watching #TheGoodDoctor! pic.twitter.com/QbbBtLtbFy

— The Good Doctor (@GoodDoctorABC) May 3, 2022