The parents and patriarchs of the Duggar family are Jim Bob and Michelle Duggar. On July 21, 1984, they exchanged vows and have since amassed a sizable family. Josh, their oldest son, was born four years into their marriage, marking the beginning of their family. Jim Bob is a real estate broker with a number of commercial properties in their Arkansas hometown. He also had a political career; from 1999 to 2002, he was a member of the Arkansas House of Representatives. He ran for state Senate in 2021 but was defeated in the primary.
The Independent Baptist Christian family of the Duggars has decided to homeschool all 19 of their kids. Through their participation in documentaries and reality TV programs, their family became well-known. Their family of 16 was featured in the first documentary, "14 Children and Pregnant Again," which was broadcast in 2004. This sparked the creation of the well-liked TLC reality series "19 Kids and Counting," which followed their life, including courting, homeschooling, and family growth.
Because of a dispute surrounding their son Josh, "19 Kids and Counting" was canceled in 2015, but viewers continued to follow the family on the spin-off series "Counting On." The older Duggar kids were the main subject of the program as they matured, got married, and established their own households. The Duggar family is active on social media, updating followers on their lives in addition to their TV appearances.
It can be difficult to keep track of everyone as the oldest Duggar children reach adulthood, get married, and have their own children. Jim Bob and Michelle, their 19 children, their 11 sons and daughters-in-law, and their 27 grandkids (and counting) make up the Duggar family tree.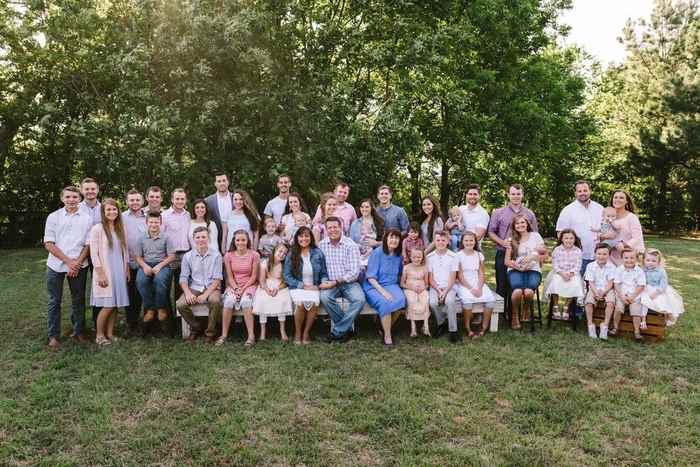 Josh ( March 3, 1988)
Josh and Anna, whom he wed on September 26, 2008, are the proud parents of seven children: Madyson Lily, Maryella Hope, Mason Garrett, Meredith Grace, Michael James, and Marcus Anthony. After Josh was convicted of receiving and possessing child pornography, Anna proudly announced the birth of their seventh child, Madyson, on November 16, 2021. He received a prison term of over 12 years after his conviction.
Jana (January 12, 1990)
Jana, one of the first sets of Duggar twins, launched her Instagram account in January 2019 to provide people a deeper look at her family, friends, and faith, as well as her own distinct interests, including home decorating.
John David (January 12, 1990)
John David, one of the original Duggar twins, tied the knot with Abbie in November 2018. The couple's first child, a daughter, was born on January 7, 2020. Grace Annette, and in September of 2022, they welcomed a boy, Charlie. Announcing their new status as parents, the happy pair said, "We are now a family of 4," on Instagram.
JILL (born on May 17th, 1991)
Jill and Derick Dillard have two sons: Israel David, born on April 6, 2015, and Samuel Scott, born on July 8, 2017. They wed on June 21, 2014. The miscarriage of Jill and Derick's third child, River Bliss, was made public in October 2021.
They made the announcement in February of 2022. God has granted our heart's desire, and we look forward to welcoming our rainbow baby in July 2022! On their family blog, Jill and Derick revealed. We are blessed with a healthy pregnancy and baby thus far and eagerly anticipate learning the gender.
Jill Duggar was the first of her renowned family's children to publicly break away from them. She distanced herself from some of her cousins and announced in a series of video messages that she was leaving the family's offshoot show, "Counting On," in 2017. Jill and her husband Derick acknowledged in an online video from October 2020 that they did not get along well with several members of Jill's family. They admitted to having arguments but said they were moving toward reconciliation and just needed some time to heal first.
Jill and Derick Dillard welcomed their third child, a son, on July 7, 2022. They named him Frederick Michael Dillard. In a blog entry on the Dillard Family website, they announced the news, noting that Frederick means "Peaceful Ruler" and Michael means "Gift from God."
Updates on the rest of the Duggar family are included as well.
The information provided also includes updates on the other Duggar siblings:
Jessa: Married Ben Seewald in 2014 and has had four children: Spurgeon Elliott (born in 2015), Henry Wilberforce (born in 2017), Ivy Jane (born in 2019), and Fern Elliana (born in 2021).
Jinger: Married Jeremy Vuolo in 2016 and has two daughters: Felicity Nicole (born in 2018) and Evangeline Jo (born in 2020).
Joseph: Married Kendra in 2017 and has three children: Garrett David (born in 2018), Addison Renee (born in 2019), and Brooklyn Praise (born in 2021).
Josiah: Married Lauren in 2018 and has one daughter: Bella Milagro (born in 2019).
Joy-Anna: Married Austin Forsyth in 2017 and has two children: Gideon Martyn (born in 2018) and Evelyn Mae (born in 2020).
Jedediah: Married Katey Nakatsu in 2021 and has two children: Truett Oliver (born in 2022) and Nora Kate (born in 2023).
Jeremiah: Married Hannah Wissmann in 2022 and has one daughter: Brynley Noelle (born in 2022).
Jason: A licensed general contractor and is involved in the construction business.
James: Received his commercial driver's license and has a knack for all things related to construction.
Justin: Married Claire Spivey in 2021.
Jackson: Aspires to become a translator and missionary pilot.
Johannah: Plans to become a doctor.
Jennifer: Plans to become a veterinarian.
Jordyn-Grace: Aspires to be an artist.
Josie: Born prematurely and plans to become a cook.
Amy Duggar King, who is technically not a Duggar sibling but Jim Bob's niece, married Dillon King in 2015. They welcomed their son, Daxton Ryan, in October 2019.