The ConnersSeason 5 Episode 6 will air on October 26.  The Conners are celebrating Halloween, as Dan encourages his family to deck out the house in spooky garb.
On the fifth episode of season 5 of The Conners, troubles occur on Beverly Rose's first day of kindergarten, and a fight between Becky and Darlene leads to further chaos in the family. Darlene advises Beverly-Rose (Charlotte Sanchez) to disregard her instructor and keep outsmarting the other kids even if it puts her in trouble. What will happen next?  Mark needs his license for a job across town. You can see www.tvacute.com's synopsis, and promo for The Conners Season 5 Show 6 below, which will help you better understand the episode.
The Conners Season 5 Episode 7: Louise loses her job at Casita Bonita
The Conners Season 4 Episode 20 Recap: [Season finale] Two out of three Couples Walk Down the Aisle! but who
The Conners Season 5 Episode 6 Spoilers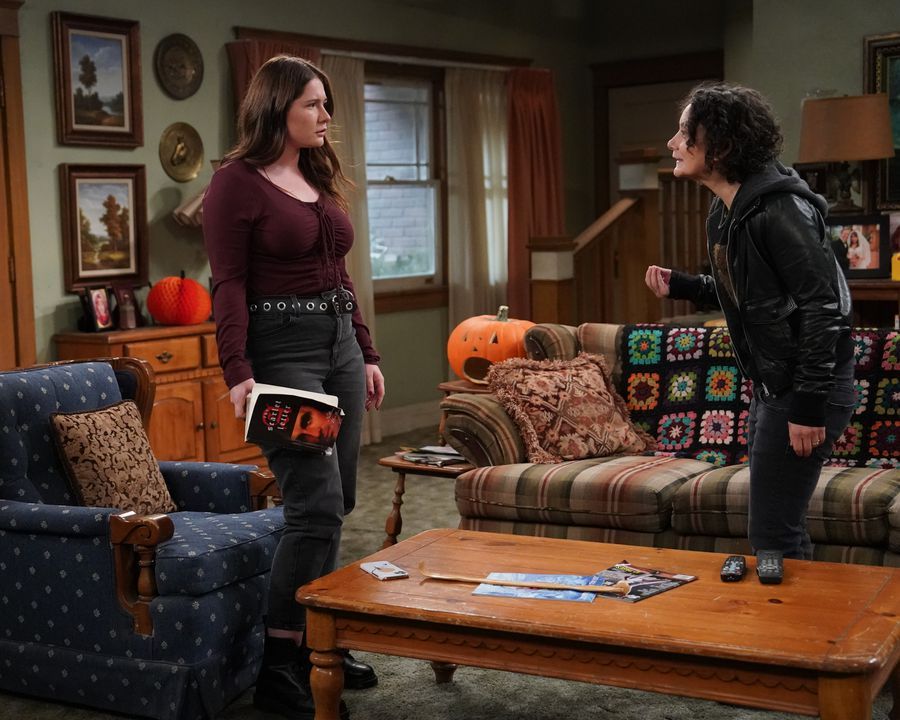 The Conners Season 5 Episode 6 is called "Book Bans and Guillotine Hands".  On tonight's episode of The Conners, Dan (John Goodman), in the spirit of Halloween, urges his family to decorate the house as they did in the simpler times of their youth. Becky makes an effort to take charge of the situation whenever everyone else appears to be preoccupied and overworked to lend a hand. Watch The Conners Season 5 Episode 6 Sneak Peek below.
What's your trick or treating costume this year? 🎃👻⬇️ pic.twitter.com/8XG0GwxOYY

— The Conners (@TheConnersABC) October 25, 2022
The Conners Episode 5.06 Synopsis:  –It's Halloween at the Conners, and Dan encourages the family to decorate the house. When everyone is feeling too busy and overwhelmed to help, Becky tries to take matters into her own hands. Meanwhile, Harris takes a stand on an issue that ruffles a few feathers in Darlene's new neighborhood.
The Conners Season 5 Guest Cast: William H. Macy
The biggest newcomer thus far this season has been Shameless alum Ethan Cutkosky, who was cast as Neville and Louise's nephew Caleb, resulting in Emma Kenney's first co-star reunion. William H. Macy, another notable Shameless alum, is now joining the ABC sitcom.  According to TVLine, the Emmy-winning and Oscar-nominated actor will appear in The Conners Season 5 at an unspecified future date. Although the exact date is unknown, we do know who Macy will be playing. He'll appear at some time as Smitty, a figure who was a close friend of Dan's in high school.
🚨 New guest ⭐️ alert 🚨 @WilliamHMacy will be stopping by #TheConners pic.twitter.com/viLsi7Qao8

— The Conners (@TheConnersABC) October 22, 2022
The Conners Season 5 Guest Cast: Jimmie Allen
Country musician Jimmie Allen said on social media that he would appear in The Conners season 5. This cameo may be similar. The Conners' celebrity cameos have never seemed desperate. The Conners' season 4's funniest moments came from Eagles guitarist and rock star Joe Walsh, who played Aldo's dim-witted dad Jesse. As such, the news that Jimmie Allen would be on the show is positive since it shows that, despite The Conners season 5 made huge cast changes, the sitcom didn't abandon what makes it great. Jimmie Allen singing at a concert When he announced the news on Twitter, Jimmie Allen just said that he was learning his lines and looking forward to the episode.
This is gonna be a good time!! learning my lines as I type. 🤙🏽 @TheConnersABC pic.twitter.com/X3uBqWKspl

— Jimmie Allen (@JimmieAllen) October 13, 2022
The Conners Season 5 Episode 6 New Time Slot
The Conners Season 5 Episode 6 will be released on ABC on Wednesday, October 26, 2022, airing at 8/7c. in the network's Wednesday time slot. The season will begin with a live episode, with the subsequent episodes being taped again. The most recent episodes of The Conners will be accessible the next day on ABC.com or Hulu. live TV streaming services such as Fubo TV, Hulu with Live TV, and YouTube TV. 'The Conners' is available on iTunes, Amazon Prime Video, Google Play, or Vudu.